How the Hill Prepares for "Pope-Mania"
Behind the scenes with tired staffers, anxious church officials and Bob, the papal stand-in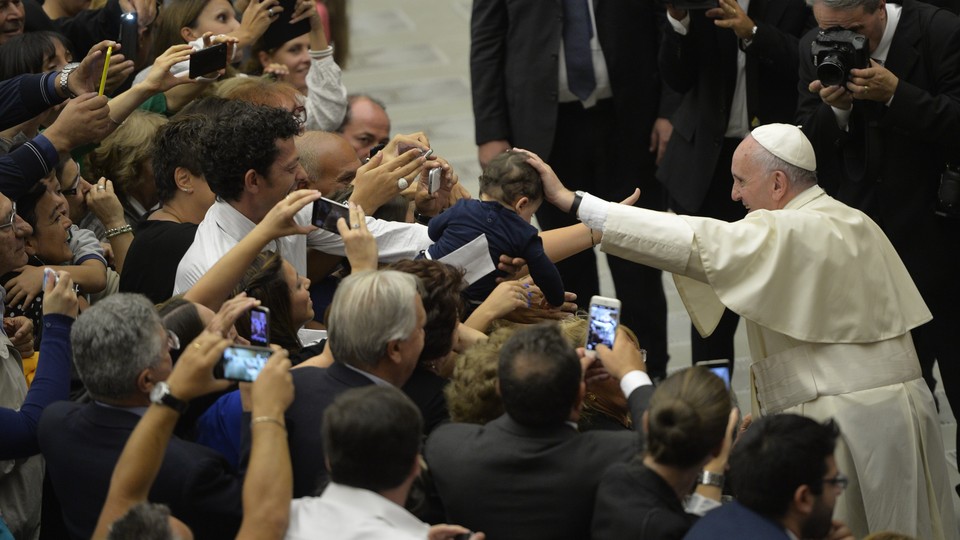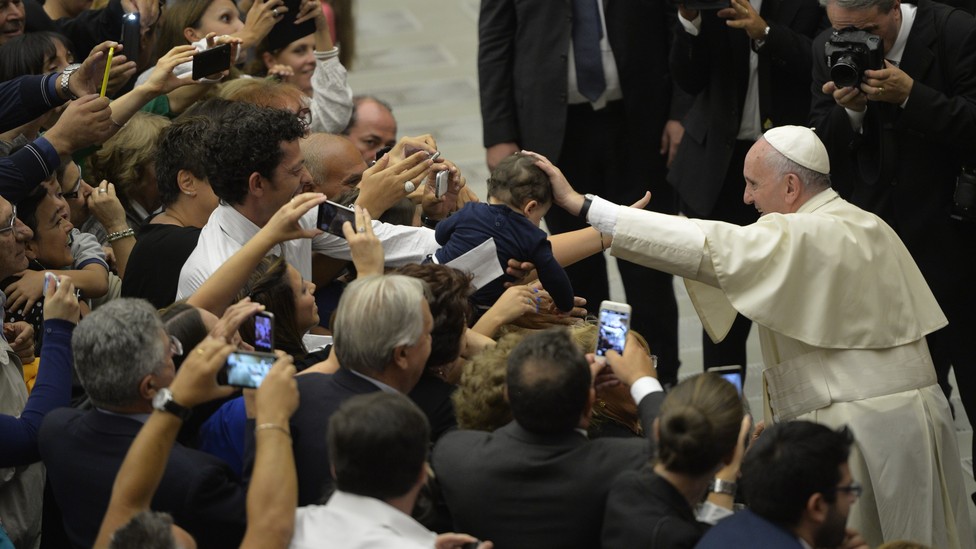 Inside the Capitol, just past the red velvet rope barring visitors milling underneath the Rotunda, Sarah Swinehart, House Speaker John Boehner's director of media affairs, warns seven cameramen that he—the all-important "he"—is coming in 30 seconds.
They've been here for over an hour and, finally, the one they've been waiting for enters. He walks to an "X" made out of green tape and stops, presses his hands together and bows his head about three feet in front of the bronze statue of Junipero Serra, an 18th-century friar who will soon become a saint. "What we're trying to achieve here is to give the Holy Father his [privacy]," a staffer explains to the following flock.
People snap pictures. The throng dutifully stands several paces behind. After a few minutes, he leaves for Boehner's balcony to practice the wave.
It's unlikely that Bob Dohr, a staffer for the House Sergeant at Arms whose military service includes stints in Afghanistan and Iraq, has ever received such treatment. But today, he's playing the pope.
Monday's dry run, the Capitol's second, for the first papal address to Congress showed how small you need to go to plan an event so big. When the "vice president" led a crew of "senators" down Statuary Hall, an aide said there was no way that "100 old men" could get through the current setup. The route was slightly redirected around a column to give them more space. When the "pope" came through there, another aide questioned what part of the bannister on the second floor would be best to set up the office GoPro camera.
If this is what it's like to plan a few minutes of the pope's movements, it becomes easier to imagine why 30 agencies signed the press release outlining the security protocol for the entire two-day trip to D.C. next week. The minute-by-minute details have been debated and crafted for months—Boehner's office announced the speech in February—and they're still being tweaked.
Helen Osman, the national media coordinator for the U.S. Conference of Catholic Bishops, a point organization between the U.S. and the Vatican, says the pope-planning process delves into whether he'll be sitting or standing, reading from text, and, "If he turns right here, what's the next sequence?" What happens, for example, if he speaks off-the-cuff in Spanish? (Answer: At some venues, captioning on screens and interpreters.)
"They're down to the point of 'his vestments will be where exactly?' and 'who will be there in case he needs a glass of water to drink?'" she adds.
Those involved in making history—from the Vatican to the White House and every possible alphabet-soup department—have been living with a daily mix of apprehension and blood-pumping excitement for months. Chieko Noguchi, the top media director for the Archdiocese of Washington, is screening almost 8,000 individuals from about 1,400 entities that are asking for credentials, with "a little more than half" specifically for the D.C. wing and the rest covering his travels to Philadelphia and/or New York. Noguchi said she's sleeping three hours a night but fueled by adrenaline and caffeine, and the chocolate and aspirin stocked in her office. "They know what I want at Starbucks," she added.
Swinehart, who has been instrumental in helping fulfill Boehner's two-decade dream of hosting the pope, has herself recently dreamed of taking a selfie with the pope, but the picture "turned out horribly."
"And that was my only photo," she recounted—half-joke, half-lament.
And Father Scott Pilarz, the president of Georgetown Preparatory School in Maryland, has to make sure that eight elected student-government representatives are up by 4:30 in the morning next week so they're at the Apostolic Nuncio in time for a meet-and-greet with the pope. "It'll be early, but we'll have a chance to at least see and hear from the Holy Father," he said with a laugh. "We're very excited about that. I just sent a letter to the whole school community apologizing that we can't take everybody, but the archdiocese is kind enough to invite 12 of us down."
Part of the reason for frayed nerves, thumping nightmares, and sleepless nights is that there's no precedent. While some can remember the past two popes coming to D.C., no one has ever seen a papal address to Congress, and the District is experiencing, as Noguchi calls it, "Pope-mania." Boehner's office expects up to 50,000 people on the Capitol's West Lawn. The House passed a resolution that former members can't attend the speech; they'll be relegated to watching screens in Statuary Hall where the pope will walk by. Congressional members are fielding the ticket of the year; Sen. Kirsten Gillibrand of New York told National Journal last week that she had narrowed her plus-one to five nuns. Teenagers are waking up early—and giving up their information weeks in advance as a security precaution.
Dave Schnittger, a former longtime Boehner staffer who helped craft the speaker's invitation to Pope Francis last year, recalled that there was the question of who they needed to give the letter to, as well as how to write it. (After consulting House parliamentarian experts, Boehner's office had to write up a new letter following guidelines for addressing heads of state and used their original draft as the statement sent to the press, according to Schnittger.) "There was that period of anxiety: What if you sent this letter but how do you make sure the pope knows about it?" he said. "There wasn't an existing playbook to follow here."
Monsignor Walter Rossi, who with the pope will host the canonization of Serra—the first on U.S. soil—at the Basilica of the National Shrine of the Immaculate Conception, says 25,000 are expected to attend the outdoor Mass, spilling out onto Catholic University's campus with "the highest level of Secret Service that we have."
According to one who has been at the center of it all, the first papal address to Congress will be, quite simply, one of the most meticulously planned parties that the Capitol has ever thrown.
"It's similar to a State of the Union and an inauguration—condensed into an hour and 25 minutes," said "Pope" Dohr.
---
Rachel Roubein contributed to this article