How President Obama Played the Long Game and Saved the Iran Deal
The White House was patient and didn't get distracted by the ups and downs of the news cycle.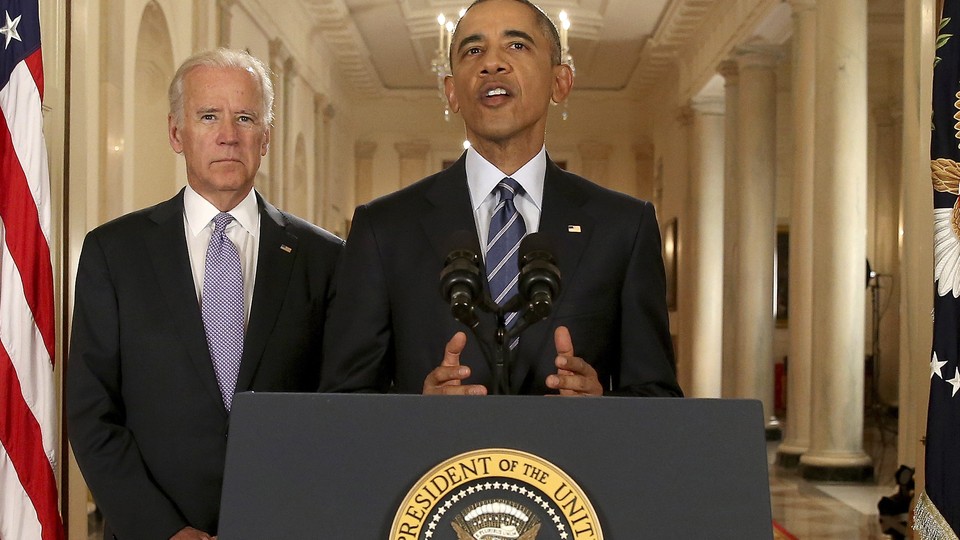 Sometimes, patience really does pay off.
The Obama administration claimed a victory Wednesday on the Iran deal, clinching the last vote of the 34 senators needed to allow the accord to survive. The win came after nearly two months of intense lobbying to drum up support for the international agreement, characterized by the White House's focus on the long game in a sustained, grueling effort.
Long criticized for eschewing the congressional schmoozing seen as mandatory in past administrations, Obama this time pulled out all the stops to bring lawmakers onboard. During the August recess, when most of political Washington escapes the city's heat and humidity, Obama kept up the campaign. He talked with 50 lawmakers, making 30 phone calls on behalf of the deal from his vacation home in Martha's Vineyard, according to a White House official. Democratic Whip Dick Durbin also called members of his caucus every day and through his family vacation as well, according to an aide.
The administration's message was clear, consistent, and repeated over and over again: This deal is the best way to keep Iran from going nuclear. The GOP pushed back; Sen. Marco Rubio of Florida said on Fox on Tuesday that he would reimpose sanctions on Day One of his presidency and deter Iran through military force.
But the White House was able to do enough to ensure the bare-minimum support necessary to implement the deal. For weeks, House Minority Leader Nancy Pelosi has expressed confidence that there would be enough members in her party to sustain a veto, should one be necessary. In the Senate, it helped to lower expectations—instead of searching for 41 votes to filibuster, the target was only 34—the number necessary to sustain a veto-override attempt. Congress looks to take up a resolution of disapproval, which would imperil the deal by barring the administration from lifting congressional sanctions, in the next few weeks.
When asked who gave a persuasive argument in opposition, Pennsylvania Democratic Sen. Robert Casey, a key swing vote who came out for the pact this week, told National Journal, "I didn't hear one." He said that a "credible alternative" was especially hard to find as Iran's nuclear program currently has a breakout time of two to three months.
"You can't say well maybe if we go back and do more sanctioning that will get them to the table and it will get others to the table," said Casey, who spoke to the president a few times and Secretary [of State John] Kerry about the deal as recently as last week, according to an aide. "We don't have time for maybes, and what ifs, and try tos."
Even at points when the White House could have veered off course, it was able to keep moving forward.
On Aug. 6, Chuck Schumer, possibly the next Senate Democratic leader, announced his opposition. White House press secretary Josh Earnest waved off the blow as "disappointing" and "not particularly surprising." In the following weeks, Schumer didn't appear to influence many of his colleagues. When asked if he was whipped by Schumer, Casey said simply, "No."
Both in and outside of Congress, Jewish leaders and groups—who warn of an Iran publicly committed to the destruction of Israel—have been among the highest priority in the administration's push for the deal. Making the case to Jewish groups last week, Obama tried to relate to the Jewish community's skepticism of Iran, and by extension, a negotiated agreement with the nation.
"It's been said repeatedly—and I think as an African-American I understand—history teaches us that man can be very cruel to man and you have to take threats seriously," Obama said.
"We all call upon our own experiences," said senior adviser Valerie Jarrett. "That's what forms who we are. And so I think his desire to share a bit of his understanding is important."
The opposition is well-funded. The powerful pro-Israel group AIPAC created a new advocacy group that plans to spend more than $20 million in its campaign, according to Patrick Dorton, the Citizens for a Nuclear Free Iran spokesperson. But the deal's opponents haven't been able to move many Democrats outside some constituencies in New York, New Jersey, and Florida. Morton Klein, head of the Zionist Organization of America, said that AIPAC should have embraced harsher rhetoric in lobbying against the deal.
"We at ZOA when we're lobbying—AIPAC refused to do it—we say we're funding and arming the Hitler of today," said Klein, one of the deal's most vociferous critics. "Now that's a very strong statement to make, but you know that gets a reaction."
But many supporters of the deal, including a few Senate Democratic aides reached by National Journal, believe that fanning the fires further would only move Democrats closer to the president. Nicholas Burns, a Har­vard pro­fess­or and former George W. Bush un­der­sec­ret­ary of State who test­i­fied be­fore Con­gress on the Ir­an deal, said that the debate has already become "too partisan." And it's almost impossible to imagine next week's anti-Iran deal rally featuring Sen. Ted Cruz, conservative media personality Glenn Beck, GOP presidential frontrunner Donald Trump, and Klein moving any Democratic minds.
"I think it has become too partisan—that has strengthened the president hand in some ways," said Burns, who supports the deal. "If people were voting their conscience, if they were just voting without regard to party, you'd have more Democrats opposing and more Republicans supporting."