How One TV Station Is Taking Advantage of the 2016 Presidential Ad Bonanza
The biggest station in New Hampshire, WMUR, is taking unusual steps that observers say are designed to maximize the advertising money it makes.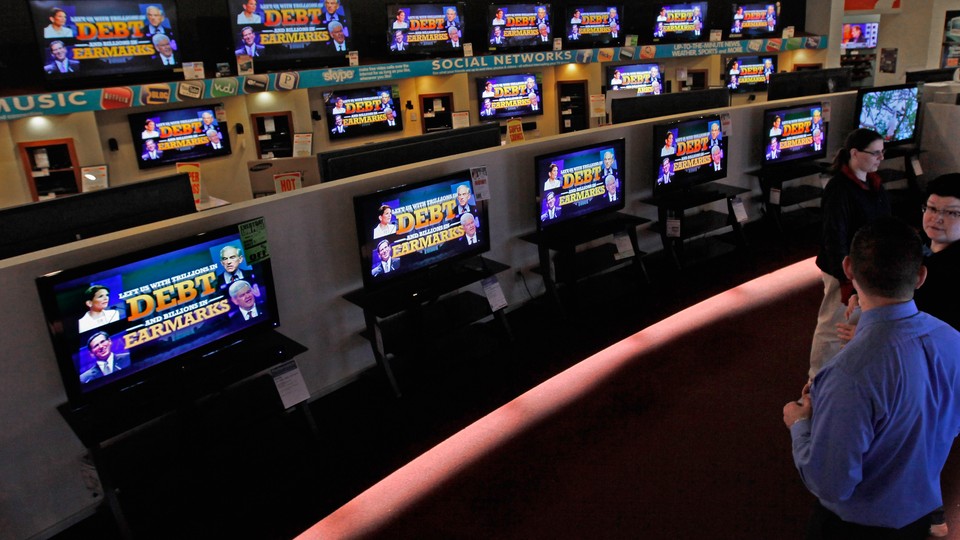 For tele­vi­sion sta­tions in key primary states, Christ­mas comes but once every four years: the polit­ic­al ad-buy­ing bon­anza that is the pres­id­en­tial cam­paign. As can­did­ates work to make the most of their cam­paign cash, loc­al TV af­fil­i­ates are eagerly tak­ing as much of it as pos­sible. And one im­port­ant sta­tion's meth­ods in pur­suit of that jack­pot this year are rais­ing ques­tions, fall­ing some­where between in­nov­at­ive and po­ten­tially il­leg­al, de­pend­ing on whom you ask.
WMUR in New Hamp­shire is a Manchester-based tele­vi­sion sta­tion that, as the largest sta­tion in the state with the second nom­in­at­ing con­test, is well-po­si­tioned to cash in on a pres­id­en­tial cam­paign that's on pace to be the most ex­pens­ive ever.
But as pres­id­en­tial can­did­ates and PACs book ad­vert­ising time in the pivotal weeks and months ahead of New Hamp­shire's primary, WMUR has stopped dis­clos­ing the rates at which those ad­vert­isers are mak­ing re­ser­va­tions. In­stead, the sta­tion is just scrawl­ing "TBD" in­to its con­tracts for can­did­ates in­clud­ing Marco Ru­bio and Hil­lary Clin­ton, and su­per PACs back­ing the likes of Chris Christie, Jeb Bush, and oth­ers.
"I have nev­er seen an­oth­er sta­tion do that," said Betsy Von­der­heid, the me­dia dir­ect­or for the Re­pub­lic­an con­sult­ing firm SR­CP Me­dia, who handled TV buys for the su­per PAC that backed Scott Walk­er for pres­id­ent.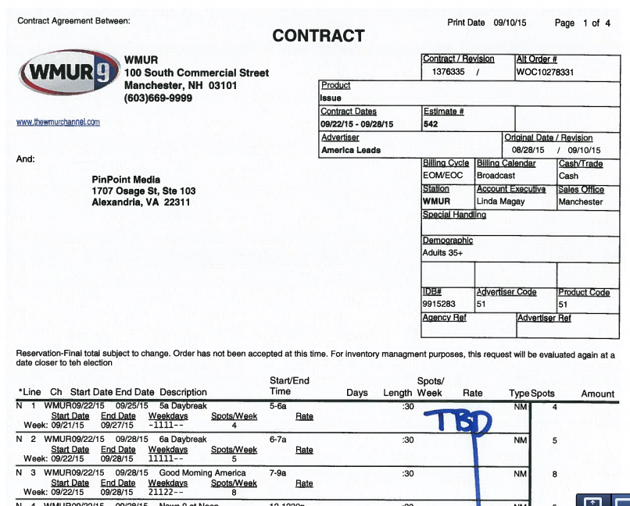 Why does it matter? Obscuring the rates keeps advertisers from knowing what their competitors are set to pay for the same ad slots. That could give WMUR a leg up in negotiating ad prices with new buyers, who won't know the station's past quotes to other advertisers and could end up paying higher rates without having the opportunity to check, according to several media buyers, industry observers, and an executive from another station.
Plus, omitting the ad rates is part of an up-front acknowledgement from WMUR—which says it is far too early to put a price on individual spots in a busy market—that it expects to change its rates, upward, as more demand from campaigns and super PACs saturates its limited advertising time. Stations have to give candidates a favorable rate (the "lowest unit rate") and give them "reasonable access" to airtime, but for outside groups, TV advertising is a cutthroat free market where rates have already skyrocketed months before any elections.
There could be a problem with WMUR's decision to omit the rates from campaigns' and super PACs' ad contracts, though: Multiple attorneys said the station's move could skirt federal law requiring disclosure of those rates. TV stations "must maintain, and make available for public inspection, a complete record of a request to purchase broadcast time" by candidates and political groups, according to Title 47 of the U.S. Code. That includes "the rate charged for the broadcast time," which WMUR's posted contracts clearly omit.
"They may be trying some elaborate [argument], … like we haven't decided on the prices for individual spots or something like that, but I think they can't do that," said Andrew Jay Schwartzman, a Georgetown Law School professor who has worked on political broadcasting issues for decades.
However, Schwartzman and others acknowledged gray areas within the regulation, partly because the Federal Communications Commission does not appear to have investigated an issue like this before. That means there is no precedent for how the FCC applies the statute.
Schwartzman noted that the contracts still total the cost of the reservation at the bottom even as they omit individual spot prices. "That defeats the purpose of having this information public in the first place," he said.
"The station is trying to protect their rate position by saying, 'We'll take your order, but it's really not booked,'" Vonderheid said. Only later, when demand and prices have almost certainly risen, will the TV station allow groups to lock in their ad buys. "… MUR marches to a different drum. They have this unique position as the only significant station in Manchester. They're trying to protect their inventory because they know they're going to have a huge influx of orders. But other stations in other markets allow you to book a rate," especially for noncandidate ads.
WMUR's omission of its ad rates might be unusual, but the station insists it has done nothing wrong or nefarious. "WMUR is following the FCC's guidelines to the letter," said Tom Campo, a spokesman for WMUR parent company Hearst Television, in a statement. "Rates for local TV stations change on a weekly basis. During periods of high demand, especially in the station's most watched programming (news and prime time), rates will fluctuate significantly from week to week. WMUR is posting its ad rates as soon as it knows what those rates are—taking into account its need to manage its inventory intelligently—rather than taking the risk of posting rates that may be prematurely and incorrectly calculated and thus subject to correction."
But that's different than what other TV stations are doing. When a political group wants to advertise on TV, they submit contracts to stations showing the exact dates and programs when they want to air commercials. Broadcast stations must make those contracts publicly available; since 2014, that has meant posting them on a FCC website. While there is a dollar rate attached to each and every political ad reserved at TV stations, WMUR's contracts don't all have it.
And it's not just for ads set to run in the crowded, hectic days right before next February's primary. In mid-September, WMUR finally uploaded a full contract showing prices for ads by Right to Rise, the pro-Jeb Bush super PAC, about 12 hours before the ads started airing. The super PAC had made the ad buy, during a relatively non-hectic period of the political calendar, more than two weeks prior.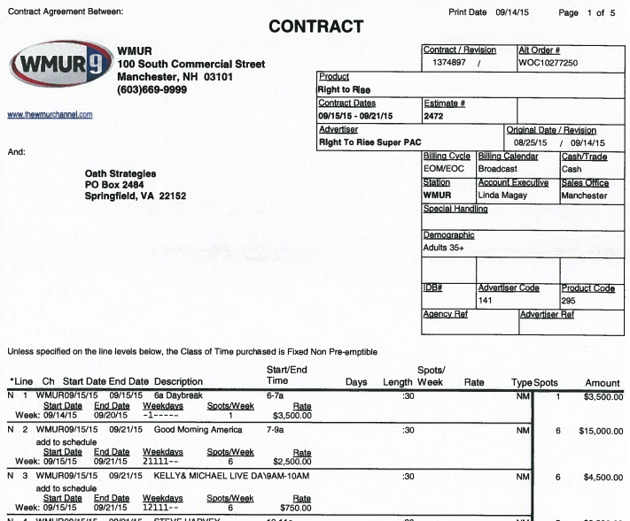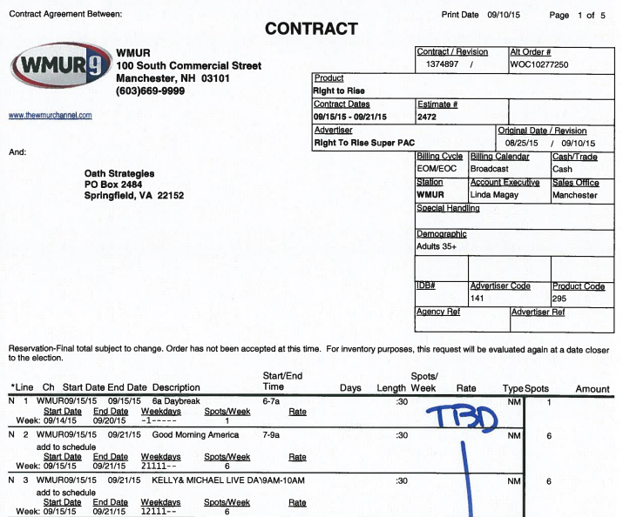 Hiding the reservation rates gives the station more flexibility to raise them later and keeps advertisers from seeing what other campaigns and super PACs are set to pay for individual commercials during shows like Good Morning America and the evening news. Monitoring those ad buys at other stations lets groups know if they are overpaying relative to another advertiser, giving them information to negotiate prices down if they get quoted higher rates than someone else.
In crowded TV marketplaces, candidates and groups can still lose "reserved" TV time to advertisers willing to pay a higher price. (The Cook Political Report explains the process here.) Groups sometimes end up paying more money per ad than they initially reserve as supply dwindles and demand rises. But other TV stations in saturated markets—such as KCCI in Des Moines, a CBS affiliate that is also owned by Hearst—have continued posting their ad rates as usual.
The campaigns and super PACs wanting to reserve advertising with WMUR are still submitting media buys based on a certain rate per commercial: Marco Rubio's media buyer, Smart Media Group, confirmed that it submitted contracts with ad rates to the station even though the posted contracts omit those rates.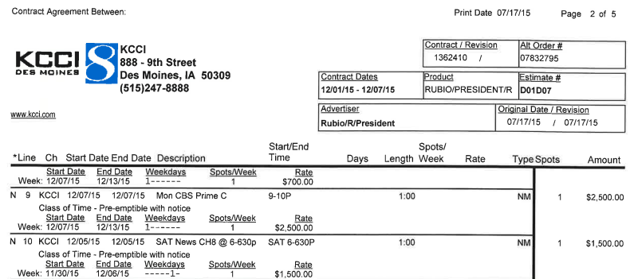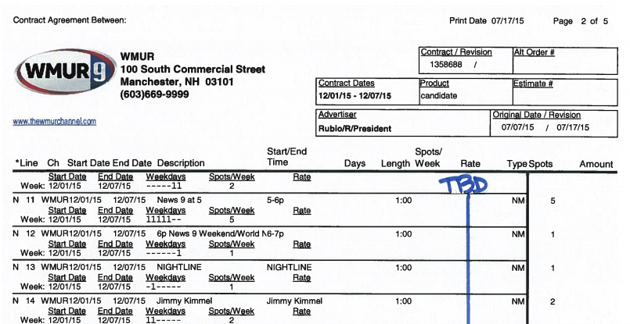 WMUR's status as the only game in town in New Hampshire TV puts it in an enviable position to rake in ad revenue, but that near-monopoly does come with some responsibilities. (Boston stations also reach New Hampshire, but ads on those channels are much more expensive because they reach viewers throughout New England.) WMUR has to make sure it provides all presidential candidates with "reasonable access" to TV advertising time on its airwaves, a potentially tricky balancing act given how many people are running and how many super PACs also want to gobble up airtime.
What's more, stations also have to let federal candidates buy ads at the "lowest unit rate" near election time—basically, they can't upsell campaigns the way they can with super PACs. (Super PACs are already booking identical ad slots for many times the rates candidates are set to pay in Iowa and New Hampshire.)
In June, WMUR wrote to Rubio's ad buyers, saying it would not allow the campaign to reserve ads at that time because of "unknown variables of inventory availability and pricing"—essentially meaning the station could want to adjust prices upward before letting campaigns lock in ad rates.
But WMUR relented in July, allowing Rubio and other campaigns to start booking ads to run before the New Hampshire primary.
WMUR's latest contracts also highlight the imperfections scattered throughout the FCC's ostensibly comprehensive political records. One ad buyer estimated that in mid-September, around $50 million worth of political ads already reserved or paid for had not yet been posted by stations to the FCC public file, even though stations are required to post that information almost immediately. But for a variety of reasons—sometimes including the hectic pace of work at a battleground-state TV station's ad department—contracts often trickle onto the system days, weeks, or months after the fact.
In 2016, those contracts will add up to tens of millions of dollars—and an important revenue stream for TV stations lucky enough to have contested primaries in their backyards.