How John Boehner's Speakership Stacks Up
Under his reign, fewer bills were enacted per Congress than ever before.
House Speaker John Boehner announced Friday morning that he plans to resign from Congress, effective at the end of October. Long under fire from fellow House conservatives, he will leave the speaker's office after nearly five years in the role.
How does Boehner's tenure as House speaker measure up against other speakers in recent history? Not particularly well—though serving with a Democratic president certainly didn't help.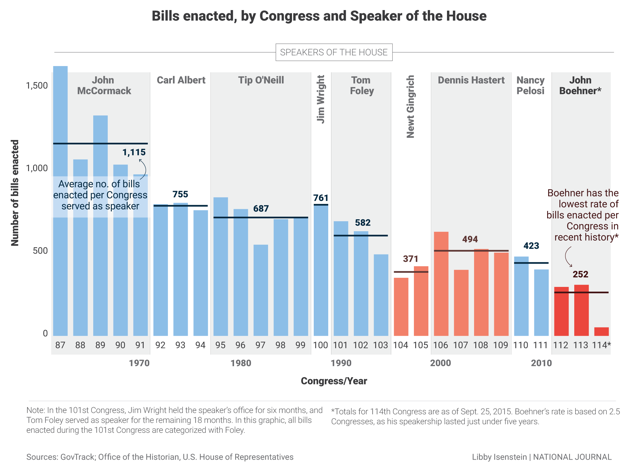 Only 629 bills were enacted under his leadership—that's an average of 252 per Congress. Boehner's two immediate predecessors, Democrat Nancy Pelosi and Republican Dennis Hastert, each saw 423 and 494 bills enacted per Congress, respectively, during their tenures.
Of course, Boehner faced the additional challenge of coinciding with both a Democratic president and a Democratic-led Senate (up until 2014). Hastert and Pelosi each served at least part of their tenures alongside a same-party president.