How Boehner's Move Will Help Keep the Government Open
The Speaker's decision makes it even more likely a shutdown will be averted, though his successor will inherit the same intractable Planned Parenthood funding problem.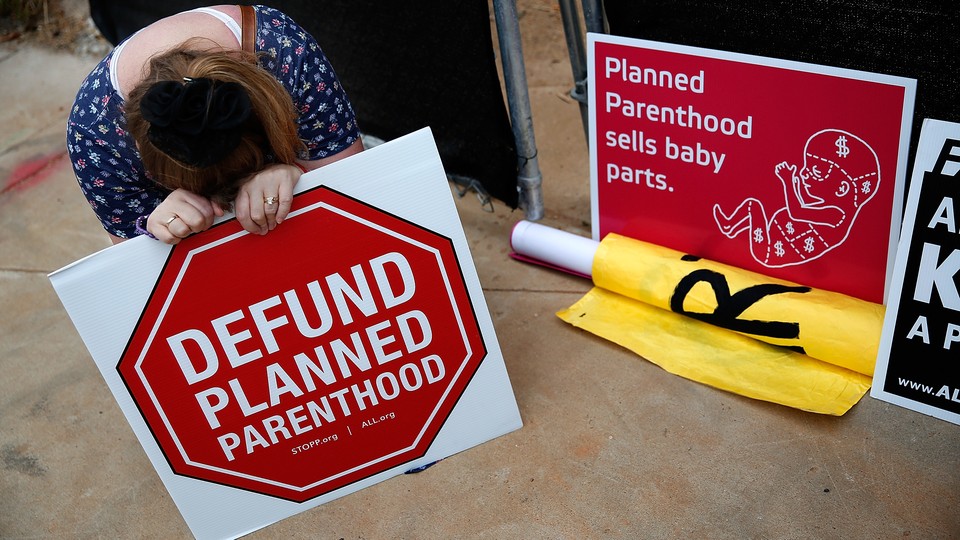 House Speaker John Boehner's announcement Friday that he would resign at the end of October may have come "out of the blue," as one senior member put it, but it will have an immediate impact, allowing Congress to avert a government shutdown at the end of the month with less drama than expected from the Far Right—for now, anyway.
When they lost their leveraging tool—a vote to undermine Boehner's speakership—they also likely lost the battle over stripping Planned Parenthood funding from a short-term spending bill, known as a continuing resolution, that must be passed next week in order to meet Wednesday's deadline.
"It's not going to happen," said conservative Rep. Matt Salmon of Arizona about a government shutdown. Salmon added that it wasn't going to before Boehner stepped down either. Boehner told conservative members in a meeting Thursday that he would put a clean CR on the floor.
A group of about 40 conservative Republicans has vowed to oppose any spending bill that gives federal funding to Planned Parenthood, although a continuing resolution that would strip the organization of funding was blocked by Democrats in the Senate on Thursday, as expected.
Rumors had been circulating that House conservatives would attempt to remove Boehner from the speakership if the spending negotiations didn't go their way. One member, North Carolina Rep. Mark Meadows, made an attempt to oust Boehner in July by filing a motion to "vacate the chair." With that option now obsolete, the House can pass a spending bill with Democratic votes, with or without conservatives.
Only time will tell how conservatives will vote on a clean spending bill next week, but their votes will now hold much less weight than if Boehner had sought to retain his position.
"Boehner calling it quits—I think it probably diminishes the role that the conservatives have a little bit for this play, because they can say, 'Look, you got what you wanted, Mark Meadows and you guys. Boehner's gone, we need to do this and move and you need to pick your next topic,'" said a Hill Republican lobbyist.
But that view assumes that conservatives won't threaten Boehner's successor just as aggressively if they don't get their way the next time government funding comes up for a vote.
The fight over Planned Parenthood stems from a series of sting videos allegedly depicting the organization selling fetal tissue. Planned Parenthood says it donates the tissue for medical research and charges for the overhead costs, which is legal. But the videos sparked an intense partisan debate over the organization and abortion as a larger issue, and although Boehner had been advocating for Republicans to let congressional investigations into Planned Parenthood run their course, conservatives wanted more drastic action to be taken through the appropriations process. The bill next week only funds the government until mid-December, and then it's anyone's guess as to what happens next.
"My impression is Republican leaders in the House and the Senate are well aware this issue is not going away," said Dan Holler, communications director of Heritage Action for America, which key voted a continuing resolution that defunds Planned Parenthood.
But conservative members and Boehner allies alike said Friday that the speaker stepping down opens up the possibility for Congress to deal with a host of other upcoming deadlines. "Now there's a certain lack of accountability," said South Carolina's Mick Mulvaney, a frequent thorn in the side of the GOP leadership. "If you really believed in it, why not cut some deals?"
Added Ohio moderate Rep. Steve Stivers of Boehner, "He just gave himself a whole bunch of operating room for the month of October to do whatever he thinks is important in any way he needs to get it done. Ex-Im bank. Highway bill. Maybe debt ceiling. I'll think you see a bunch of stuff get done now. After I cleared my mind of the emotion, I think that's the real importance of what just happened is we gave ourselves a month to really operate."
For Boehner's longtime friends, the announcement was met with shock and sadness. Outside the House chamber, Texas Rep. Pete Sessions's eyes glistened after patting Boehner on the shoulder. Sessions told National Journal that his leader's resignation is a "wake-up call to us all to get together as a team."
Boehner "sacrificed the position he had in order to remove himself as the vehicle for a revolt," said Appropriations Chairman Hal Rogers, who admitted that the next speaker will have to deal with the same band of ultra-conservatives. "That group is not going to go away," he said.
When asked if had ever seen that wing of the Republican Party as powerful as they are today, Rogers, a 34-year veteran of the House, said simply, "No. No I haven't."
CORRECTION: An earlier version of this story incorrectly portrayed a summary of Rep. Matt Salmon's comments as a verbatim quote.