The Obama administration's proposed overtime rules would make nearly 5 million white-collar workers newly eligible for time-and-a-half, according to a new Pew Research Center analysis. Most of them, we estimate, would be retail and food service managers, office administrators, low-level financial workers, and other modestly paid managers and office professionals.
The rules governing who must be paid overtime for working more than 40 hours a week are many and subtle, but the general presumption in the law is that all workers are overtime-eligible unless they meet one of several specific exemptions. One of the most significant exemptions affects white-collar workers: They don't have to be paid overtime if they meet all three of these tests: 1) They're paid a fixed salary, as opposed to an hourly wage; 2) Their salary is more than a certain threshold amount; and 3) They primarily perform duties of a "bona fide executive, administrative, or professional" nature.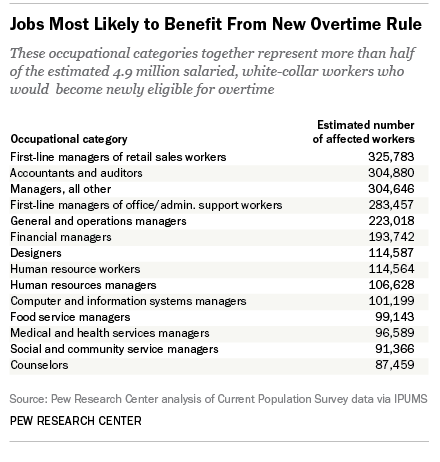 The overtime proposal, which was announced in late June and is open for comment until Friday, wouldn't change the first and third parts of that test. Nor would it affect any of the other exemptions, such as those for teachers and academic administrators, outside salespeople, and seasonal amusement park workers. It would, however, raise the salary threshold from $455 a week, or $23,660 for a full-year worker (the level since 2004), to the 40th percentile of earnings for all full-time salaried workers. The Labor Department estimates that by 2016, when the rule likely would take effect, the threshold would be around $970 a week or $50,440 a year; it also would be automatically updated each year, using either the Consumer Price Index or by maintaining it at a fixed percentile of wages.