House Republicans Plan to Call for Action on Climate Change
Rep. Chris Gibson of New York is leading the charge, and nine other Republicans are on board.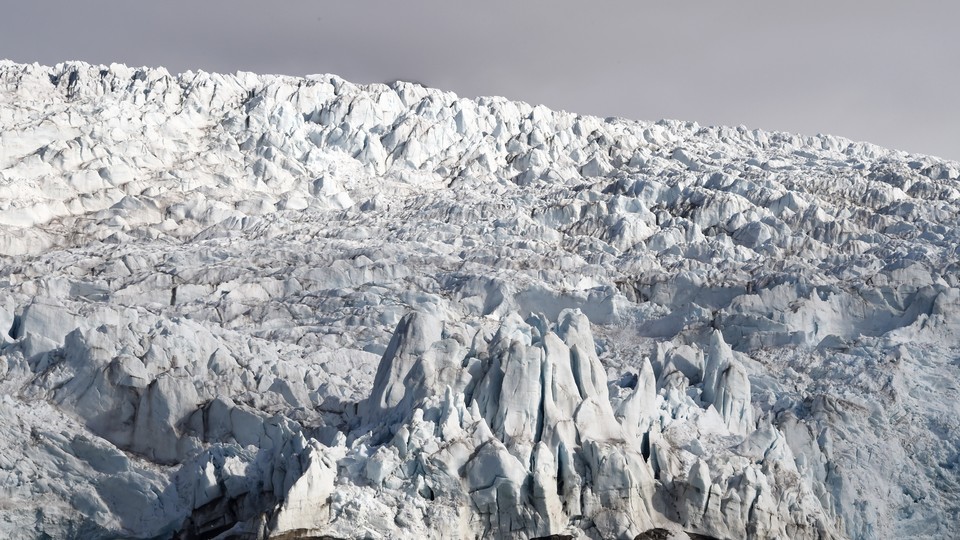 A coalition of House Republicans is gearing up to make waves by calling for action to fight climate change on the eve of Pope Francis's visit to Capitol Hill.
Ten Republicans have so far signed onto a resolution affirming that human activity contributes to climate change and endorsing action to respond to the threat of Earth's changing climate. The resolution is expected to be unveiled as early as Thursday.
Rep. Chris Gibson, a New York Republican, led the charge in crafting the resolution and convincing other Republicans to speak out in support. "This is a call for action to study how humans are impacting our environment and to look for consensus on areas where we can take action to mitigate the risks and balance our impacts," Gibson told National Journal.
Reps. Ileana Ros-Lehtinen and Carlos Curbelo of Florida, Robert Dold of Illinois, Dave Reichert of Washington, Pat Meehan, Ryan Costello, and Mike Fitzpatrick of Pennsylvania, and Richard Hanna and Elise Stefanik of New York all confirmed to National Journal that they have signed on as cosponsors of the resolution.
The timing is no accident. Pope Francis has warned that man-made climate change will hurt the poor and most vulnerable members of society, and the Vatican is calling on world governments to work together to fight global warming in June.
When Francis speaks to Congress next week—an event that will mark the first time any pope has addressed a joint session of the House and Senate—he is widely expected to call for bold and decisive efforts to combat Earth's rapidly-rising temperatures.
ClimateWire first reported Gibson's plan to introduce the resolution this week.
Environmentalists are preparing to seize on the occasion of the papal visit, and the enthusiasm for climate action it is expected to gin up, by organizing a major climate rally on the National Mall the day of the speech on Sept. 24.
But a call for action on global warming led by Republicans is something altogether different.
Ever since the collapse of comprehensive climate legislation, which died in the Senate during President Obama's first term, Republicans have largely shunned legislative efforts to confront global warming. Even admitting that human activity has caused temperatures to rise has become virtually off-limits among Republicans.
On the 2016 campaign trail, some Republicans such as Sen. Ted Cruz of Texas still deny the reality of global warming, while others such as former Sen. Rick Santorum have said that there is nothing the United States can do to make a dent in the situation.
Republican presidential contenders are unanimous in voicing opposition to President Obama's regulations to rein in carbon emissions from power plants, a major policy initiative that the White House has taken to combat the threat of global warming.
At least some moderate Republicans have grown frustrated by what they see as their party's silence on a pressing and urgent problem. The Environmental Defense Action Fund, the political arm for the moderate environmental organization Environmental Defense Fund, bankrolled a major ad buy last year in a bid to bolster green-minded Republicans, an attempt to turn the tide in the face of conservative inaction when it comes to climate change.
Virtually all of the House Republicans who have signed on to the soon-to-be introduced climate resolution hail from moderate or swing districts, many in the Northeastern U.S.
A number of the cosponsors are up for reelection in 2016 in moderate districts where backing a resolution in favor of climate change could help them in the race. Curbelo and Dold are both running for reelection. Reichert, Meehan, Costello, Hanna, Ros-Lehtinen, and Stefanik have not yet announced if they plan to run for reelection.
Gibson, the lead author of the resolution, and Rep. Fitzpatrick are not running for reelection.
Forty-eight per­cent of Republican voters prefer a can­did­ate call­ing for ac­tion to tackle hu­man-made glob­al warm­ing, as op­posed to someone who sidesteps the is­sue en­tirely or calls cli­mate change a hoax, ac­cord­ing to a sur­vey re­leased in January by The New York Times, Stan­ford Uni­versity, and environmental think tank Re­sources for the Fu­ture.
Still, the resolution is all but guaranteed to spark criticism from environmentalists, who are likely to say that that the call to action is watered down. While the resolution notes that human activity contributes to a changing climate, it stops short of explicitly acknowledging the scientific consensus that human activity has been the primary driver of global warming in recent years.
Many environmentalists believe that meaningful action to tackle rising temperatures will come only on the heels of an affirmation of that scientific consensus, warning that if lawmakers do not embrace the consensus as fact, it will be far too easy to find excuses not to act.
For now, the fate of the Republican climate push remains unclear. House Speaker John Boehner has dismissed the threat of man-made climate change in the past, saying that he is not qualified to debate climate science.