House Republican Wants to Impeach Obama's EPA Administrator
Paul Gosar says Gina McCarthy lied about clean-water rule.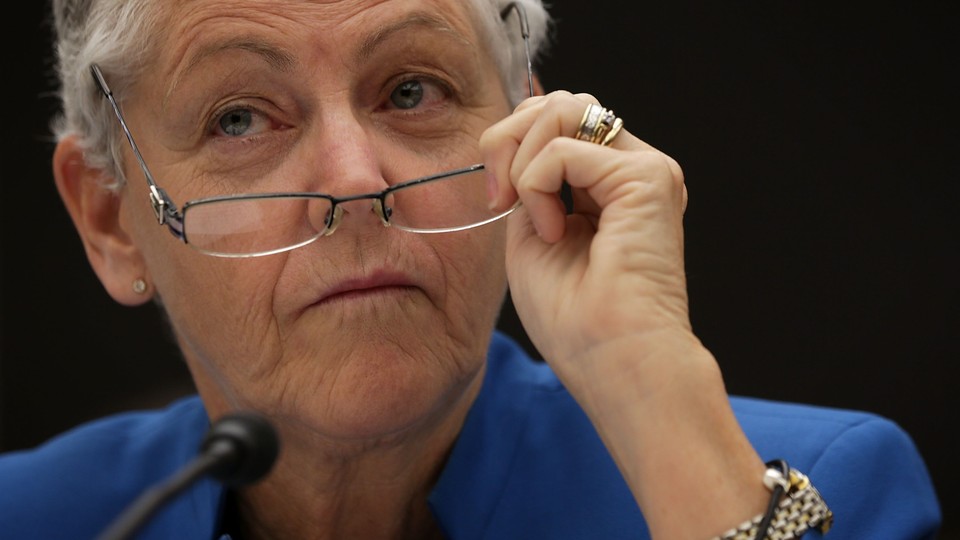 In an escalation of the right's anti-EPA fervor, Rep. Paul Gosar is preparing to file legislation to open up impeachment proceedings against Environmental Protection Agency Administrator Gina McCarthy.
Gosar is circulating a letter to colleagues and plans to introduce a resolution this week calling for McCarthy's impeachment, charging that she delivered false testimony before Congress when testifying about a clean-water rule.
"Perjury and making false statements to Congress are an affront to the fundamental principles of our republic and the rule of law, and such behavior cannot be tolerated," Gosar's letter states. "This bill holds Administrator McCarthy accountable for her blatant deceptions and unlawful conduct."
According to Gosar, McCarthy lied before Congress when testifying about the Waters of the United States rule, which clarified the administration's authority under the 1972 Clean Water Act and gave it authority over more streams, waterways, and tributaries.
Much of Gosar's accusations have to do with the scientific backing for the water rule and consultation with the Army Corps of Engineers. Memos released after the rule's finalization have shown that Army Corps Maj. Gen. John Peabody expressed concerns to Assistant Army Secretary for Civil Works Jo-Ellen Darcy about changes being made to the final rule, including the scientific justification for some decisions. Through a spokesman, the EPA declined to comment.
Gosar points to a July 9 hearing before the House Science, Space, and Technology Committee where McCarthy described a decision in the final rule to extend federal regulation to wetlands and ponds within 4,000 feet of the nearest tributary, setting a definition for "significant nexus." That decision, McCarthy said, came from "the knowledge and expertise of our staff, the information that we received from the public and comments, and the science that's available to us."
The Army Corps memos show that officials there thought the 4,000-foot cutoff was arbitrary and could open the rule up to legal challenges.
Gosar also points to a June 10 House Transportation and Infrastructure hearing where McCarthy said that "all of the changes that the Army Corps was interested in making … had been fully satisfied," a statement the Republican congressman said constituted perjury. Gosar also said that McCarthy did not initially say that the Corps of Engineers had made her aware of the legal and scientific questions.
The Waters of the United States rule has proved to be one of the EPA's most controversial, with opponents saying it gives EPA too much regulatory power over certain bodies of water and oversteps states' rights. Twenty-eight states in total have challenged the rule in court across several lawsuits, and a federal judge in August granted an injunction blocking implementation of the rule in 13 states.
An aide for House Majority Leader Kevin McCarthy said simply, "There is no plan to vote to impeach Gina McCarthy."
It's not the first time Gosar has taken such action against the Obama administration. Last year, he called for the impeachment of then-Attorney General Eric Holder, having previously spearheaded a successful bid to hold Holder in contempt of Congress.