House Republican Plans to Boycott Pope Francis's Speech Over Climate Change
Rep. Paul Gosar says the pope is acting "like a leftist politician," and he wants no part.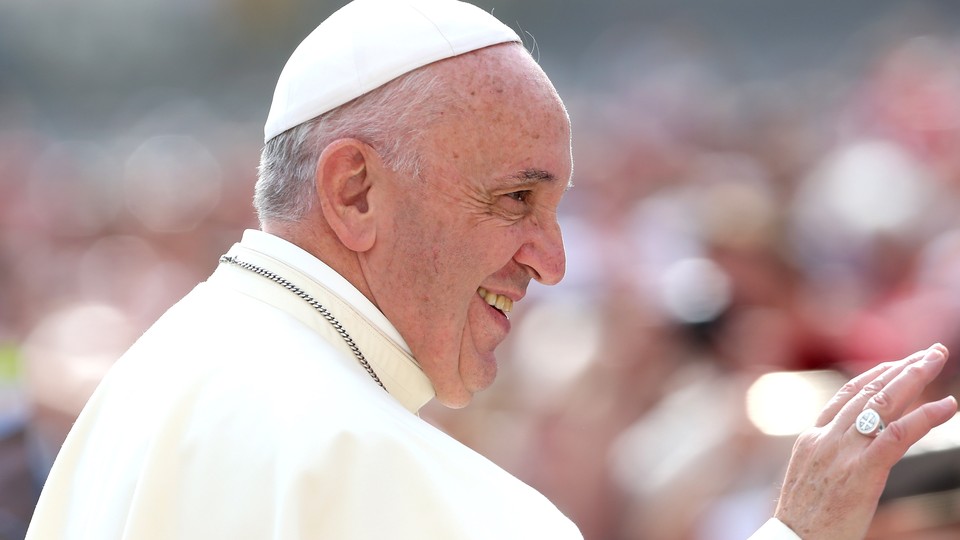 Paul Gosar is not pleased with Pope Francis—and he's ready to skip next week's historic speech as a result.
In an op-ed on the conservative site Townhall.com, the Arizona Republican appears very much concerned that Francis will urge action to fight climate change when he becomes the first pope to speak directly to a joint session of Congress. The pontiff is an outspoken advocate of action to combat man-made climate change, a stand that does not sit well with Gosar, a skeptic of the scientific consensus that human activity is the primary driver of dangerous global warming.
"At this pivotal moment in world history, His Holiness, Pope Francis, is intending to spend the majority of his time on one of the world's greatest stages focusing on climate change," Gosar writes, declaring: "If the Pope plans to spend the majority of his time advocating for flawed climate-change policies, then I will not attend."
Gosar's office confirmed that the congressman plans to boycott the speech out of concern that the pope will be talking extensively about climate change. Pope Francis's speech will take place before a joint-session of the House and Senate on September 24th.
The House Republican argues that if Francis wants to advocate for the environment, he should do so in his own free time and not on while on the clock for the Catholic Church.
"If the pope wants to devote his life to fighting climate change, then he can do so in his personal time. But to promote questionable science as Catholic dogma is ridiculous," Gosar writes, adding: "When the pope chooses to act like a leftist politician, then he can expect to be treated like one."
What would Gosar rather hear Francis talk about? The congressman appears to have considered that question at length, offering up a lengthy list of topics that he thinks would be far more suitable for Francis to stick to.
"If the pope stuck to standard Christian theology, I would be the first in line. If the pope spoke out with moral authority against violent Islam, I would be there cheering him on. If the pope urged the Western nations to rescue persecuted Christians in the Middle East, I would back him wholeheartedly," Gosar writes.
Gosar is also an ardent opponent of President Obama's policy agenda aimed at tackling the threat of climate change. To top it all off, Gosar recently vowed that he would attempt to impeach Environmental Protection Agency Administrator Gina McCarthy.
Can The Railroads Save America's Oil?