House GOP "Therapy Session" Leaves the Big Questions Unanswered
After a "cathartic" meeting, Republicans still don't know who will lead them or how they'll tackle looming policy fights.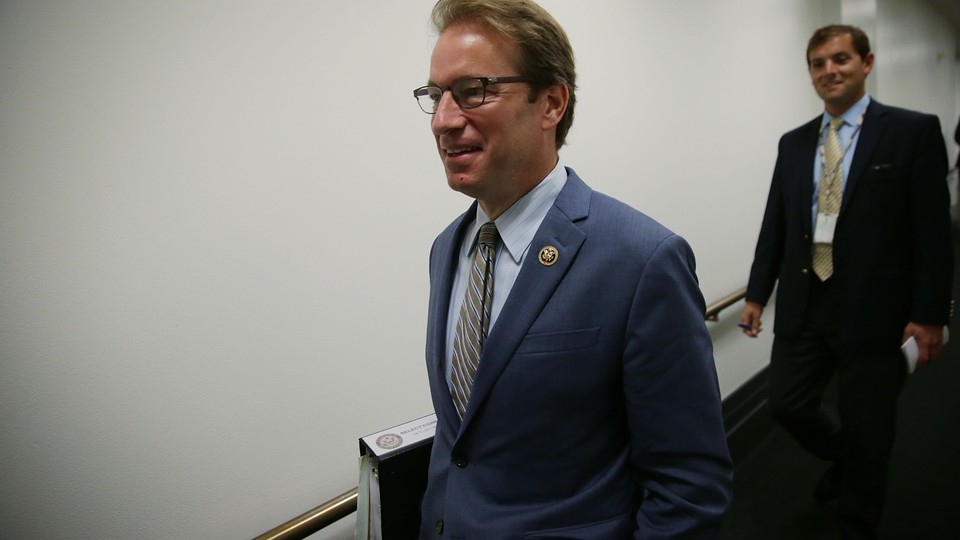 House Republicans gathered in the Capitol basement Tuesday for what lawmakers called a "cathartic" meeting and even a "therapy session" amid the deep rifts in the GOP conference laid bare by Speaker John Boehner's surprise resignation.
But the closed-door meeting did not answer looming questions about the scramble for leadership slots or tackle specific policy disputes between conservative hard-liners and other members, such as how to address still-looming fights over spending and Planned Parenthood. It was not a forum for politicking among the leadership candidates.
Several members described the session as constructive. It was the brainchild of Rep. Peter Roskam, who wanted to lawmakers to discuss the future of the House GOP ahead of leadership elections.
"This was a good therapy session for our conference. Everyone shared their views, everyone shared their frustrations, and I think we are in a better place now," freshman Rep. Carlos Curbelo told reporters after exiting the meeting in the Capitol basement.
House Ways and Means Committee Chairman Paul Ryan, who said he did not address lawmakers, called the meeting "cathartic."
"I think our members are just expressing themselves and everyone is listening to one another. It is a very productive process that we are going through," he said.
Members said the discussion did not attempt to establish a date for the leadership elections or settle the question of whether members in existing leadership slots trying to move up must vacate their current roles first.
Instead, it addressed broader topics around how the post-Boehner House will function. The outgoing speaker did not attend.
Energy and Commerce Committee Chairman Fred Upton said members were "voicing frustrations," but that the meeting was cordial.
"No fireworks. No Papelbon," he told National Journal, referring to Washington Nationals pitcher Jonathan Papelbon attacking star slugger Bryce Harper in the dugout on Sunday.
Not all members thought the meeting was helpful. As it became clear that no actual business would be taken care of or voted on at the meeting, member after disgruntled member began trickling out, many muttering sarcastically about how the meeting was a waste of time.
Still, most lawmakers who spoke to the press said it wasn't pointless. Rep. Peter King of New York, who last week said that Boehner's exit shows that "the crazies have taken over the party," told reporters Tuesday that while the meeting amounted to "a lot of generalities," it was useful.
"People talk, get it out of your system; it serves a purpose," King said, adding that "there's a lot of anger from last week on all sides" and talking relieves tension.
Lawmakers said Rep. Trey Gowdy, who heads the Select Committee on Benghazi, spoke at the meeting and reiterated that he's rebuffing overtures to get into the race for majority leader in order to focus on the panel's probe. Curbelo said Gowdy received a standing ovation.
It's unclear what types of process changes may come from the session, but Roskam said he wants to find ways to get more members involved in duties now handled only at leadership level.
There was also discussion of potential changes to House procedures. Roskam said one idea floated, for instance, would be to do away with the formal rules that govern debate on many bills and simply allow a freewheeling amendment process.
Roskam said he's not jumping into a leadership race himself.
"My own plans haven't changed. I am not putting together a race, and I am not doing any of those things that you would expect. I think the role that I can be playing right now is ... trying to lay out some of these larger themes," he told reporters in his office.
He predicted the leadership elections will occur next week.
"The X factor right now is there is interest in the part of some to have people in current leadership positions vacate their position before they can run for a subsequent office, and that will be vetted and debated at some point," Roskam said.
---
Daniel Newhauser contributed to this article