House Democrats Like Their New Campaign Chief. That Doesn't Make His Job Any Easier.
The early reviews have been good for Ben Ray Lujan, but his chances of winning back the majority remain almost nonexistent.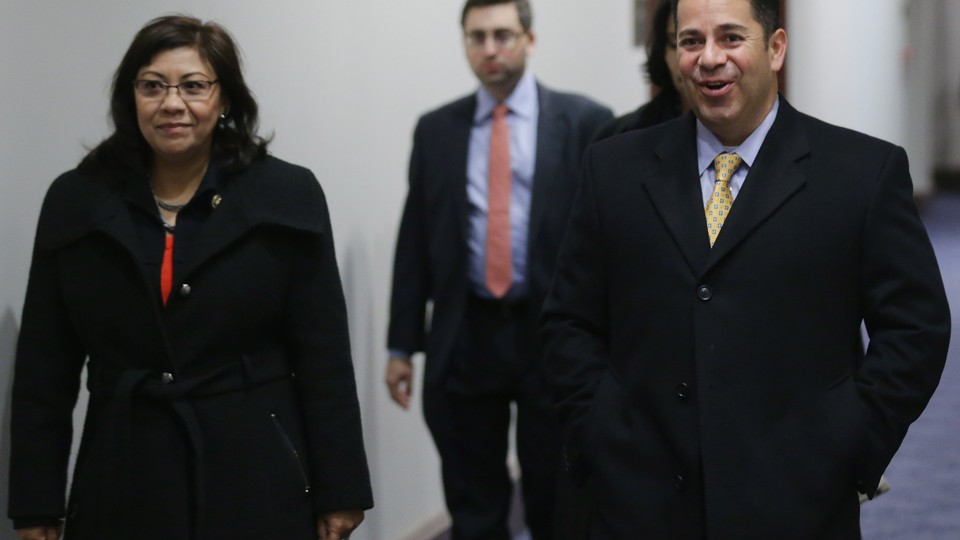 In November, when Rep. Ben Ray Lujan was named to head Democrats' efforts to retake the House, the general response in Washington was: "Who?"
Even for the four-term legislator from New Mexico, the choice was a surprising one. "This was not a job that I was out seeking support from my colleagues or from [Minority Leader Nancy] Pelosi," Lujan said. And when Pelosi told him he was her handpicked favorite to chair the Democratic Congressional Campaign Committee, he asked to consult with his mother before he could accept.
That, Pelosi said, is exactly why he was chosen, vaulting a half-dozen or so more-obvious choices who had been angling for the position. "Because he wasn't looking for it or because he hadn't asked people to help him get it, he was pure of heart in terms of—'I'm just here to get this job done,'" Pelosi said. "'It's not about me.'"
It's an unusual tack for a job that requires relentless fundraising, cajoling recruits, and a whole lot of the gritty back-and-forth of partisan warfare. Past chairs include ruthless operatives such as Rahm Emanuel, and often hail from big cities with plentiful fundraising opportunities. Lujan's colleagues describe him as humble, even-keeled, and friendly to a fault. But if that approach isn't a fit for the role of House Democrats' campaigner-in-chief, no one in the caucus seems to think so.
Lujan, they say, has brought enthusiasm back to a caucus whose numbers sit at near-historic lows after a dismal performance in the 2014 midterms. "He's brought enormous energy," said Rep. Anna Eshoo, who serves with Lujan on the Energy and Commerce Committee. "At every Democratic caucus meeting, as chairman of the DCCC, he gives a report. Members aren't given to a lot of applause and whooping and welcoming. They have a lot on their minds, they're half-paying attention while they're looking at their iPhones. [But] Ben Ray is always received with applause and shout-outs. He has sunshine about him. … It's very difficult for anyone to turn him down."
That's evidenced by the rise in members who pay their DCCC dues, which Lujan said is now up to 72 percent of the caucus. And the committee's overall fundraising numbers have been solid in the first two quarters of Lujan's chairmanship; the DCCC was outraising the National Republican Congressional Committee before Lujan arrived in the job and has continued to do so, even though Democrats have far fewer members.
Lujan's colleagues cite different successes in the early going of his tenure. Rep. Joseph Crowley, the caucus vice chair, said he's "changing the culture of the DCCC" to make it a more member-oriented organization. Many talk up his energy. "Ben Ray Lujan is a fireball," Minority Whip Steny Hoyer said. "He is a fount of enthusiasm and energy and focus. … [He] has got Democrats energized, focused, and working hard."
Lujan admitted the attack-dog portion of his job doesn't come naturally, but he hasn't shied away from it. "That was an adjustment, to make sure that we were going to hold everyone accountable," he said. "But I think that what I've always done with my approach to campaigns is you want to make sure that you're fair, but that you call out the dysfunction, you're able to show the contrast."
Still others mention early recruiting successes and efforts to diversify the committee's staff. But for all the praise—and Lujan's obvious popularity—the optimism dims when it comes to the hard numbers facing the new chair. Things will get better, Democrats believe, but that's only because they can't get any worse.
In 2014, Republicans won 247 seats in the House, the party's biggest majority since before the Great Depression. Few think that Democrats can make up all that lost ground in one election cycle—and many believe the majority is out of reach until at least 2020, when they'll have their first crack at changing the districts that were drawn largely in favor of Republicans in 2010.
Amid all the frustration of their current political situation, Democrats are being led into the next election by perhaps their most cheerful member. "He brings a great sense of joie de vivre to his job," Eshoo said. "He communicates to everyone that he is a happy soldier."
Still, Lujan admits that it will be an uphill battle. In 2016, a presidential year—which usually boosts Democratic turnout—he said Democrats should safely pick up eight to 10 seats, a modest pickup that would still leave the party nearly 40 votes short of the majority. If it turns out to be a good year for Democrats, those numbers could grow substantially, though Lujan was unwilling to offer a hard figure.
The majority, he said, is still in play, although it might take an unprecedented Democratic wave to make it happen. "If a Democratic president wins 49 of 50 states, I think the math is pretty clear on what that wave would look like," he said. "What I'm preparing for is whatever scenario comes our way."
Most Democrats were unwilling to speculate on just what is achievable for the DCCC, but acknowledge that it would take a long-shot scenario to overtake the GOP. "I don't think [Democrats can win back the House], but I think we can get awfully close," said Rep. Marcia Fudge. "Stranger things have happened."
Fudge had harsh words for the caucus's leadership this spring, accusing them of being unwilling to admit just how badly Democrats were defeated. But she's been pleased so far with Lujan's work to steer the committee. "The direction is very different," she said. "He took to heart some of the criticisms that members had."
Of course, any praise of Lujan's new-and-improved approach to DCCC is seen by some as veiled criticism of his predecessor, Rep. Steve Israel. But members were careful not to explicitly blame Israel for the party's past failures, and many went out of their way to acknowledge the difficult circumstances he faced.
Israel, long a favorite of Pelosi, was named to lead the caucus's newly-formed messaging team soon after he stepped down at the DCCC, and he and Lujan say they work closely together to form House Democrats' narrative ahead of 2016—one Lujan says will be focused on pocketbook issues. "It's eggs and milk and the cost of those goods to be able to feed your kids, to keep a roof over your head," he said. "To be able to work with dignity and take care of your family."
Israel put it a little more bluntly. "In 2016, the message is, 'It's my paycheck, stupid.'"
Even with the increased message coordination, Israel cautioned, many of the factors that decide an election are outside of the DCCC chair's control. "Chairing the DCCC often involves management of the wind," he said. "You inherit an environment, a good environment or a bad environment, and you just have to exploit the good environment and you have to defend against the bad environment. It's managing meteorology."
The DCCC, Lujan said, is focused on about 70 battleground races. In the early going, he's encouraged by what he sees. In the 21 most-vulnerable GOP-held districts, Democrats have already lined up 17 recruits. Meanwhile, the dozen incumbent Democrats that he's focused on protecting have drawn only four challengers. And the committee has its eye on the 49 Republican seats in districts that President Obama won or narrowly lost.
Amid all the day-to-day stress of this election cycle, Lujan said he's already strategizing for 2018 and beyond. Most in the caucus expect his leadership of the DCCC to be a multi-cycle effort. At 43, Lujan has a long political future ahead of him, and many expect him to have a big role in caucus leadership whenever his tenure at the committee comes to a close. "In any consideration of the future speaker of the House, his name has to be on the list," Israel said. "But I think he'd be the last to say that."