House Benghazi Probe Leader: Former Top Clinton Aide Mills 'Answered All of the Committee's Questions'
Trey Gowdy says the nine-hour interview with Cheryl Mills will be 'treated as classified,' rebuffing a senior Democrat's call for the transcript's immediate release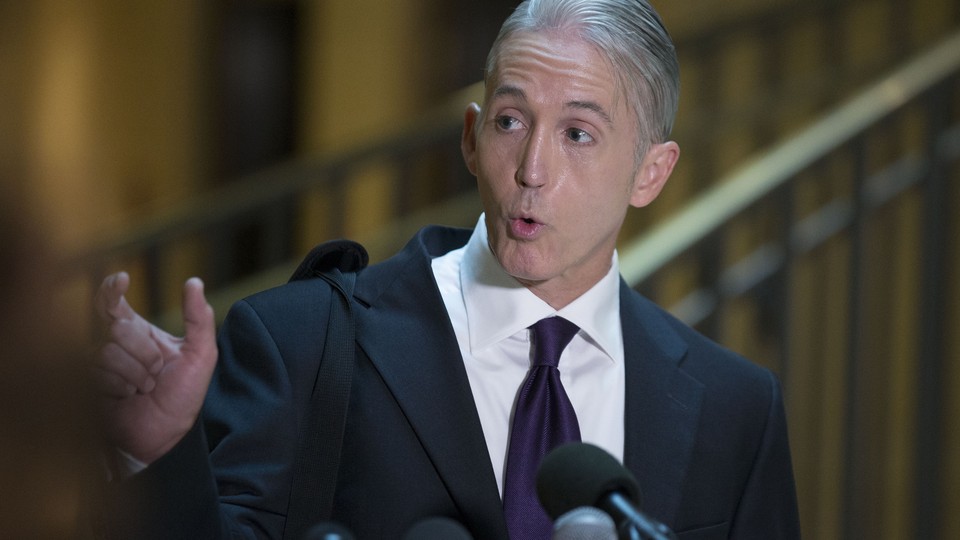 Cheryl Mills, one of Hillary Clinton's closest confidantes, fielded every question that the House Select Committee on Benghazi threw her way over the course of nine hours on Thursday, lawmakers in the room said.
But don't expect to read the back-and-forth anytime soon.
"Ms. Mills answered all of the committee's questions. The dialogue was professional and fact-centric," Trey Gowdy, the GOP chairman of the Select Committee on Benghazi, told reporters after the daylong interview in the U.S. Capitol.
"The members of the Benghazi committee on our side are going to treat the conversation as if it were classified," Gowdy added about the panel's interrogation of Mills, who was Clinton's State Department chief of staff.
Gowdy, Mills, and Elijah Cummings, who is the panel's top Democrat, spoke briefly to reporters after the wide-ranging interview by the GOP-led panel that's probing the 2012 attacks in Benghazi, Libya, but is also focusing heavily on Clinton's private email system.
Gowdy's comments were a clear dismissal of Cummings's call for the transcript of the closed-door interview to be made public quickly. Cummings told reporters earlier in the day that he was concerned that there would be "leaks" that inaccurately characterize the testimony of Mills.
"It is my hope that the transcript will be released immediately. I think that she would want it that way and I certainly want it that way," Cummings near the room where Mills was being interviewed.
Later, Cummings said the interview reinforced the inaccuracy of some GOP claims about Benghazi. "The secretary did not personally authorize cables that reduced the State Department's security in Libya, and she did not order the military to stand down, as some have alleged," Cummings said in his summary of the session.
A source familiar with the testimony said Mills also told the panel that Clinton's team did not shield any of Clinton's work-related messages from public view or destroy them, confirming an account of Mills' comments on the issue in Politico.
Clinton turned over roughly 30,000 emails to the State Department last year that had been on her private server, while deleting a roughly equal number that she deemed personal.
But Republicans have said Clinton could have withheld important information, charges that grew after Clinton confidant Sid Blumenthal turned over a batch of his emails with Clinton to the Benghazi panel that included a limited number that the State Department could not find.
Cummings has accused Republicans of mischaracterizing the June closed-door deposition of Blumenthal in leaks to the press, and at the time similarly called—to no avail—for the release of the transcript of Blumenthal's full comments.
On Thursday, Cummings noted that Mills asked to testify in public, but that Republicans did not allow it.
The Benghazi panel has not been releasing the transcripts of any of its closed-door sessions, and Gowdy said that was not going to change when asked about the Mills interview that he said would he handle as classified, at least for now.
"The process is, these transcripts ... need to be looked at by entities that have equities in my questions and the answers provided," Gowdy told reporters late Thursday afternoon. "I am not going to release something that, in hindsight, I say, 'oops, I should not have released that'. I'd rather err on the side of you all being upset with me that I am not releasing it then err in the side of releasing it and then having to explain afterwards what I did."
The Benghazi panel is probing the 2012 attacks at a diplomatic compound and nearby CIA facility that killed four Americans, including Ambassador Chris Stevens.
Jake Sullivan, another top Clinton State Department aide, is slated to appear at a similar closed-door session tomorrow. He's now working for Clinton's presidential campaign.
Gowdy and several other GOP members of the committee came back to Washington from the congressional summer recess to take part in the questioning.
The interviews are a key part of the investigation because Mills and Sullivan were in Clinton's innermost circle at State, and thousands of pages of Clinton's emails released in recent days and months show them both in frequent contact with Clinton over her private server.
Mills offered short comments to reporters after the daylong grilling, thanking Gowdy and Cummings for the "professionalism and respect" that they have shown her. "Obviously the tragedy that happened in Benghazi was about more than what's happening in this room," she said, adding it's about the loss of people "dear to the State Department and dear to this country."
"We honor them by remembering what happened and doing our best to ensure that that doesn't happen again," Mills said.
Mills's interview took place a day after the revelation that Bryan Pagliano, the former State Department computer staffer and aide in her 2008 White House run who helped to set up Clinton's private server in 2009, planned to invoke his Fifth Amendment rights instead of appearing at a deposition before the committee next week.
Republicans served him with a subpoena last month.
Clinton's campaign said Pagliano's decision was disappointing but understandable. "We had hoped Bryan would also agree to answer any questions from the committee, and had recently encouraged him to grant the committee's request for an interview," an aide said.
"Bryan is an utter professional and a wonderful young man who does not live in the public eye and understandably may not wish to be drawn into a political spectacle.  So his decision is both understandable and yet also disappointing to us, because we believe he has every reason to be transparent about his IT assistance," the campaign aide said.
Pagliano's attorney, Mark J. MacDougall, explained his decision this way in an Monday letter to the Benghazi committee: "While we understand that Mr. Pagliano's response to this subpoena may be controversial in the current political environment, we hope that the members of the Select Committee will respect our client's right to invoke the protections of the Constitution."
He then cites a 2001 Supreme Court decision which noted that one of the Fifth Amendment's "basic functions" is to protect innocent people who "otherwise might be ensnared by ambiguous circumstances."
A Senate Judiciary Committee spokeswoman said Pagliano's attorney also told that panel, which is probing Clinton's email arrangement, that he would invoke his Fifth Amendment rights in response to their inquiry.
"Mr. Pagliano's legal counsel told the committee on Tuesday that he would plead the Fifth to any and all questions if he were compelled to testify," spokeswoman Beth Levine said. The Senate Homeland Security Committee has also reportedly contacted Pagliano.