Hillary Clinton On Her Emails: "I Am Sorry That This Has Been Confusing To People"
Clinton said her private system "wasn't the best choice," but denied charges of wrongdoing.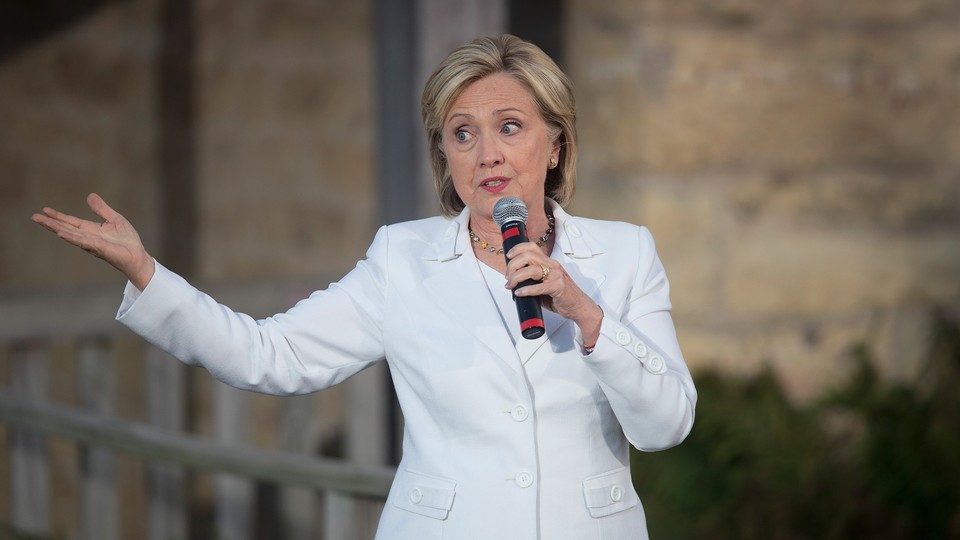 Hillary Clinton expressed regret Friday over the fallout from her use of a private email system as secretary of State while denying that she behaved recklessly with classified information.
In a nationally televised interview on MSNBC with Andrea Mitchell, Clinton sought to balance openness about the topic that's engulfing her White House campaign while also seeking to refocus attention on her policy goals and message.
She is slated to testify Oct. 22 before the House Select Committee on Benghazi, which is focusing heavily on her use of a private email server and personal email address.
"I am going to answer these questions and I am also going to continue to talk about what is important to the people that I meet about this presidential campaign. Because it really is critical that we renew the basic bargain of America, so that if you work hard you do your part, you can get ahead and pay for college and have equal pay for equal work and all the other important issues that are on people's minds," Clinton said.
Later in the roughly 12-minute back-and-forth with Mitchell about the email issue, Clinton said: "At the end of the day, I am sorry that this has been confusing to people and has raised a lot of questions."
"But there are answers to all these questions and I will continue to provide those answers, and those answers have been confirmed and affirmed by the State Department and by other government officials, and eventually I will get to testify in public, and I am sure it will be a long and grueling time there, but all the questions will be answered, and I take responsibility and it wasn't the best choice," Clinton added.
Still, while Clinton said she was sorry about the confusion that the arrangement has caused people, that came after she twice deflected questions from Mitchell about whether she was "sorry" about using a private email system, initially saying that she now wished that she had made a different choice, and the second time replying: "It wasn't the best choice, and I certainly have said that."
She reiterated her campaign's message that none of the messages that crossed her server were marked as classified when they were sent or received, and said that she was careful with the handling of classified information while at State.
The ongoing federal review of the roughly 30,000 of her messages under the Freedom of Information Act has led officials to redact information now deemed classified in 188 released messages so far.
Clinton has said she used her private email system for "convenience" because it allowed her to avoid carrying one device for personal emails and a second for work-related correspondence.
On Friday she said she did not consider the topic carefully when she became secretary of State in 2009. Asked if anyone in her inner circle cautioned against the email arrangement, Clinton replied:  "You know, I was not thinking a lot when I got in. There was so much work to be done, we had so many problems around the world. I didn't really stop and think, what kind of email system will there be."
Clinton last month agreed to have the server turned over to the FBI, which is probing the security of her private email setup.
Clinton's comments arrive amid fresh political warfare on the GOP-led House panel probing her email arrangement.
Rep. Adam Schiff, a Democratic member of the House Benghazi panel, penned a New York Times op-ed that calls for the dissolution of the committee, calling it a partisan tool to attack Clinton's White House candidacy.
"A committee that cannot tell the American people what it is looking for after 16 months should be shut down. Otherwise, Benghazi will come to be remembered not for the tragedy that claimed four American lives, but for the terrible abuse of process that now bears its name," writes Schiff, who is the ranking Democrat on the House Permanent Select Committee on Intelligence.
That drew a lengthy, sharply worded rebuke from Jamal Ware, the committee spokesman for Trey Gowdy, the South Carolina Republican who leads the panel. Ware said Schiff's call for disbanding the committee lacks credibility.
"It is interesting he made this call considering Mr. Schiff himself has only attended one of the more than 45 interviews conducted to date by the Select Committee on Benghazi. In fact, save for voting no to create the committee and then attending a press event on the now well-disproven Democrat talking point that all has been 'asked and answered,' Mr. Schiff has largely been a member of the committee in absentia," Ware said in an email to reporters defending the panel's work.
This week, the committee probe of the 2012 Benghazi attack and Clinton's email arrangement entered a new phase with closed-door interviews of two members of Clinton's innermost circle.
On Thursday, panel members questioned Cheryl Mills, a longtime Clinton confidante who was her State Department chief of staff, for roughly nine hours at the Capitol. And Friday they're grilling Jake Sullivan, who was a top State Department aide and now a senior member of Clinton's White House campaign.