Hillary Clinton Is Leading in the Ellen DeGeneres Primary
The host showed her political side with the Democratic front-runner Thursday.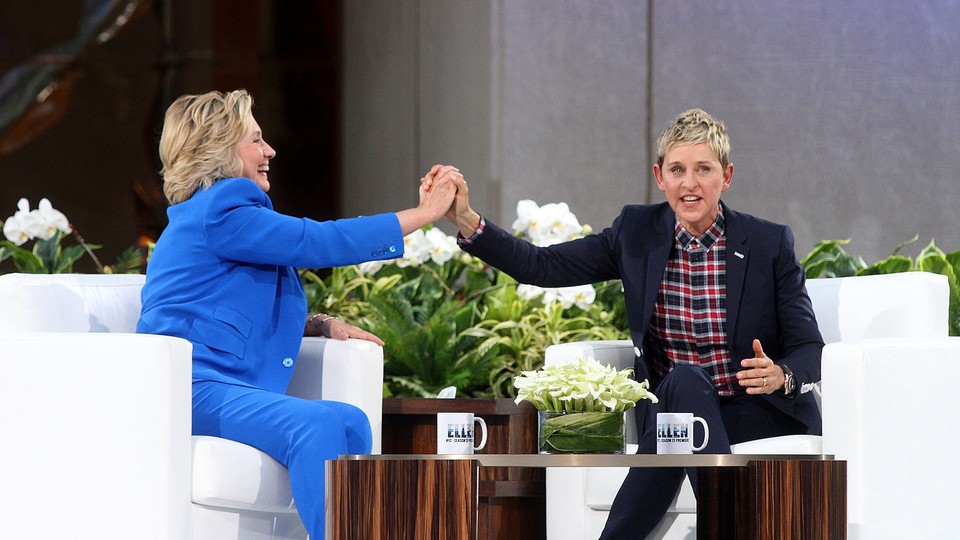 In a Thursday episode of The Ellen Show, Ellen DeGeneres all but formally endorsed Hillary Clinton for president.
During a brief question and answer with the presidential candidate, DeGeneres gushed about Clinton's record on women's rights and human rights.
"If I look at all the other candidates, someone who is for rights across the board—equal rights for women, equal rights for every ethnicity, equal rights for everyone—the only person I can look at is you," DeGeneres told Clinton.
DeGeneres, not to stick just to fluff, did ask about the ongoing controversy over Clinton's use of personal email as secretary of State. Clinton reiterated that she was "sorry for all the confusion that has ensued." She added that she would continue to be "transparent" and answer questions.
"I actually don't think you need to," DeGeneres replied, defending Clinton. "It's just that people keep bringing it up. They have not found a thing. They keep saying that they found something, but then we don't hear anything about it, so they haven't found anything," DeGeneres concluded.
DeGeneres went on to argue that women are held to a different standard than men "for our weight, for our age, for our looks, for everything—which is not fair because you are the smartest, most qualified person for this job."
During the interview, which was taped Tuesday and aired Thursday, DeGeneres also asked Clinton about the effect of her age on the presidency. Before Clinton got a chance to respond, DeGeneres effectively answered her own question: "They're saying that if you are elected, you would be one of the oldest presidents elected, which, does that matter? Don't we want experience more than anything? Isn't that important?"
Also during the episode, Clinton asked questions to 5-year-old "presidential expert" Macey Hensley and danced the Nae Nae. Former President Bill Clinton tweeted some commentary on his wife's dance skills:
Clinton's interview wasn't the only political moment on the show. A short sketch featured footage of DeGeneres in a Family Feud costume cut with clips from the last Republican presidential debate, to make it appear as if she had been on the debate stage. DeGeneres began playing a banjo and broke into a song about a "poor mountaineer" named Jeb, an apparent reference to the TV show The Beverly Hillbillies.
During the episode, DeGeneres mentioned that she is "not a political person." She previously appeared via satellite at a fundraiser during Clinton's 2008 campaign. According to data provided by OpenSecrets.org, she gave $5,000 to Barack Obama's 2012 campaign.
The Ellen Show's website lists guests scheduled to appear through Sept. 16. As of now, no other presidential candidates—Democratic or otherwise—are scheduled to appear, but a Change.Org petition to get Sen. Bernie Sanders on the show has nearly 10,000 signatures.