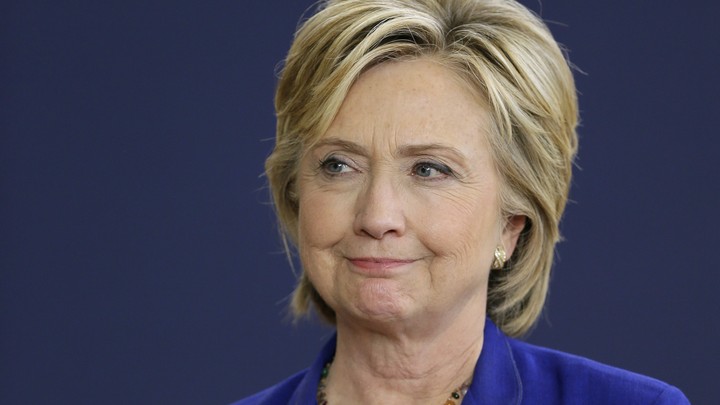 Pope Francis may not be a Democrat, but Democrats certainly love Pope Francis. And during his trip to the United States, they're evidently trying to get a boost from his popularity. On Friday, presidential nominee Hillary Clinton appeared in an unlikely media outlet, the National Catholic Reporter, with a Francis-themed  op-ed on climate change. For anyone who's followed Clinton's campaign even a little bit, the rhetoric will sound familiar, even if the venue is new. "As a person of faith, a mother, and a grandmother, I am deeply moved by Pope Francis' recent teachings on climate change—to reflect and above all to act," she writes. "We are rich, powerful, and blessed with many advantages. We must lead the charge."
Unfortunately, Clinton was beaten to the pages of NCR by her Catholic competitor, Martin O'Malley. His pope-full op-ed on climate change, which also touched on poverty and the migrant crisis, ran a few days ago, right before Francis arrived in the U.S. And just to round things out, Bernie Sanders did his own round of pope praising on Thursday after the pontiff addressed Congress. "The name Dorothy Day has not been used in the United States Congress terribly often," Sanders told The Washington Post. "She was a valiant fighter for workers, was very strong in her belief for social justice ... This would be one of the very, very few times that somebody as radical as Dorothy Day was mentioned."
Why all the Democratic scrambling to get in line with Francis? Of course, there's the obvious reason: Francis is immensely popular, and his visit to the United States has attracted huge levels of media attention. During this trip, he has spoken on several issues Democrats tend to line up behind, including climate change, poverty, and immigration. It's a basic political survival tactic to align oneself with the news cycle and its most popular figure.
But there's also deeper demographic reasoning here. In the 2012 presidential election, 59 percent of white Catholics voted for Romney, while only 40 percent vote for Obama, according to Pew. In 2008, 52 percent of that group voted for McCain; in 2004, 56 percent voted for Bush. For the last decade, this group of voters has tilted right, and surely Democrats see an opportunity to change that.
On the other hand, Hispanic Catholics have moved to the left since the 2000 presidential election. That year, 65 percent of that group voted for Gore, versus 33 percent for Bush, according to Pew. By comparison, in 2012, 75 percent voted for Obama. Hispanic Americans are leaving the Church in droves, but they're still a significant demographic in American Catholicism: As of 2013, a third of Catholics in the U.S. were Hispanic. Alignment with Pope Francis is a natural way for presidential candidates to try and reach out to this group—throughout his trip, the pope has tried to elevate the status of Hispanics.
Is the Pope bandwagoning inauthentic? In a certain way, it has to be. Of the three Democrats to associate themselves with him most prominently—O'Malley, Sanders, and Clinton—only one believes that the pope is the head of the one true Church, and only one actually shares the political philosophy of Dorothy Day.  Neither of those people is Clinton. It's hard to blame her campaign for trying to catch some of Francis's halo effect, but perhaps there are bigger gains than polling points to be won from his visit to the U.S.
We want to hear what you think about this article. Submit a letter to the editor or write to letters@theatlantic.com.
Emma Green
is a staff writer at ​
The Atlantic
, where she covers politics, policy, and religion.