Hillary Clinton Opposes Keystone XL
After waiting for months for President Obama to approve or reject the pipeline, the Democrat makes her stance public.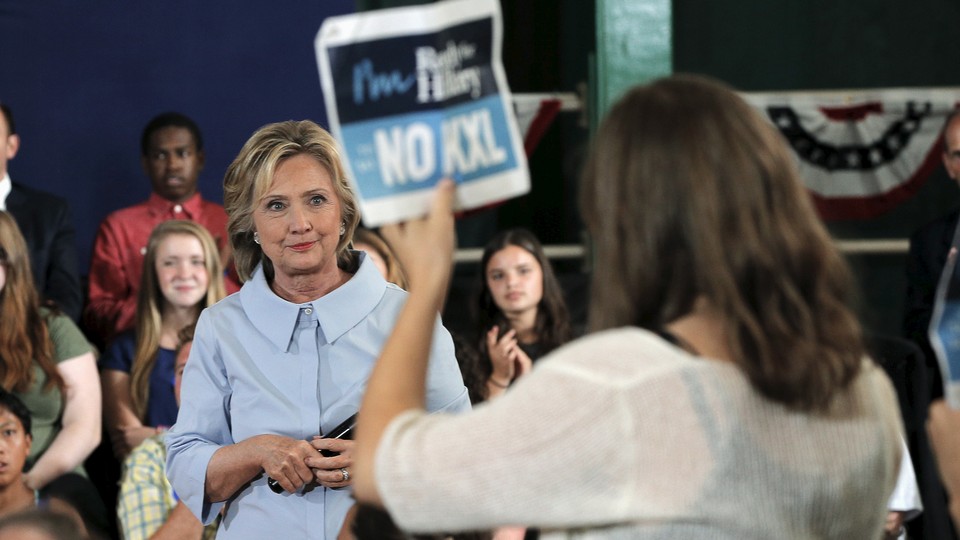 Hillary Clinton has ended her game of chicken with the Obama administration over the Keystone XL pipeline.
For years, the White House has avoided either giving approval to the pipeline or rejecting it—though there have been numerous false alarms that a decision was near. And for months, Clinton, who as secretary of state oversaw earlier stages of the process of making a yes or no recommendation, waited to see where the president would come down before wading into a messy fight.
On Tuesday, she ended the game of chicken, offering a terse answer: "I oppose it because I don't think it's in the best interest of what we need to do to combat climate change." The Democratic candidate had fired a warning salvo on Friday, saying, "I have been waiting for the administration to make a decision. I thought I owed them that. I can't wait too much longer. I am putting the White House on notice. I am going to tell you what I think soon because I can't wait."
Cynics noted that she made the announcement almost literally at the same time that Pope Francis was arriving in D.C.—a fortuitous choice of timing for a news dump. Clinton may have had little political choice in the matter: Democratic primary voters don't like the pipeline, and with Bernie Sanders running unexpectedly well against her, she's being tugged to the left on a variety of issues.
An interesting question is whether Clinton's announcement will pressure Obama politically, just as she reacted to political pressure. The White House has said it won't make a decision until it receives a recommendation from the State Department—Secretary John Kerry's past support for environmental causes is said to incline him against it—and it hasn't received that yet.