Hillary Clinton Comes Out Against the Keystone Pipeline, After Long Avoiding a Position
The Democratic front-runner has been wary of going public with a position during her campaign. Until now.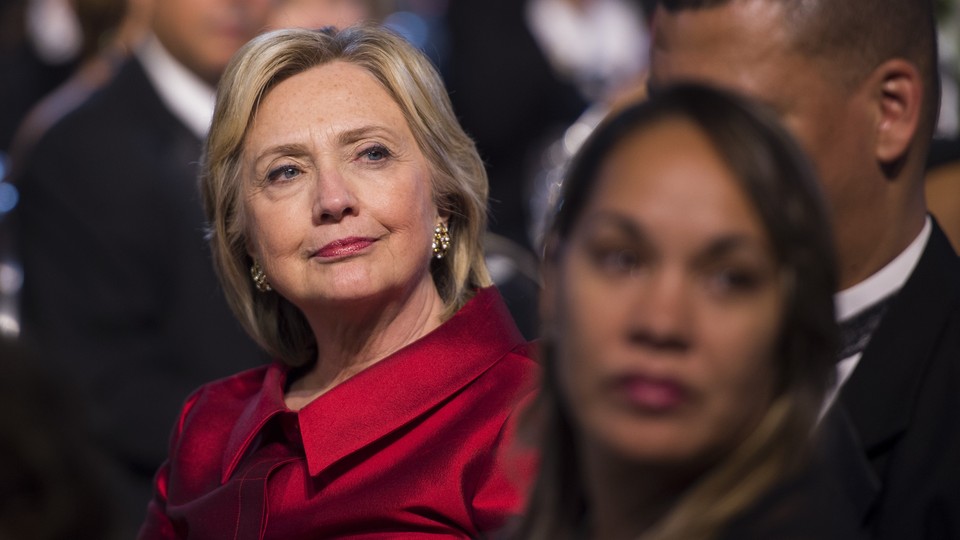 Hillary Clinton said Tuesday that she opposes construction of the Keystone XL oil-sands pipeline, an announcement that ends years of declining to weigh in on the controversial project, which environmentalists are battling hard to defeat.
Clinton's comments came just as most of Washington's attention was turned to the arrival of Pope Francis in D.C. According to a copy of her remarks provided by her campaign, Clinton said, "I think it is imperative that we look at the Keystone Pipeline as what I believe it is—a distraction from the important work we have to do to combat climate change, and unfortunately, from my perspective, one that interferes with our ability to move forward to deal with all the other issues. Therefore, I oppose it."
Clinton's answer came in response to a question from a Drake University student who said that climate change was an important issue for her, and that she opposed the Keystone XL pipeline because of it.
The revelation of her position in Iowa will likely help the Democratic White House candidate corral support among green activists, but the project is supported by a large number of labor unions, another key part of the Democratic base. Speaking to jobs specifically Tuesday, Clinton said she wants to implement a policy that would "put thousands of Americans to work" fixing old, leaky pipelines and repairing railcars, rail beds, and rail tracks that currently transport oil. She said there are "a lot more jobs, from my perspective, on a North American clean energy agenda than you would ever get from one pipeline crossing the border."
Hillary Clinton speaks out on Keystone
TransCanada Corp.'s proposed multibillion-dollar project to bring crude oil from Alberta's oil sands to Gulf Coast refineries remains under Obama administration review, but President Obama has made several comments critical of the project, fueling widespread expectation that he'll ultimately reject it.
Clinton's team tipped off the White House that she was about to come out in opposition to the project, a campaign aide said. "The White House was briefed on Clinton's position on the Keystone project prior to her comments today," the aide said.
Her campaign also said that labor unions knew what was coming. "In the course of discussing her plans for increasing investment in energy infrastructure with labor officials in recent weeks, she privately made her opposition to the pipeline known to them as well," the aide said.
Bernie Sanders and Martin O'Malley, who are both running against Clinton for the Democratic White House nomination, are already opponents of the project that has been at the heart of a high-profile battle over climate change and energy during much of Obama's presidency.
The announcement is a break with Clinton's prior responses in 2014 and this year. For instance, in late July, Clinton referred to the ongoing State Department review, stating: "I will re­frain from comment­ing be­cause I had a lead­ing role in get­ting that pro­cess star­ted and I think that we have to let it run its course."
But last week Clinton suggested she was tiring of the long federal review. "I can't wait too much longer. And I am putting the White House on notice. I am going to tell you what I think soon because I can't wait," she said in New Hampshire, according to multiple reports.
The Clinton campaign aide sought to explain why Clinton changed her mind about taking a position while the State Department-led review of TransCanada's permit application remains open.
"As she has said previously, she wanted to respect the president's timetable for making a decision and give her successor, Secretary [John] Kerry, the space to conduct a thorough process. However, when she launched her campaign earlier this year, she expected a decision would have been made before now," the aide said, adding that Clinton "feels she owes it to the American people to make it clear where she stands."
Clinton's decision marks the second time in recent weeks that she has taken a stance popular with green activists on a controversial energy issue.
In August, she came out against oil-and-gas drilling in the Arctic Ocean off Alaska's coast, breaking with the Obama administration, which has given oil giant Royal Dutch Shell permission to drill an exploratory well.
Clinton's new Keystone stance drew quick cheers from environmentalists.
"We are thrilled that Secretary Clinton has continued to build on her longtime environmental leadership by publicly opposing the dirty and dangerous Keystone XL tar-sands pipeline. This is exactly the kind of leadership we need in order to leave a healthy planet for our children and grandchildren," said Tiernan Sittenfeld of the League of Conservation Voters Action Fund in a statement.
But Clinton also received immediate attacks from the American Petroleum Institute, a powerful lobbying group that has for years spent heavily to promote the project.
"Hillary Clinton's decision to oppose Keystone is a missed opportunity to seize the true potential of our energy renaissance," said Jack Gerard, the group's president. "It is most unfortunate for American workers and consumers that she has joined the forces of delay and denial."
Sanders, a longtime progressive who is giving Clinton an unexpectedly strong challenge for the nomination, sought to emphasize that he is a long-standing opponent of the pipeline and that Clinton is only now staking out a position.
The Vermont senator noted that he has "vigorously opposed the Keystone pipeline from the beginning," adding, "I am glad that Secretary Clinton finally has made a decision and I welcome her opposition to the pipeline."
O'Malley also sought to portray Clinton as a laggard. "On issue after issue—marriage equality, drivers licenses for undocumented immigrants, children fleeing violence in Central America, the Syrian refugee crisis, and now the Keystone Pipeline, Secretary Clinton has followed—not forged—public opinion," the former Maryland governor said in comments emailed to reporters shortly after Clinton announced her stance.
The State Department is leading the review of the project—which would carry hundreds of thousands of barrels of oil per day—because it crosses an international boundary.
Beyond its political impact in the Democratic primaries, Clinton's position is important for the future of the project if she's elected president. TransCanada CEO Russ Girling has said the company will continue to seek permission to build the pipeline even if Obama rejects it. Republican candidates for president support the project.
TransCanada, in a statement Tuesday, said the company remains focused on winning federal approval. "Our focus remains on securing a permit to build Keystone XL. 17,000 pages of scientific study have concluded that Keystone XL would have minimal impact on the environment," said spokesman Davis Sheremata.
Clinton's new stance is the latest twist in the half-decade long fight over Keystone. Environmentalists, especially Vermont activist Bill McKibben and his group 350.org, helped transform Keystone from an obscure bureaucratic permitting scuffle into a high-profile campaign.
Some evidence of that metamorphosis: Clinton, while secretary of State, made a now-famous comment in 2010 that she was "inclined" to approve Keystone. But in subsequent months and years, the battle became far more heated and the Obama administration slow-walked the review.
The tussle has been atypical in the Beltway, focusing not on legislation or a broader regulatory question, but rather on a single project. It has included large Washington, D.C. protests and civil disobedience.
"Make no mistake: Today is clear proof that social movements move politics. Thanks to thousands of dedicated activists around the country who spent years putting their bodies on the line to protect our climate, we've taken a top-tier presidential candidate's 'inclination to approve' Keystone XL, and turned it into yet another call for rejection," said May Boeve, executive director of 350 Action, the political arm of 350.org.
Environmentalists argue that Keystone, if built, would be a major catalyst for growth of carbon-intensive oil-sands production in Alberta, site of massive hydrocarbon resources where production is around 2 million barrels per day.
Sup­port­ers of the pro­ject say it will have little ef­fect on the rate of oil-sands pro­duc­tion in­creases over time, cit­ing oth­er op­tions, like railways, for get­ting the product to mar­ket.
Obama has said he will not approve Keystone unless he is sure it would not "significantly worsen" greenhouse-gas emissions.
A major State Department analysis in early 2014 buoyed pipeline supporters, concluding that the project would have little effect on future oil-sands production levels and hence little greenhouse-gas impact.
The report's authors also cited what they considered an un­likely scen­ario that could change that conclusion: a big, sus­tained drop in prices that could hinder the growth of oil-sands de­vel­op­ment without Key­stone, at least if oth­er pipeline pro­jects don't go for­ward either.
However, in early February of this year, the Environmental Protection Agency told the State Department that its climate-change analysis of the impact of lower prices should be given "additional weight" in light of the sharp drop in oil prices, which began in the summer of 2014.