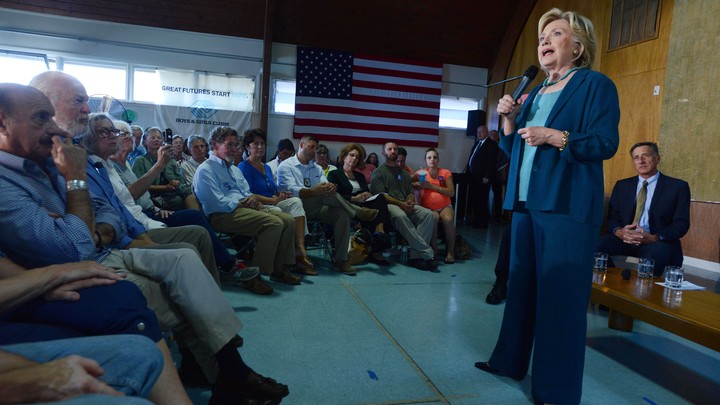 Hillary Clinton on Tuesday called for a repeal of the Affordable Care Act's "Cadillac" tax, opposing a piece of Obama's health care law for the first time.
Until now, Clinton has repeatedly stressed her support for the law, pointing to its successes and advocating for further implementation, such as Medicaid expansion. In doing so, she has planted herself in the middle of a debate that also features Sen. Bernie Sanders to the left advocating for a single-payer system and Republicans to the right who want to repeal and replace Obamacare in its entirety.
Clinton's announcement comes amid a flurry of action on the Hill to do exactly what she has proposed. Several Senate Democrats introduced a repeal of the tax last week, and Sens. Dean Heller and Martin Heinrich had introduced a bipartisan repeal bill earlier this month.
The Cadillac tax is a 40 percent excise tax on employer-provided health benefits that exceed a certain threshold. It was included in the ACA as a way to control health care costs, help pay for the law, and address government revenue lost by the tax exclusion of employer-provided health care plans.
Policy-wise, the difference between Clinton's proposal and the Democrats' Senate bill is that hers suggests a way to replace the revenue the tax is expected to bring in: her previous health care proposals released last week that largely targeted pharmaceutical companies and insurers. The Senate bill, led by Sen. Sherrod Brown, requires a pay-for but does not specifically suggest one.
"I have proposed new reforms to build on the progress we've made and lower out-of-pocket costs for families. Too many Americans are struggling to meet the cost of rising deductibles and drug prices. That's why, among other steps, I encourage Congress to repeal the so-called 'Cadillac' tax, which applies to some employer-based health care plans, and to fully pay for the the cost of repeal," Clinton said in a statement.
"My proposed reforms to our health care system would more than cover the cost of repealing the Cadillac tax, while also reining in skyrocketing prescription-drug costs and out-of-pocket expenses for hardworking families," she added.
The repeal echoes the messaging surrounding proposals she released last week, calling for lower health care costs for consumers. Her campaign offered no further details on which policy proposals would offset the tax.
Although the Cadillac tax isn't scheduled to take effect until 2018, studies have shown that some employers are already preparing by cutting benefits for consumers.
Clinton's opposition to the tax makes sense. Unions strongly oppose it, and her Democratic primary opponents Sen. Bernie Sanders and Martin O'Malley have already stated their opposition.
Clinton's policy proposals released last week include in­clude re­quir­ing drug com­pan­ies to re­dir­ect funds from mar­ket­ing to re­search, en­cour­aging the de­vel­op­ment of gen­er­ics to in­crease com­pet­i­tion for pre­scrip­tion drugs, al­low­ing Amer­ic­ans to im­port drugs from abroad, de­mand­ing high­er re­bates for pre­scrip­tion drugs through Medi­care, and al­low­ing Medi­care to ne­go­ti­ate drug and bio­lo­gic prices. Clin­ton's plan also would cap monthly and an­nu­al out-of-pock­et costs for pre­scrip­tion drugs.
In her statement on Tuesday, Clinton reaffirmed her commitment to and support of the ACA, creating a stark contrast between herself and Republican presidential candidates advocating for a full repeal of the law.
"The Affordable Care Act is working, plain and simple," she said. "President Obama doesn't get enough credit for this historic achievement, and Republicans' obsession with repeal is dead wrong. We should be defending and strengthening the Affordable Care Act, not scrapping it."
We want to hear what you think about this article. Submit a letter to the editor or write to letters@theatlantic.com.
Caitlin Owens is a health care reporter at National Journal. Her work has previously appeared in the Los Angeles Times, The News & Observer and The Charlotte Observer. She is a graduate of the University of North Carolina at Chapel Hill.