Hill Democrats Loved the Pope's Speech. But They'll Try Not to Gloat About It.
Francis's message wins near-universal praise from the minority party, though of course it wasn't about "politics."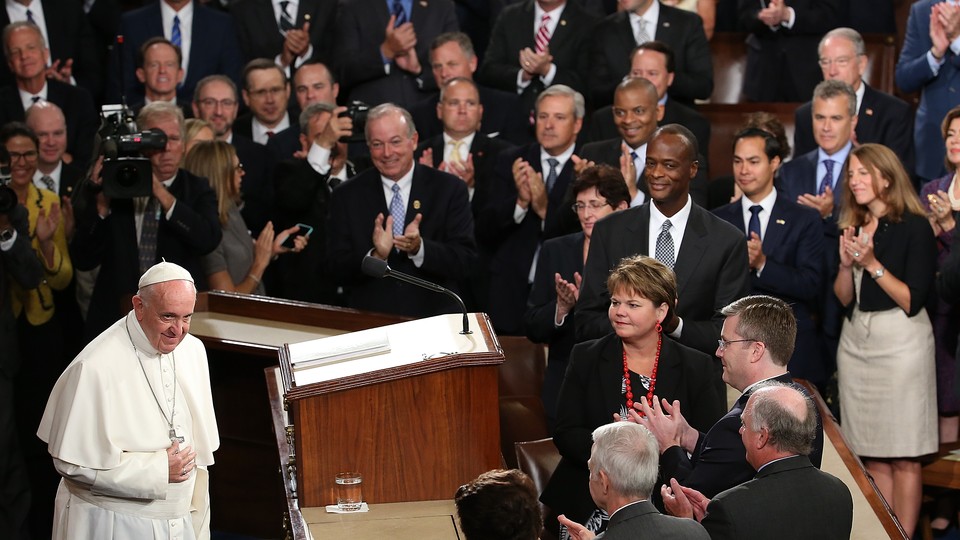 Democrats didn't exactly take a victory lap after Pope Francis's speech to a joint meeting of Congress—but they didn't hide their enthusiasm that the leader of the Catholic Church focused on many of the issues they consider policy priorities.
"He touched on all of them," said Rep. Jan Schakowsky, who appeared in a Democratic Caucus-produced video earlier this week urging the pope to address climate change. House Democrats also released videos on poverty and immigration.
"It was carefully crafted, but I loved the balance between the humanity, the environment, the concern for immigrants," said Rep. Earl Blumenauer. "I thought it was a terrific message, and I hope people listened. I liked how he was talking about the stewardship with the planet, and of our broader obligations to our fellow man and how the burden shouldn't fall exclusively on marginalized people."
Democrats were careful not to characterize the message as a papal endorsement of partisan policies, but they said it underscores how such issues run deeper than political fights. "Beautiful. Awesome. Just so basic," said Rep. Charles Rangel. Asked about the Democratic priorities, he added: "I would like to believe they're priorities of Congress, of what we should do." Rangel appeared in the Democrats' video on poverty.
Others found it hard to contain their emotions. "I'm overwhelmed," said Rep. Luis Gutierrez. "I think he did a wonderful job, and I'm so happy at all of the core issues he touched on. I've been here 23 years, I've been to a couple dozen joint sessions of Congress, and no one's ever brought me to tears [before]."
"There's something there for everybody," said Rep. James Clyburn, voicing a sentiment echoed by more than one member. "It was a very genuine speech."
Some Republicans, meanwhile, were less than pleased with what Francis chose to emphasize.
Rep. Mario Diaz-Balart said he was "taken aback" by how little the pope talked about abortion. "He spent a lot of time talking about the death penalty, but very little time talking about protecting innocent life," he said.
But House Majority Whip Steve Scalise was less concerned about individual elements of the speech.
"The pope's message transcends politics. I think he spoke to Catholics around the world, and touched on a lot of issues that are important to our faith," Scalise said.
Democratic Sen. Patrick Leahy, the longest-serving Catholic in Congress, and, like Francis, a son of Italian immigrants, was pleased with what he heard. "He spoke to our sense of humanity," Leahy said. "It was not a Catholic or non-Catholic speech. It was, 'Remember who you are as people.'" Leahy didn't miss the opportunity to take a shot at Republicans. "This country would be a lot different if we slammed our doors shut the way some people wanted today," he said.
Leahy wasn't the only Democrat to praise the pope's message on immigration. "It's a big issue to him," said Rep. Marc Veasey, who had urged the pope to talk about the issue. "Poverty, too, which plays into immigration. One of the things that I've been talking about is one of the key components to addressing immigration has to be how well our neighbors are doing to the south. We need a strong Central America, we need a strong Mexico, in order to really help with the issue of immigration and also making opportunities more readily available in those countries. ... He got to it."
On the environment, as well, Democrats called the pope's speech an important reminder of one of their key priorities. "His reference to our home and the needs that we face to redirect technology and our economy, to address the harm that we are doing to the environment, I think simply continued the very strong remarks he made yesterday on climate change," said Sen. Christopher Coons.
"He was referring partly to protecting nature," Schakowsky added. Still, like most Democrats, she made certain to avoid characterizing the pope's political alignment. "I felt it was a speech that his goal was to bring people together for the sake of humanity. …  There certainly was a lot of bipartisan enthusiasm for this pope."
The enthusiasm wasn't limited to the issues of immigration, poverty, and climate change. Sen. Gary Peters said the pontiff's message should galvanize Congress to address the Syrian refugee crisis. "I hope it brings us together; certainly the refugee crisis has to be addressed," he said. "That's something the United States needs to step up and take responsibility for along with our allies. … Part of it is funding for the refugee assistance as well; that's definitely something for us to do. I'm hopeful that today's message will help bring us together, help get us there."
For all their urging that the pope address their priorities, Democrats avoided taking credit when he actually did. "He didn't need any coaxing from anybody in any party," Blumenauer said. "It was clear he had a vision."
---
Daniel Newhauser, Clare Foran, and Ben Geman contributed to this article