Here's What Hillary Clinton Wants Instead of the Keystone Pipeline
Clinton says she's focused on boosting climate-change collaboration with Canada and Mexico, and modernizing energy infrastructure.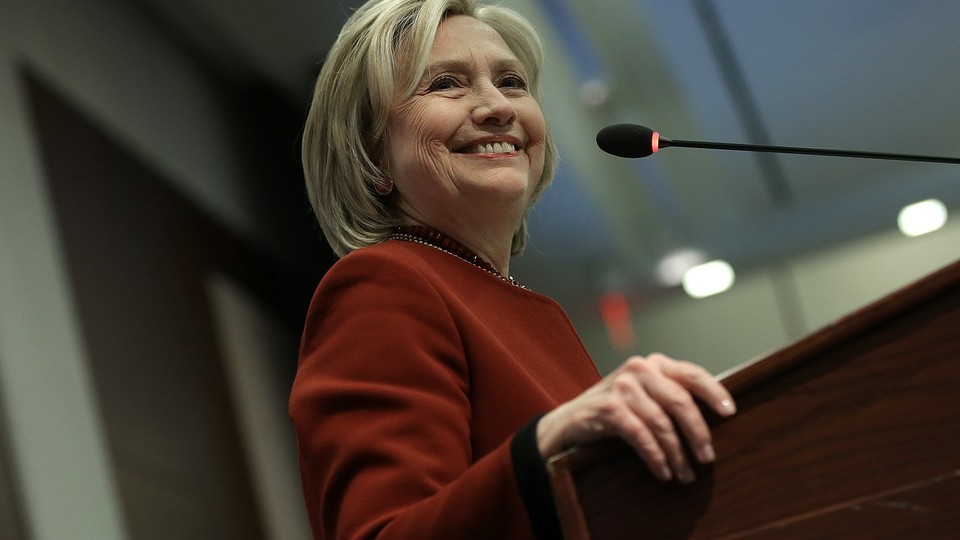 Hillary Clinton says she's a fan of collaboration with Canada and modernizing energy infrastructure. She just doesn't want to build the Keystone XL pipeline that Canadian leaders have furiously lobbied the Obama administration to approve.
A day after announcing her firm opposition to the proposed pipeline, Clinton on Wednesday laid out a strategy for working with Canada and Mexico on global warming, and spurring investment in more modern power grids, safer oil-and-gas pipelines, and a safer system for transporting oil and other hazardous materials by rail.
Here's some of what Clinton said on the website Medium:
"The United States trades as much energy with Canada and Mexico each year as with all other countries combined, through a deeply integrated pipeline network, rail system, and electrical grid. As President, I will immediately launch negotiations with Canada and Mexico to forge a North American Climate Compact that sets strong national targets to cut carbon pollution, so all three countries demonstrate a commitment to climate action; provides accountability measures, so each country has confidence that the others are living up to their end of the bargain; and creates certainty for investors and confidence in the future of our climate, so we can all marshal resources equal to the challenges we face."
The plan contrasts Keystone, which would transport crude oil from Alberta's oil sands to Gulf Coast refineries, with building a "clean energy economy" and safer infrastructure.
Clinton's website says the proposed "North American Climate Compact" with Canada and Mexico would seek to build on the Environmental Protection Agency's recently completed carbon-emissions rules for power plants to "ensure that national carbon policies take advantage of integrated markets."
One portion calls for continent-wide targets for controlling leaks of the potent greenhouse gas methane. The escape of methane from natural-gas wells and distribution systems is a big problem that erodes some of the advantages of using gas to replace more carbon-heavy coal as an electricity source.
Clinton's also calling for harmonizing the continent's auto-mileage, pollution, and fuel standards, and joint strategies for electric-vehicle deployment and other ways to curb carbon emissions from transportation.
As for specific U.S. policies, Clinton's plan includes a call for a "national infrastructure bank that leverages public and private capital." However, proposals from President Obama and others for a bank have not gained traction on Capitol Hill.
Clinton notes that more than 2 million miles of oil and natural-gas pipelines are in disrepair, leading to oil spills, methane leaks, and "devastating explosions.
"I will strengthen national pipeline safety regulations and partner with pipeline operators, local regulators, and technology providers in repairing and replacing thousands of miles of the country's oldest pipes," she writes.
Her plan would institute National Transportation Safety Board pipeline-safety recommendations on automatic or remote-controlled shutoff valves and leak-detection standards, Clinton's campaign website notes.
Clinton's agenda also addresses the growth in the transport of oil by railways, which is an outgrowth of limited pipeline capacity in the Bakken oil field of North Dakota and Canada's oil sands.
"My plan speeds up the retirement of the oldest and riskiest train cars, repairs track defects, and guarantees first responders and the public have better information about oil and hazardous materials passing through their communities," Clinton writes.
Turning to the power grid, the plan would create a new "threat assessment team" to help protect the grid from cyberattacks.
The post on Medium also restates Clinton's reasons for opposing TransCanada Corp.'s proposed pipeline.
"We shouldn't be building a pipeline dedicated to moving North America's dirtiest fuel through our communities — we should be focused on what it will take to make America the clean energy superpower of the 21st century," she writes.
This story has been updated.