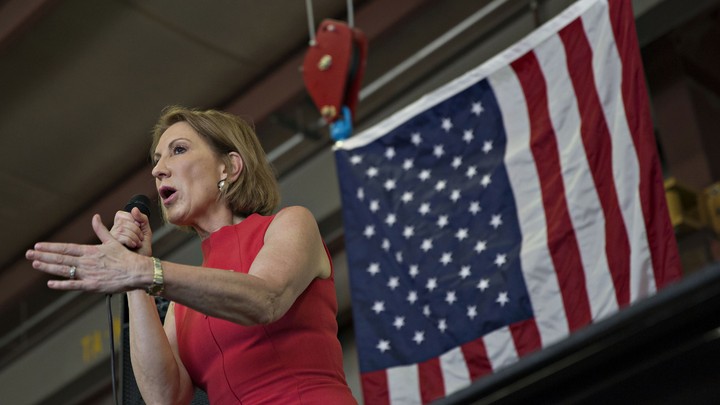 Carly Fiorina made a gut-wrenching case for defunding Planned Parenthood on Wednesday night during the presidential debate, using emotional rhetoric to argue that congressional Republicans should force the president to veto a bill defunding the organization.
But her description of the contents of a sting video, part of a series released over the summer, wasn't quite right.
"I dare Hillary Clinton, Barack Obama, to watch these tapes," Fiorina said. "Watch a fully-formed fetus on the table, its heart beating, its legs kicking, while someone says we have to keep it alive to harvest its brain."
The video does show a moving fetus, but the "someone" who is speaking is not talking about that particular fetus. The video is courtesy of two antiabortion groups, the Grantham Collection and the Center for Bio-Ethical Reform, and is played while a former procurement technician recalls being instructed on gathering tissue after an abortion.
"Since the fetus was so intact, she said, 'OK, well, this is a really good fetus and it looks like we can procure a lot from it. We're going to procure a brain,'" the former technician, Holly O'Donnell, said in the video.
O'Donnell's memory of the event and the image included in the video is graphic, but Fiorina's description is wrong and exaggerates the video's contents.
Republicans allege the videos show Planned Parenthood illegally selling fetal tissue, although Planned Parenthood counters that it charges only the overhead costs of donating fetal tissue to medical research.
Compared to some other candidates, Fiorina is taking a rather strong stance on what Washington should do about Planned Parenthood. The videos have sparked several congressional committee investigations into the organization, but conservatives and some Republicans off the Hill say that isn't good enough. They are demanding funding be removed from a spending bill that must be passed by Sept. 30 to keep the government open.
This would almost certainly cause a government shutdown, which leadership is determined to avoid after the 2013 shutdown wreaked havoc on the party. But several presidential candidates —including Fiorina—think that's exactly what should happen in the name of morality.
"This is about the character of our nation, and if we will not stand up and force President Obama to veto this bill, shame on us," she said during Wednesday's debate.
We want to hear what you think about this article. Submit a letter to the editor or write to letters@theatlantic.com.
Caitlin Owens is a health care reporter at National Journal. Her work has previously appeared in the Los Angeles Times, The News & Observer and The Charlotte Observer. She is a graduate of the University of North Carolina at Chapel Hill.