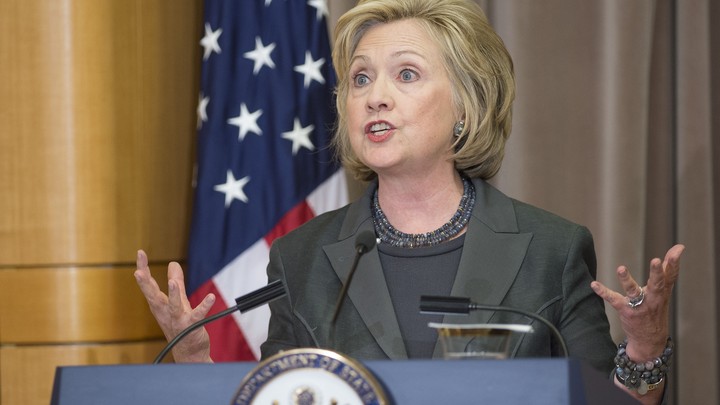 The State Department has released the latest batch of Hillary Clinton's messages from her time running the agency, the latest disclosure from the private email system that has become a focus of GOP political attacks in the White House race.
The over 7,000 pages posted online, which were sent or received in 2009 and 2010, is by far the largest of the rolling monthly releases that State is providing under a judge's order in a high-profile public records lawsuit.
Around 150 of the newly released messages have been redacted because an ongoing inter-agency review has determined that they contain classified information, State Department spokesman Mark Toner told reporters earlier Monday, though the final number turned out to be 125.
He said that none of them were marked classified when originally sent or received. Clinton, after initially saying in March that there was no classified information in the system, has softened her position to say that there was no information that was marked classified when sent or received.
According to published reports, and a scan of the messages, the redacted emails in the new batch are marked "confidential," which is the lowest level of classification.
Questions about classified content has fed GOP allegations that Clinton behaved recklessly with such information, which is supposed to be sent over special secure networks.  In particular, the inspector general for intelligence agencies has said that at least two messages from a limited number sampled contained "top-secret" information, the highest level of classification.
However, the State Department and Clinton's campaign note that there are often disagreements within the government about what information should be considered classified, and many experts also say that excessive secrecy -- that is, "overclassification" -- is a major problem.
The FBI is investigating the security of Clinton's email system. Clinton turned over roughly 55,000 pages of emails from her private system to the State Department late last year. They are now being released as a result of a Freedom of Information Act lawsuit brought by Vice News.
Clinton has said she wants the messages released to the public expeditiously. But the multi-layered State review, which includes vetting by multiple agencies, moves slowly.
Prior releases have not included any bombshells, but have provided a look behind closed doors into Clinton's four-year tenure as the nation's top diplomat.
They have revealed tidbits such as other senior officials seeking her private emails; the wide-ranging scope of her interactions with longtime ally Sidney Blumenthal; struggles to use a fax machine; and a handful of other anecdotes shedding light on her daily routine.
As before, Blumenthal features prominently in Monday's document trove.
Some of the Blumenthal correspondence involved two-to-three-paragraph-long memos describing his thoughts on the issues of the day. Take his memo to her about Wikileaks on Nov. 29, 2010, the day after the international group released hundreds of thousands of State Department cables. At a press conference on Nov. 29, Clinton called the release an "attack" not only on the U.S., but also on the "international community."
In an email to the secretary that evening, Blumenthal didn't sound over the moon about her statement, characterizing it as "headed in the right direction." He added two paragraphs seemingly describing how State could spin the cables' release: For one, "the Wikileaks papers prove that the U.S. government today has been telling the truth about the threats we face in the world"; and they "prove that American diplomats are hard at work at the difficult, often frustrating job of protecting and advancing our interests in the world."
Blumenthal also occasionally forwarded Clinton articles highlighting trends or reporting he appears to have thought she should be aware of. In one exchange, he sent Clinton a copy of an article detailing the activities of conservative mega-donors Charles and David Koch published in the New Yorker in 2010 with the subject line: "Yes, there is a vast right wing conspiracy. Sid."
Another of Blumenthal's memos described his take on the GOP, outlining for Clinton what his "Republican sources" had to say just after the 2010 midterms and criticizing current House Speaker John Boehner in particular.
Like some earlier releases, the new documents show that the powerful suffer from the same annoyances and confusion as everyone else.
In one case, Clinton is trying to reach Elena Kagan a few days after she was nominated to the Supreme Court in May of 2010. "The cell # for her belongs to someone else according to the vm. Can you get the right cell #?," Clinton writes to an aide.
The emails with confidential information span an array of topics such as negotiations around the Sudan, the Middle East, and other hot spots.
Elsewhere, one exchange provides a remarkable piece of foreshadowing about the BP oil spill.
Clinton frets to senior aide Philippe Reines on April 30, 2010 about her taping of a "Meet The Press" interview (transcript here) that would air two days later. Clinton was asked about the spill that began with the explosion of the Deepwater Horizon rig on April 20, and she tells Reines: "I'm worried that by Sunday my answer will seem too calm under the circumstances."
Reines tries to allay her fears, replying that he's not concerned, that calmness is not a bad thing, and that "calm is not cavalier, which you weren't." He then notes that Clinton is not the head of the EPA or the Interior Department, adding "nobody will you see you as a front line cabinet officer on this."
And then, he adds, two months before oil finally stopped gushing: "if this thing is still out of control on Sunday, the administration has bigger problems."
---
Sarah Mimms contributed to this article
We want to hear what you think about this article. Submit a letter to the editor or write to letters@theatlantic.com.
Ben Geman
is an energy and environment correspondent at
National Journal
Clare Foran
is a former associate editor at
The Atlantic
.