Here Is What John Boehner Said About His Resignation
The House Speaker said that Friday morning, he decided it was time to go.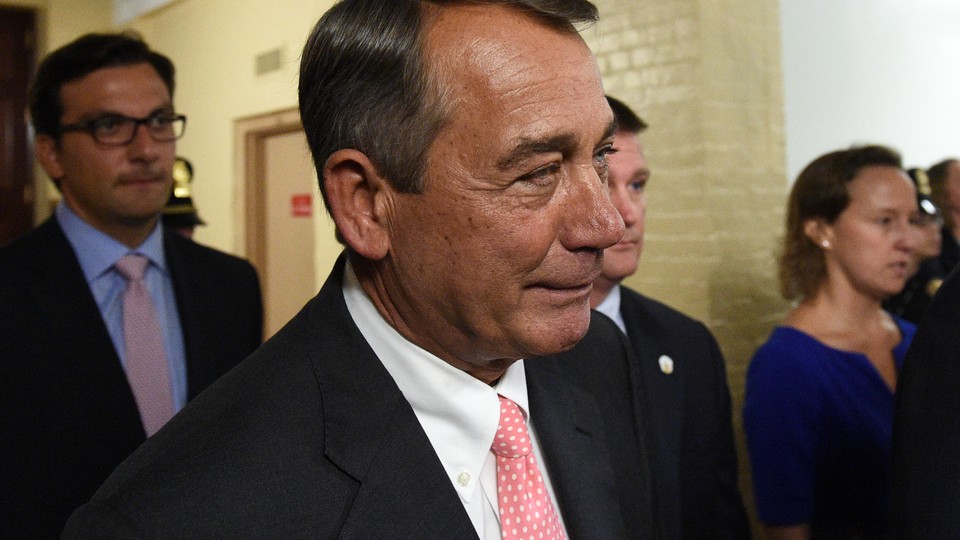 House Speaker John Boehner walked into his his Friday press conference singing Zip-A-Dee-Doo-Dah.
He stood at the same lectern he had so many times before, when a government shutdown was looming or an abortion bill had been pulled off of the floor. Only, this time, Boehner didn't need to pontificate or predict what his conference might do. This time, the press conference was about his peace in resigning from an institution he served for nearly 25 years.
Boehner told reporters Friday that after meeting Pope Francis, he spoke with his chief of staff about resigning. He was told to sleep on it. On Friday morning he went about his routine. He got Starbucks, stopped by Pete's Diner and read the news. Then, he decided it was time.
"I got plenty of people following me but this turmoil that has been churning now for a couple of months is not good for the members and it is not good for the institution," Boehner said, referring to calls to oust the speaker if he does not use a government funding fight to defund Planned Parenthood.
Boehner broke the news to his staff. Then, he told an unbelieving Majority Leader Kevin McCarthy just minutes before he broke the news to the entire conference.
Boehner resisted the notion that the pope had ultimately forced him to the decision, but it was hard to understand what had changed if not for that visit. Boehner got choked up as he explained the moment the pope grabbed his arm Thursday and asked Boehner to pray for him.
"Who am I to pray for the Pope," Boehner asked. "But, I did."
Boehner dismissed speculation that his speakership had been seriously in danger. Instead, he said, he just wants to protect the integrity of the House of Representatives.
"Listen, I feel good about what I have done," Boehner said. "I know that I everyday try to do the right thing for the right reasons and tried to do the right things for the country."
From farm bill food fights to raising the debt ceiling, Boehner's speakership may be better remembered as a slog than an accomplished tenure, but Boehner said he's never been all that worried about legacy.
"I am a regular guy with a big job," Boehner said. "I never thought I would be in Congress, nevertheless being speaker."
The job of uniting House Republicans has been seemingly impossible as he has sought to balance the wishes of the conservatives in the conference at the risk of damaging his party.
But Boehner said he is proud of his interactions and relationships with members.
"I am always straight with them. They may not like the answer they get...but they get a straight answer for me," Boehner said.

He declined to formally give the name of who should be the next speaker, but when asked about his no. 2 McCarthy, Boehner said he would "make an excellent speaker."