Here Is Jeb Bush's Energy Plan
The GOP White House contender says his economic growth targets depend on cutting regulations and handing more power to states.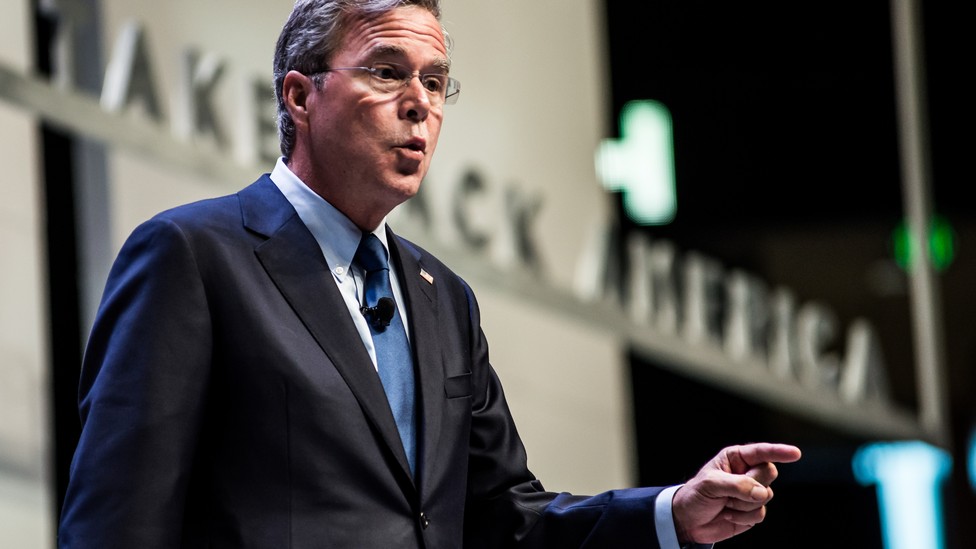 Jeb Bush is throwing his weight behind a familiar set of GOP energy policy goals that he calls vital to his overall goal, if elected, of roughly doubling the nation's annual economic growth.
The pillars of the energy plan he's unveiling Tuesday include blocking White House regulations on areas such as fracking and power-plant carbon emissions; lifting the ban on crude-oil exports and boosting natural-gas exports; approving the Keystone XL pipeline; and giving states far more control of energy development on federal lands within their boundaries and federal waters off their shores.
"With the right policies and leadership we can, in the near-term, achieve 4% growth and restore the opportunity for every American to rise. But that will only happen if we reverse damaging federal energy policies," Bush says in a post slated for publication Tuesday on the blogging platform Medium.
It comes ahead of wider remarks Bush will give on energy Tuesday afternoon at Rice Energy, an oil-and-gas company based in Pennsylvania, a state that has seen natural-gas production surge in recent years thanks to hydraulic fracturing and horizontal drilling.
Bush's post, which argues that his plan would create jobs and boost wages, echoes familiar GOP and industry critiques of the White House.
According to this line of attack, the U.S. energy surge of recent years—which has made the country the world's largest combined oil and natural-gas producer—could be even greater with fewer restrictions, and new Obama administration rules threaten to deter investment.
"We have, thus far, benefitted from the Energy Revolution simply because Washington did not have time to quash it, but we will never know how many other innovations have been lost due to overregulation," he writes.
Bush, in a proposal that recalls Mitt Romney's energy platform, wants to give states power to control development in federal lands and waters. He writes that Alaskans "overwhelmingly" want to boost energy development, but says Obama has "severely limited" oil-and-gas exploration.
His post then takes a shot at Hillary Clinton's opposition to drilling in Arctic waters off Alaska's coast, calling it "even more extreme" than Obama's policies. (Obama has given Royal Dutch Shell limited permission to drill in Arctic waters, but the company pulled the plug Monday.)
Elsewhere, the Medium post hints at how Bush would approach low-carbon energy. He writes that he'll roll out additional policies in coming months to help the U.S also become a "superpower of energy innovation," such as greater federal funding for "high-priority" basic research and improving national labs to help discover "game-changing" energy technologies.
"The private sector often underfunds research that could greatly benefit society. The government can correct that," Bush writes.
But Bush does not favor tax incentives that have directly created wider commercial deployment of renewables like wind and solar energy. Bush has said that he's against tax policies that support oil-and-gas and renewables, and writes in the new post that he wants to "level the playing field for all energy sources."