Heitkamp, Markey Debate Future of Oil Exports
Heitkamp predicts president Obama will sign a bill to end the export ban.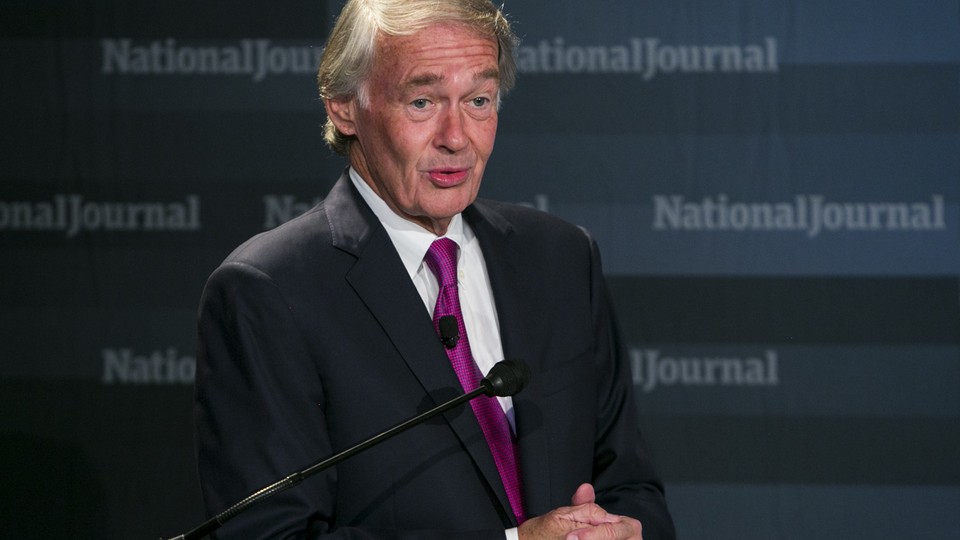 North Dakota Sen. Heidi Heitkamp predicts that President Obama will approve legislation to end the decades-old ban on crude-oil exports—should it get past a divided and overbooked Congress this fall.
"Why not? I predict yes. What's the worst thing? They can call me hopelessly optimistic," Heitkamp said at a National Journal event underwritten by the American Petroleum Institute on Tuesday when asked if she thought that legislation could pass Congress this year and win the nod of approval from Obama himself.
Republican Sen. John Hoeven, another ardent supporter of ending the ban, agreed. "At least from what I've seen, the president will sign on and not veto it," Hoeven said.
Of course for that to happen, Congress would first have to act. Momentum has appeared to grow for easing the ban on the export of crude oil on Capitol Hill in recent weeks. House Speaker John Boehner has publicly supported efforts to remove the ban, and last week a House Energy and Commerce subcommittee approved a bill that would do just that.
Opponents of lifting the ban caution that unleashing a flood of oil exports on the world market could spur heightened fossil-fuel extraction in the United States, worsening the problem of global warming as a result. And the busy congressional schedule makes finding time and a vehicle for lifting the ban difficult.
Democratic Sen. Ed Markey of Massachusetts threw cold water on the idea that a compromise could be reached to move any kind of legislation forward.
"You know the chance of that happening? I wish there was a number, negative zero," Markey said when asked whether he thought that legislation could pass if it were tied to an extension of tax breaks for clean energy. "The fossil-fuel industry wants to keep their tax breaks and make sure that the other tax breaks die," he said, adding: "[That's] what they fear the most; it's the true competition in the marketplace."
Tuesday afternoon, White House spokes­man  said that dis­cre­tion over ex­ports should re­main an ad­min­is­trat­ive de­cision. "This is a policy de­cision made over at the Com­merce De­part­ment, and for that reas­on we would not sup­port le­gis­la­tion like the one that has been put for­ward by Re­pub­lic­ans," Earn­est said. The Commerce Department has quietly moved to loosen some of the export restrictions on crude oil. Energy Secretary Ernest Moniz has said that he does not yet see a "compelling" case for lifting the ban, noting that the United States is still a major oil importer.
Hoeven suggested one avenue to end the ban could be attaching it to legislation that would overhaul the Toxic Substances Control Act. "I think that would be a very good fit," Hoeven said. "I'm pushing it very hard because I think it's timely, and I think it's something we could get done this year."
Oil export lobbyists have been working hard to make the case for lifting the ban on Capitol Hill, seeking to win over lawmakers with statistics and evidence, and pointing to a slate of studies indicating that lifting the ban would benefit the U.S. economy and lower gasoline prices at the pump. Supporters of ending the ban have also sought to make the case that such a move would bolster U.S. energy security.
"When we started over a year ago, everybody thought we were crazy," Heitkamp said, adding that she has had conversations about the issue with president himself as well as with Chuck Schumer, a key Senate Democratic leader. (One Democrat Heitkamp is not eyeing for support? Hillary Clinton. "I'm hoping that what she thinks won't matter because we'll actually get this done before the election," Heitkamp said.)
The ultimate fate of the ban remains unclear. For a long time, lawmakers have worried that lifting the ban might cause gasoline prices at the pump to soar. And the jitters may not be entirely gone.
"Don't think for a second there won't be some Republicans who have to really seriously consider [it]. ... That's a very difficult vote," Markey warned.