GOP Leaders Try to Urge Conservatives Away From a Shutdown
NRCC Chairman warns Republicans that shutting down the government over Planned Parenthood funding could have dire repercussions.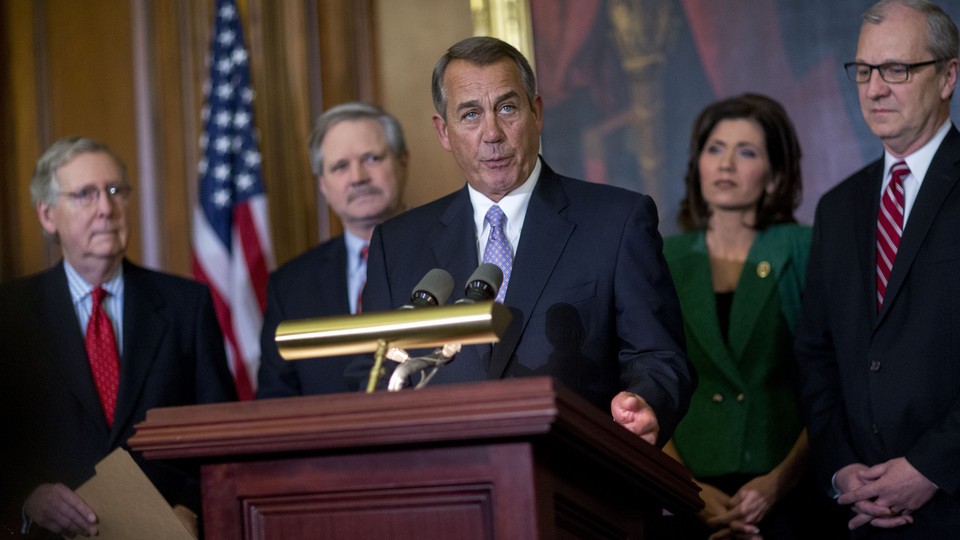 House Republican leaders are trying a new strategy to counter hardliners in their conference who want them to shut down the government over funding for Planned Parenthood: reason.
Leadership, appropriators, campaign officials and anti-abortion advocates are out in full force trying to dissuade Republicans from pushing the conference into what they see as an unwinnable shutdown fight over federal funding for the women's health organization.
The latest effort came Thursday morning at a private meeting of the Republican Conference at the National Republican Congressional Committee headquarters near the Capitol. NRCC Chairman Greg Walden presented members with a poll of 18 battleground districts that showed dire political repercussions for Republicans if they follow through with this battle.
He said that only about half of those polled in the battleground districts had seen the undercover videos showing Planned Parenthood representatives discussing harvesting fetal tissue, which have formed the basis for the crusade to zero out the organization's federal grants. But more importantly, he said, even those who are supportive of Republicans' efforts do not support the tactic of risking a government shutdown.
"The public in battleground districts does not support shutting down the government even among those who support defunding Planned Parenthood and have seen the videos," Walden said in an interview, describing the data he presented to his members. "Voters would be less likely to support a member of Congress who did that by a pretty good number."
Walden also detailed data that he called "devastating" showing how the 2013 shutdown affected the public's perception of Republicans. Members pushing leaders to link Planned Parenthood funding to a continuing resolution have argued that after that shutdown, Republicans won a historic majority in the House as well as their first Senate majority in years. But Walden said the truth is the public was down on the GOP.
"That's a false narrative. It is not backed up by the facts," Walden said. "Our recovery only came with the abysmal rollout of Obamacare."
At a private meeting of the House Republicans in the Capitol convened Wednesday night to talk exclusively about how to handle Planned Parenthood funding, other members made other arguments to try to stave off the shutdown fight.
Rep. Tom Cole, the chairman of the Appropriations Subcommittee that is responsible for the money doled out to Planned Parenthood, told members that Congress could not actually change the status of Planned Parenthood's federal funds in a short-term continuing resolution because they are allotted through Title X grants that have already been given out. The better strategy, he advised, would be to go after the funding in a long-term bill.
"There's no Title X money being given out right now. These grants are annual and we've been told, my subcommittee has been told by the Department of Health and Human Services, they're not planning a grant cycle until next April," Cole said, paraphrasing his remarks. "So if you want to make a symbolic statement, you can certainly attach something to a CR I guess, but if you think that's going to have any practical effect for the period of the CR, it won't."
Furthermore, leaders point to the fact that a miniscule proportion of Planned Parenthood's federal funding is given out in the discretionary budget. According to a Congressional Budget Office report releasedWednesday, Planned Parenthood receives about $60 million through the National Family Planning Program, operated under Title X. The rest of the roughly $450 million of federal funding is provided through Medicaid, Medicare and the Children's Health Insurance Program, which cannot be changed through the appropriations process.
Leaders have also been been pointing to statements from anti-abortion groups noting that a shutdown would hurt their cause.  Although some anti-abortion advocates, such as the Susan B. Anthony List, have advocated for linking anti-abortion legislation to a spending bill, other pro-life groups, such as the National Right to Life Committee and the U.S. Conference of Catholic Bishops, have recently come out against a government shutdown, saying it would be harmful to the pro-life cause.
"Funding for Planned Parenthood should absolutely be redirected to true healthcare that respects women and their babies, but it is not at all clear that shutting down the government over this issue will advance efforts to protect innocent human life. Congress should take votes on pro-life legislation in a way that genuinely advances our efforts to ensure the dignity of every human person is protected by law," said Jayd Henricks, executive director of government relations for the USCCB.
Still, several members said privately they do not think any of this will change the minds of members who are adamantly pushing leaders to attack Planned Parenthood in a funding bill. Instead, the members speculated that the education campaign is meant to give cover to members who will inevitably have to take a tough vote at the end of the month to pass a CR with no Planned Parenthood provisions.