The Limits of Georgia's Mercy
Kelly Gissendaner is slated to become the first woman executed by Georgia since 1945. Her execution is scheduled for 7 p.m. ET.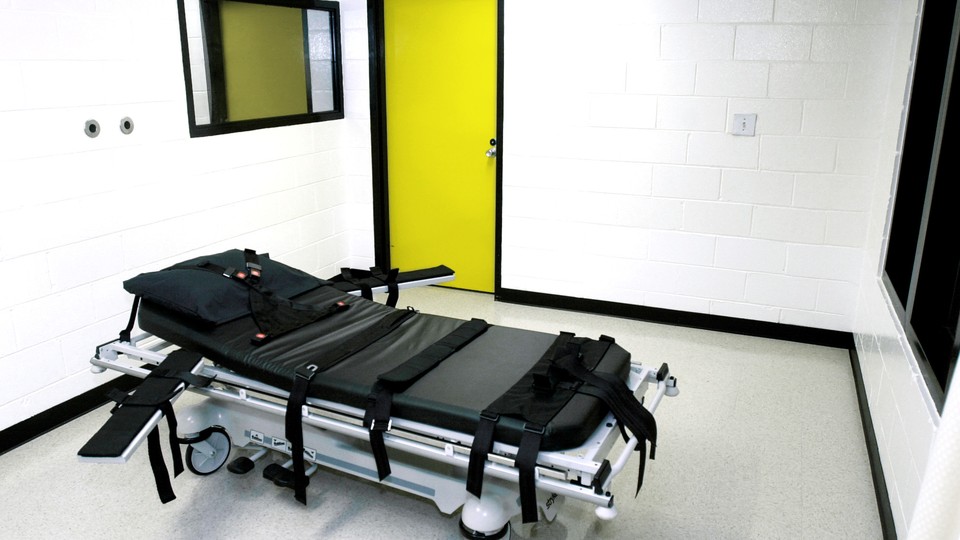 In an eleventh-hour hearing on Tuesday, the Georgia Board of Parole and Pardons declined to grant clemency to death-row inmate Kelly Gissendaner.
Gissendaner, whose execution is scheduled for 7 p.m. ET, is slated to become the first woman executed by Georgia since 1945 and the 16th woman executed since the U.S. Supreme Court ended its de facto moratorium on capital punishment in 1976. She was convicted of persuading her boyfriend, Gregory Owen, to murder her husband, Doug Gissendaner, in 1997. After testifying against Gissendaner at trial, Owen was sentenced to life and will be eligible for parole in 2022. She received a death sentence.
This is Gissendaner's third execution date. A winter storm led prison officials to delay her first scheduled execution on February 25. When they reconvened on March 2, officials noticed the vial of pentobarbital to be used in her lethal injection appeared "cloudy," raising concerns about its potency.
By all accounts, Gissendaner was a model inmate on death row who embraced Christianity and delved into theology. She struck up a friendly correspondence with Jürgen Moltmann, a renowned German Protestant theologian, and took correspondence courses from local divinity schools. In testimony before the parole board during her first hearing earlier this year, former wardens and guards praised Gissendaner's interactions with other inmates who contemplated suicide or suffered from mental illness.
Her forthcoming execution prompted a strong response from local and international clergy, who asked for mercy from the parole board on Gissendaner's behalf. Among the intercessors were Pope Francis, who repeated his call for the global abolition of the death penalty to the U.S. Congress last week. In a letter on Tuesday from the the U.S. apostolic nuncio, who acts as the pontiff's ambassador, Francis urged the board to spare Gissendaner's life.
While not wishing to minimize the gravity of the crime for which Ms. Gissendaner has been convicted, and while sympathizing with the victims, I nonetheless implore you, in consideration of the reasons that have been presented to the Board, to commute the sentence to one that would better express both justice and mercy.
Doug Gissendaner's parents and siblings support her death sentence, but his children asked the parole board not to execute their mother for her role in their father's murder.
"My dad would not want my mom to be executed, even knowing her role in his murder," her daughter Kayla Gissendaner said, according to CNN. "He would not want us to endure another devastating loss."