For Top Science Panel Democrat, a Lesson in Frustration
Rep. Eddie Bernice Johnson is tired of the "theater" and incessant badgering of the Obama administration that she sees as hallmarks of the GOP majority.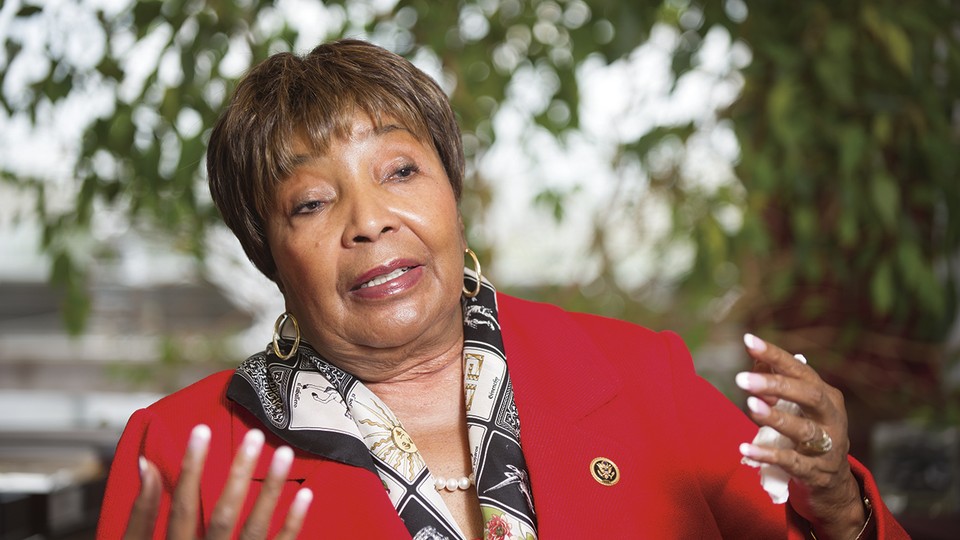 It was Rep. Eddie Bernice Johnson's turn.
She'd listened to Chairman Lamar Smith bring the House Science, Space, and Technology Committee to order. She listened to him welcome members and attendees to the July 15 hearing, titled "Investigating Contract Misconduct at the National Weather Service," and then blast some NWS, National Oceanic and Atmospheric Administration, and Commerce Department senior officials who, the Texas Republican said, were allegedly complicit in granting improper contracts.
So when it was time for the panel's top Democrat to make her opening statement, she began with her fear: "I'm afraid that much of this hearing will unfortunately be theater rather than real oversight work, and I regret this."
Johnson has become a critic of the committee she's served on for 22 years.
"It's such an important committee for our nation and for the world," Johnson, a Texas Democrat, said in an interview in her office.
The panel, she believes, has become more divided in recent years. "And we waste so much time bashing this administration, and finding, digging, stressing to find something wrong with some Cabinet member."
In that opening statement, Johnson drew the contrast between her thoughts on the hearing and the chairman's—something she is wont to do on the more polarizing topics, said Rep. Don Beyer, the Oversight Subcommittee ranking member. On several issues—such as climate change and oversight of the Environmental Protection Agency—Johnson is playing defense, said Beyer, a Virginia Democrat.
And she was on the defensive in that first line of her opening statement. She agreed there were systemic failures in how a contract was handled, but questioned "the aggressive action of this committee when the chairman has been reluctant to act in other areas."
"I think Eddie Bernice still has to say this was wrong, but let's not trash the whole weather service because you can't take a group of x-thousand people, and say, 'You're all bad people' because some manager made a bad decision about hiring somebody," Beyer said. "I think the polarity of the world, the yin and the yang, she's got to be the yang to Chairman Smith's yin most of the time."
Johnson has been on the committee for just over two decades and began her tenure as ranking member in 2011. But her professional life began in nursing; she started her career as a registered nurse in 1955 and later, was the chief psychiatric nurse at Dallas's VA hospital.
Ask her if she's always had an interest in science, space, and technology, and she'll point to her fascination with change as a child. "Science fiction, when I was a kid, is now reality and beyond," Johnson said. "I love improvement. I love seeing things get better or finding an easier way or a better way or a more successful way to achieve."
She'll dive into her belief that nothing ever remains static, that humanity needs to innovate and create and change, and that America must continue on that path. "We cannot stop learning," she said, "because if we do, the nation's at a standstill."
Asked what recent bills or hearings she was most proud of, Johnson initially called this the "most frustrating experience I've had in the 22 years I've been on the committee."
But later in the interview, Johnson pointed to a NASA reauthorization that passed the committee on a bipartisan voice vote in April 2014, a final product that Johnson endorsed. And Democrats and Republicans joined to create legislation both could support. An essentially identical bill funding NASA for 2015 passed the House under suspension of the rules in February.
But what was produced to reauthorize NASA for 2016 was a bill that the minority couldn't support, partially because it cut Earth-science funding (which included dollars for climate science) by more than $320 million. It passed the committee in a party-line vote, and Johnson's statement blasted what she saw as the majority's "willingness to walk away from bipartisanship in order to appease their own most ideologically driven Members."
Smith, the chairman said that, "There are a dozen other agencies who are engaged in climate research. There's only one agency involved with space exploration, and that's NASA. So let's keep NASA a space exploration agency; let the other agencies do the research on climate change."
As for the committee's bipartisanship? "We're trying to make an effort to have [as much] bipartisan legislation as possible. There are going to be some areas where we simply are going to disagree philosophically or disagree on the level of money—for instance, in the case of NASA—and we're not going to get the bipartisan bills that we would like."
And Committee Vice Chair Frank Lucas said that when presidential executive orders are common, and when agencies set regulations through the rule-making process (which doesn't involve Congress)—then oversight is needed. "Some might argue it's a bit more aggressive than it has been in the past," he said. "I'd simply say that's a reflection of the time." But he complimented Johnson's stately nature, saying she was "very reasonable and rational."
Smith noted that, of the bills that have passed the committee so far this session, a significant number had Democratic cosponsors, in some cases Johnson herself. And Johnson acknowledges that some bipartisan legislation has passed through the committee.
"We've done a couple other bills that have been bipartisan that we were both able to defend on the floor," Johnson said. "They're so minor that I don't even remember what some of them have been."
Rep. Daniel Lipinski, Research and Technology Subcommittee ranking member, said that Congress, in general, has changed, and that Smith is reasonable, he will work out issues to the extent that he can, and that the committee is still probably more bipartisan than others. Yet, there are some fundamental and philosophical differences between the two parties, such as climate change and spending levels.
This isn't unlike many issues in Congress these days, with sharp divides between Democrats and Republicans, and, Lipinski said, "I think the Science Committee is just a reflection on that, but there have been some things that we've been able to work together on."
Though Johnson may be in a tough position, and though she may be frustrated, she's doing what she can with what she has. Johnson, Lipinski said, "does a good job of trying to steer a good path for the Democrats on the committee."