For Democrats, McCarthy Is an Unknown Quantity
Few members of the minority have worked closely with the likely next Speaker, and they doubt he can fix many of the problems that have plagued Boehner.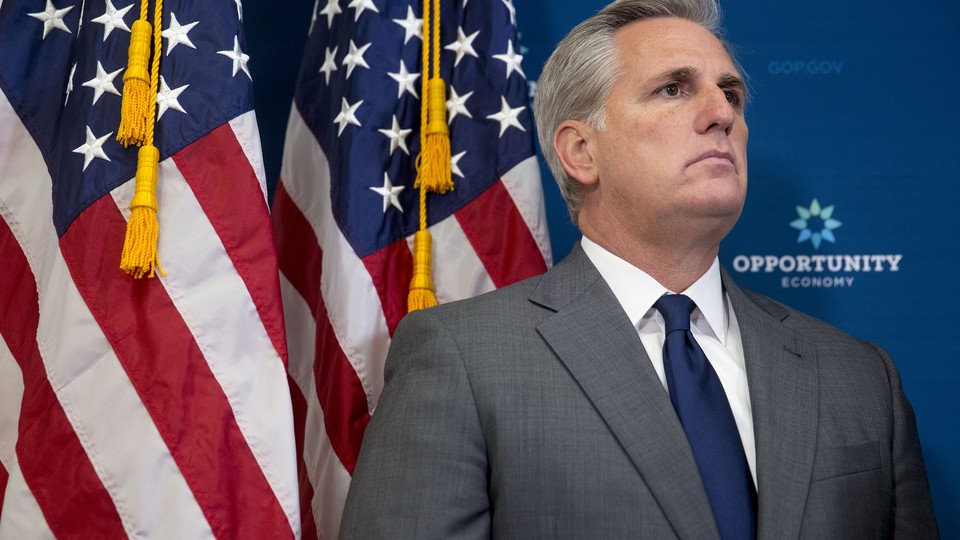 Democrats think Kevin McCarthy is a nice guy. But they don't think he has much of a chance to bring order back to the chaotic House.
McCarthy, the GOP's majority leader, is the favorite to succeed House Speaker John Boehner, who is stepping down at the end of October. He's running on a reputation as an affable colleague and a pledge to "heal" the divisions that have been laid bare within the Republican caucus. Democrats affirm the former, but they're more than a little skeptical about the latter.
McCarthy "understands legislators, and he understands the legislative process," said Rep. Xavier Becerra, who chairs the House Democratic caucus and, like McCarthy, hails from California. "My sense and our hope would be if he becomes the speaker, he would use that knowledge to help us move legislation forward to try and get things done. Perhaps he'll have more success in corralling his own team so that we can get things done. … Will he be able to work with his colleagues on the Republican side or will he get run over by them?"
Becerra's question echoed a statement from Rep. Ben Ray Lujan, who had spoken earlier at the same Tuesday morning press conference. "Let's be clear," said Lujan, who heads the Democratic Congressional Campaign Committee. "This is not a Speaker Boehner problem. It's a Republican problem. This is a Republican conference problem. The next speaker will face the same stark choice as Boehner: Go along with the extreme base or get run over by them."
McCarthy's office did not respond to a request for comment for this story.
Less than two weeks ago, Democrats were divided over whether to save Boehner if his fate as speaker came to the House floor. Now that he's taken matters into his own hands, they're equally ambivalent about his heir apparent—relieved he's not one of the "fringe" conservatives who forced Boehner out, but not holding out much hope he can make meaningful progress within his caucus.
Some of that lack of confidence may be because McCarthy simply doesn't have many friends on the other side of the aisle. His relationship with Minority Leader Nancy Pelosi is almost nonexistent, even though they both hail from California. Others in the delegation had little to say about their home-state colleague.
Rep. Lois Capps, who said McCarthy has a vacation home in her neighboring district,nevertheless said she doesn't "know him that well." And Rep. Anna Eshoo, a close friend of Pelosi, said McCarthy is among the many Republicans who don't show up for the occasional bipartisan social gatherings put on by the California delegation. "I know him, but I don't know him as well as I know other members," she said. "It's really too bad."
Likewise, Rep. James Clyburn, the No. 3 leader on the Democratic side, had little to say about Republicans' No. 2. "He seems to be an OK guy," he said. "I've never really worked with him on legislation or anything, so I don't know."
If McCarthy hasn't cultivated those relationships before, he'll need to do so soon if he wants to get anything accomplished, Democrats warned. The minority leader "hopes to work with Mr. McCarthy to create a dialogue through which the House can take steps to address the major challenges our country faces," said Pelosi spokesman Drew Hammill. "With a Democratic president and sufficient Democratic support in both chambers to sustain vetoes, working with Democrats will remain the only sustainable path to moving our country through the Republican calendar of chaos that lies before Congress this fall."
One Democrat who has worked extensively with McCarthy is Minority Whip Steny Hoyer: The two run their parties' floor operations. "The majority leader and I have a good relationship," Hoyer said. "We have worked together, but I think he's been in the same position that Mr. Boehner's been in." Boehner's unwillingness to buck his caucus, Hoyer said, led to many of the crises that plagued his tenure—and McCarthy's success will be determined by his willingness to reach across the aisle. "I find Mr. McCarthy very pleasant, hardworking, a person who's obviously got a lot of support in his conference. … We've had those opportunities where we can work together. I hope we have some more."
Another California colleague, Rep. Jackie Speier, doesn't see the internal GOP battles going away anytime soon. "Kevin McCarthy is an amiable man," she said. "He has served here in Congress and has developed leadership skills. But you have a rump caucus in the Republican Party right now that is turning into a cancer. And they want their pound of flesh. And if they don't get their pound of flesh, they will shut down this government. Kevin McCarthy will be faced with the same challenges that Speaker Boehner has been faced with—trying to assuage them and never assuaging them enough."
If McCarthy is elected speaker as expected, the whole House will be getting to know him soon enough. And Democrats want him to know they're ready to work together—even if they acknowledge it's unlikely to happen. "Whoever the Republican leadership might be in the House—it may not be as important how they get along with us as how they get along with themselves," said Rep. Joseph Crowley, the caucus vice chair. "There may be a learning curve. I can't see a honeymoon, because there's no time for a honeymoon."