Financial Aid Expansion Could Help Millions
First-generation students, Pell Grant recipients, and English-language learners will benefit.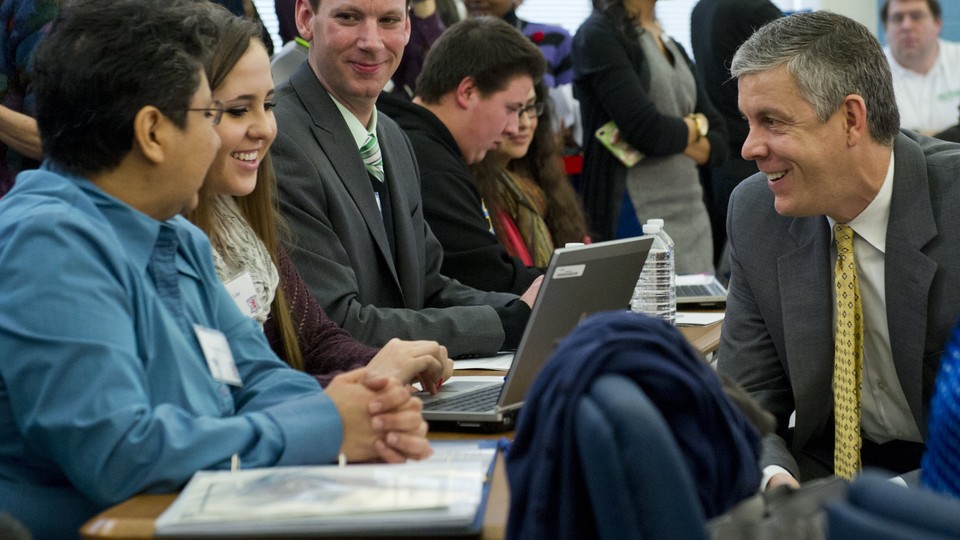 The Obama administration will allow students to fill out the federal financial-aid application earlier in an attempt to give more young people the opportunity to go to college.
President Obama will announce several changes to the financial aid process during a town hall with high school juniors and seniors in Des Moines, Iowa on Monday.
Traditionally, the Free Application for Federal Student Aid has been opened in January for the following school year. Next year, families will be able to access it in October 2016 and they will be able to file using income from 2015. The changes mean families can begin the financial aid process before college applications are due, and they will not have to scramble to finalize taxes.
Education Secretary Arne Duncan said during a call with reporters Monday that he hopes the changes will expand college access to communities that have traditionally been excluded, including first-generation college students, Pell Grant recipients, and English-language learners.
"Today we're lending a hand to millions of high school students who want to go to college and have worked hard," he said.
Duncan added that he's "convinced" that hundreds of thousands more students will apply. The White House estimates that 2 million college students who would be eligible for Pell Grants never applied because the FAFSA presented too great a barrier.
The fact that the government may be on the hook for distributing more in grants to students doesn't concern Duncan.
"We think the cost will be very, very minor," he said, less than 1 percent of the annual cost of Pell Grants. "This is an investment the nation is making in young people."
David Bergeron, former acting assistant secretary for postsecondary education at the Education Department and current senior fellow for postsecondary education at the left-leaning Center for American Progress, agrees.
"It's exactly what [the administration] should be doing within the current authority," he said. "We're losing talent that's critical for the nation."
The administration also recently released data that gives families access to information about how much graduates earn, how much debt they took on, and their ability to pay it back.
A far cry from the college ratings system that was originally promised and then scrapped amid pushback from universities, Bergeron still thinks the data and the FAFSA changes will help build a case for greater accountability among schools as Congress considers reauthorization of the Higher Education Act.
"I think that we have to have stronger accountability,"  he said.
Duncan, along with Domestic Policy Council Director Cecilia Muñoz and Education Under Secretary Ted Mitchell, said they hoped providing the data to the public would draw attention to which colleges do a good job of graduating students capable of finding gainful employment. That's something they had wanted to do originally in more detail with the ratings plan, but scrapped amid intense pushback from colleges who said any comparisons would be incomplete and unfair.
While the ratings plan was controversial, there is general consensus that simplifying the financial aid process is a good thing. From Sen. Lamar Alexander, the Republican leader of the Education Committee, to the Gates Foundation and Democratic Sen. Cory Booker, lawmakers and policy analysts generally support a simplification of the FAFSA.
Duncan called on the higher education community to push Congress to simplify the process even further. A bipartisan group of lawmakers has backed reducing the number of questions on the form. The White House has already worked with the IRS to allow families to retrieve information electronically, which the administration says has cut the time it takes to fill out the application to 20 minutes from about an hour.
The next step is getting schools and the organizations they work with on board. While the University of California, led by former Obama cabinet member Janet Napolitano, has signed on, the administration cannot compel schools to move up the timing of their financial aid awards.
Duncan, who referred to students as "consumers" several times during the call and expressed concern that Corinthian Colleges, Inc. was accredited until it filed for bankruptcy this spring after claims it failed to deliver an education to students, said schools who don't offer the information early enough for students may lose business and "that's OK."
The secretary also tried to assuage any fear that requiring students to use prior-prior year tax information could make families responsible for more than they can afford, noting that schools will have the flexibility to consider any "precipitous drop" in income.
The ultimate goal, the secretary said, is to open the pathway to college to students who have seen it as the purview of "rich folks."
"We must continue to expand access to college," he added.
Giving a broader array of young people access to higher education, the administration argues, won't just help individual students and their families. It will boost the economy and our nation's overall well-being.