Ex-Clinton IT Aide Takes the Fifth Before Benghazi Panel
Bryan Pagliano, the former staffer who set up Hillary Clinton's email server, declined to answer questions in a closed-door deposition.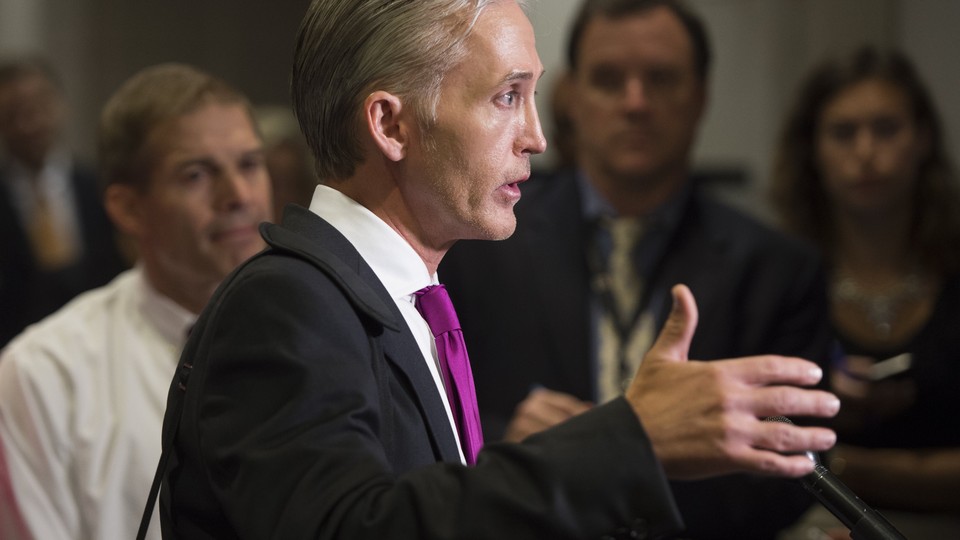 Hillary Clinton's former IT aide refused Thursday to answer questions from the House Select Committee on Benghazi in a closed-door deposition that once again inflamed partisan battles on the panel.
Bryan Pagliano, who helped set up Clinton's private email server, spent about 20 minutes behind closed doors in the Capitol.
Trey Gowdy, the GOP chairman of the panel, said there were around 19 pages worth of questions prepared but that they ended the session when Pagliano invoked his Fifth Amendment rights after about four or five.
"He has a right to not answer questions that he thinks may incriminate him and you have a right to glean whatever inference you want from the fact that he has not answered based on the fact that it may incriminate him," Gowdy told reporters afterward.
Pagliano, through his attorney, had previously told Gowdy's panel and two Senate committees probing Clinton's email setup—Judiciary and Homeland Security—that he planned to use his Fifth Amendment rights.
Elijah Cummings, the top Democrat on the Benghazi panel, criticized the GOP's decision to force Pagliano to appear in person, given that he had already informed the panel through his lawyer that he would invoke the Fifth.
"He was dragged in here today and the reason being, again, politics. We knew what he was going to say. He said it last week. Nothing has changed," Cummings said.
"Mr. Pagliano's testimony has nothing to do with the Benghazi attacks and everything to do with Republicans' insatiable desire to derail Secretary Clinton's presidential bid," he later added in a prepared statement.
GOP Sens. Chuck Grassley and Ron Johnson, who head the Judiciary and Homeland Security committees, respectively, have recently floated the idea of providing immunity to Pagliano, and Cummings said Democrats would support such an arrangement.
But Gowdy was critical of the idea, noting there is an ongoing FBI investigation into the security of Clinton's private email setup and that he's "reticent" to take action that could affect that probe.
"I think the executive branch with respect to this investigation has the best investigatory tools, the best access to evidence, and traditionally that is the branch of government that we have looked to to conduct investigations, not exclusively but traditionally," Gowdy, a former federal prosecutor, told reporters.
Gowdy said that lawmakers have several reasons to want to speak with Pagliano, whom he hoped to ask about topics including "chain of custody" with respect to emails about Benghazi and Libya, and whether or not the record of Clinton's messages is "whole and complete."
He noted that the State Department has previously said that all or portions of 15 messages provided by Clinton confidante Sidney Blumenthal could not be located among the thousands of pages of emails that Clinton turned over to State late last year.
Gowdy suggested that Pagliano could help assess whether other Libya-related messages on Clinton's server were not turned over to State. "It is legitimate for a committee on Benghazi to want to know whether it was more than 15," he said.
Pagliano was the IT dir­ect­or for Clin­ton's failed 2008 White House run and later a State De­part­ment staffer un­der Clin­ton when she led the department.
The Wash­ing­ton Post re­por­ted over the week­end that the Clin­ton fam­ily per­son­ally paid Pagliano to main­tain the serv­er while he was work­ing at the State De­part­ment.
Pagliano told the Benghazi panel through his lawyer late last month that he would not answer questions and instead invoke the Fifth Amendment.
"While we un­der­stand that Mr. Pagliano's re­sponse to this sub­poena may be con­tro­ver­sial in the cur­rent polit­ic­al en­vir­on­ment, we hope that the mem­bers of the Se­lect Com­mit­tee will re­spect our cli­ent's right to in­voke the pro­tec­tions of the Con­sti­tu­tion," attorney Mark J. Mac­Dou­gall wrote.
He cited a 2001 Su­preme Court de­cision which noted that one of the Fifth Amend­ment's "ba­sic func­tions" is to pro­tect in­no­cent people who "oth­er­wise might be en­snared by am­bigu­ous cir­cum­stances."
Earlier this week, according to several news accounts, Pagliano's lawyer criticized Gowdy for forcing him to attend the deposition despite his plan to take the Fifth, writing in a letter that it "can only be intended to intimidate our client, cause him personal embarrassment, and foster further political controversy."