Employers Cutting Health Benefits in Preparation for Obamacare's "Cadillac" Tax
A report on employer-based insurance could add flame to the fire to repeal the tax.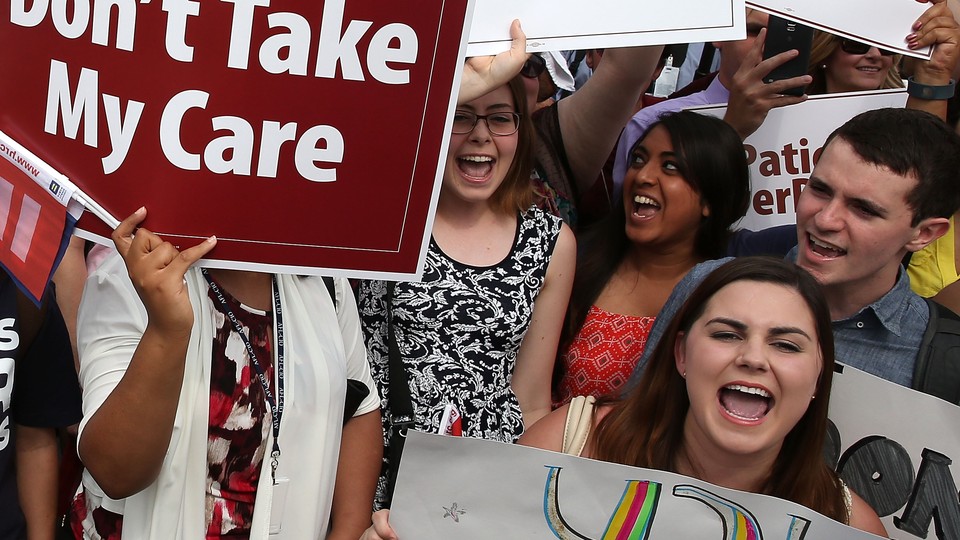 More than two years away from the implementation of the Affordable Care Act's "Cadillac" tax, 16 percent of large employers offering health benefits have changed their benefit plans or moved to less expensive plans to avoid going over the limits set by the law, according to a Kaiser Family Foundation report released Tuesday.
The majority of these changes are not good news for the plans' users: Almost two-thirds of those plans have increased cost sharing, and another 10 percent reduced the scope of covered services. Other actions taken include moving benefit options to account-based plans (such as health savings accounts), increasing incentives to use less costly providers, and considering offering health insurance through a private exchange. More than half of large employers have analyzed their plans to see if they would hit the threshold.
"Our survey finds most large employers are already planning for the Cadillac tax, with some already taking steps to minimize its impact in 2018," said study leader and Kaiser Vice President Gary Claxton. "Those changes likely will shift costs to workers, but exactly how and how much will vary for individual workers."
The Cadillac tax, scheduled to be implemented in 2018, is a 40 percent excise tax on employer-provided health benefits that go over a certain threshold. It was included in the law as an attempt to control health care costs, generate revenue for the Affordable Care Act, and address the government revenue lost by the tax exclusion of employer-provided health care plans.
Over the past couple of months, the tax has been attacked by groups on and off Capitol Hill. A group of unlikely allies—ranging from unions to an organization representing Fortune 500 companies—have dubbed themselves the Alliance to Fight the 40 and are lobbying against the tax. Two bills, with a total of 243 cosponsors between them, have been introduced in the House repealing the tax. Sens. Dean Heller and Martin Heinrich introduced a similar repeal bill in the Senate last week.
But it's debatable whether the tax is working differently than Democrats had envisioned while writing the law—or if they envisioned the results at all—as well as whether Republicans would do much differently given the chance to create their own health care plan.
"The hope is that employers and insurers would find ways to reduce the cost of coverage without shifting cost to workers, but the expectation always was that the likeliest outcome was to reduce the generosity of coverage," said Larry Levitt, senior vice president of Kaiser, in an interview before the report was published. "It was intended to be a tax on very generous insurance plans.
"It's somewhat ironic that Democrats who were behind the tax are typically not fans of high-deductible plans or cutting back on workers' insurance coverage," he added.
Opponents of the tax say that it will impact not only expensive health care plans, as intended, but also modest health care plans offered in high-cost locations or covering groups that use disproportionate amounts of health care. A separate Kaiser study found that when the law goes into effect, about a quarter of employers offering health benefits could be subject to the tax unless they change their plans.
The politics of repealing the tax make actually accomplishing it complicated at best. For Democrats, it means supporting a measure that could be later used by Republicans to point to the failure of the Affordable Care Act. For Republicans, it would mean reforming the law they have pledged to repeal before the tax would even take effect. The Cadillac tax is also similar to parts of conservative health care reform plans.
The details of what, exactly, the authors of the ACA were hoping would come from the tax are unclear.
"Part of the beauty of the Cadillac tax was that no one had to get very specific about what effect it might have," Levitt said. "It would sort of magically produce revenues and control the growth in premiums, but no one had to make any assumptions about how that might happen."
The Kaiser report, which examined employer-sponsored coverage as a whole, also found that single and family premiums rose an average of 4 percent this year, which falls into a pattern of moderate growth that has prevailed over the past decade. Both the share of workers with deductibles and the size of the deductibles have sharply increased since 2010, causing a 67 percent increase in deductibles over the same time frame.
"With deductibles rising so much faster than premiums and wages, it's no surprise that consumers have not felt the slowdown in health spending," said Drew Altman, Kaiser's president and CEO.