Donald Trump Signed the RNC Pledge—and Swears He'll Abide by It
"I will be totally pledging my allegiance to the Republican Party and the conservative principles for which it stands."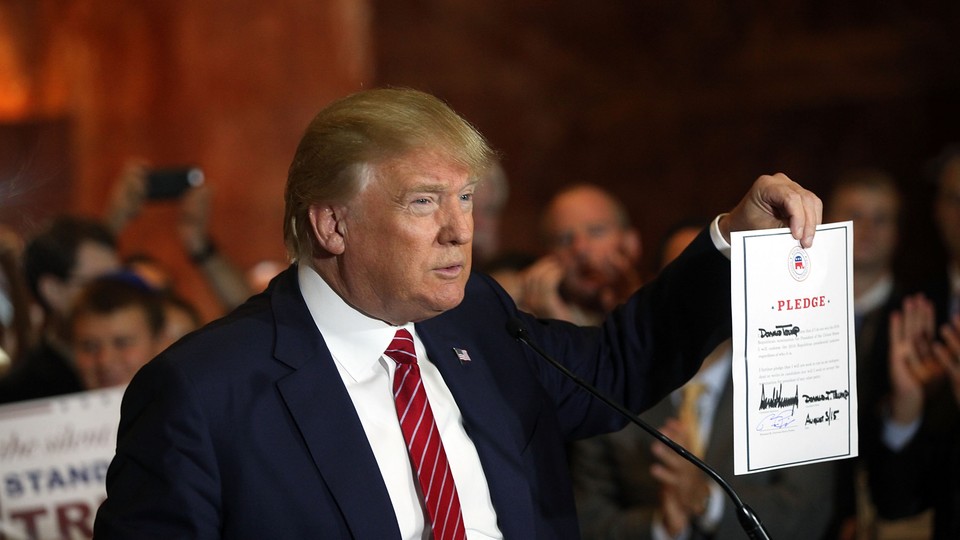 For perhaps the first time in his improbable presidential campaign, Donald Trump is playing ball.
"I will be totally pledging my allegiance to the Republican Party and the conservative principles for which it stands," Trump said Thursday afternoon. "And we will go out and we will fight hard and we will win—we will win and, most importantly, we will make our country great again."
At a Trump Tower press conference in New York City, the branding baron tried to put to rest speculation that he wouldn't sign a GOP pledge forbidding him from launching a third-party run—and dragging scores of GOP voters along with him. After meeting with Republican National Committee Chairman Reince Priebus to discuss the pledge—which is nonbinding and totally unenforceable—he assured the crowd that he was taking it seriously.
"I see no circumstances under which I would tear up that pledge," Trump said.
For a campaign built on the idea of Trumpian Exceptionalism, its candidate briefly took an uncharacteristically egalitarian approach to the 2016 race in explaining his support for the party in his opening remarks.
"I have wanted fairness," Trump said. "I don't have to be treated differently than anybody else. I just wanted fairness from the Republican Party."
But even as he tried to sell the crowd on his newfound taste for equality, Trump couldn't help but point out just how well he's doing. Trump noted that the RNC chairman had wanted to meet with him, a move that Trump told the crowd was an honor. (In contrast, Priebus didn't powwow with Chris Christie, another Thursday pledge-signer, because "you don't have to be met with when you're at 2 percent," Trump said.)
And Trump seemed to be up on all the latest polls, noting the results of Thursday's small Monmouth University survey. The poll, with a fairly large margin of error, saw Trump at 30 percent support, followed by Dr. Ben Carson at 18 percent and various establishment candidates trailing behind. Though the pledge means that Trump will have to back the eventual GOP nominee—even if it's one of those now-low-polling candidates—he didn't insist too hard on that point.
The best way for the GOP to defeat its Democratic opponent "is if I win the nomination and go directly against whoever they happen to put up," Trump said.