Donald Trump is Getting Under President Obama's Skin
Ahead of second GOP debate, the president responded to the candidate's attacks.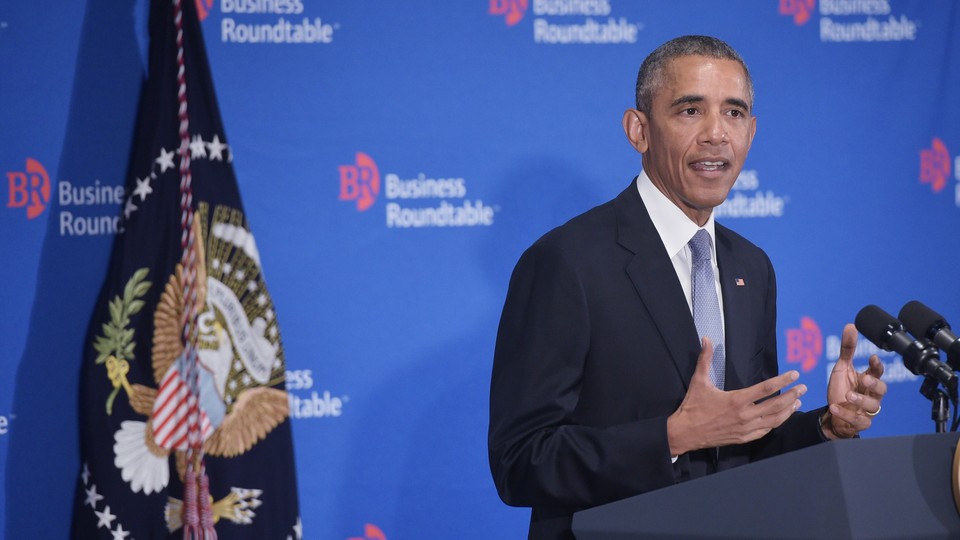 Donald Trump is finally getting to President Obama.
On Wednesday, the president defended America's economic standing in the world. And, ahead of the second GOP primary debate Wednesday night—and without ever saying his name—he  unveiled a hearty defense against the business mogul and GOP front-runner.
"In the echo chamber that is presidential politics, everything is dark and everything is terrible," he lamented at the Business Roundtable headquarters in Washington. Presidential candidates, "don't seem to offer many solutions for the disasters that they perceive, but they're quick to tell you who to blame."
He continued: "I'm here to say there's nothing particularly patriotic or American about talking down America, especially when we stand as one of the few sources of economic strength in the world."
Obama also had a response to Trump's controversial slogan, Make America Great Again: "America is great right now. America is winning right now."
Trump's celebration of his wealth, along with his simple message on the economy, has resonated with the Republican base, rocketing him to the top of the primary field; he's leading the rest of the GOP by double-digits. His tough talk on China has helped, too: He talks about the country so much—how they're beating the United States, and how he'd beat them—that a video of him saying "China" 234 times went viral last month.
With this in mind, and ahead of Chinese President Xi Jinping's visit to the White House next week, Obama ramped up his rhetoric against the country. He announced that the United States is "preparing a number of measures to indicate to the Chinese that we are not just mildly upset" over cybersecurity concerns, including the massive data hack at the Office of Personnel Management. Though the administration has declined to blame the Chinese for the hack, the country is widely believed to be at fault.
Still, the newly sharpened rhetoric came with a not-so-veiled Trump caveat.
The United States and China can have a dialogue "as long as we don't resort to the kind of loose talk and name-calling I notice some of our presidential candidates engage in," Obama said. "It tends not to be constructive."
And then, warning that he was going to go on a "rant," he spouted off.
"This whole notion that somehow we're getting out-competed, out-dealt, we're losing. ... Nobody outside the united states understands what we're talking about," Obama said. Though the United States has issues, "overall, our cards are so much better than everybody else."
Press secretary Josh Earnest told reporters Tuesday that Obama wouldn't be watching the GOP debate "because he feels like he's got better things to do." From the sounds of it, though, Obama's bruised ego may upgrade it to must-see TV.