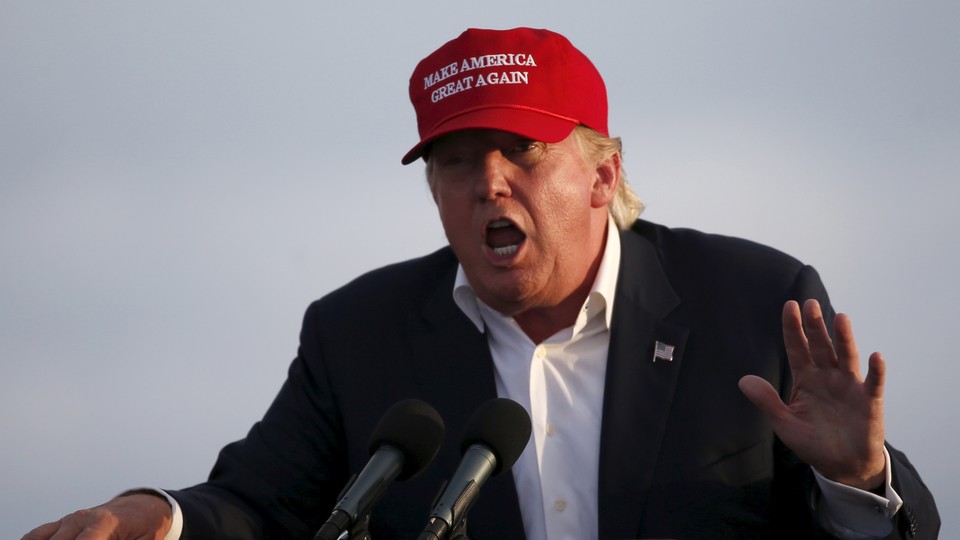 Editor's Note:
This article previously appeared in a different format as part of The Atlantic's Notes section, retired in 2021.
Donald Trump has taken the promise advertised on his big, red hat and turned it into a book.
The currently untitled book, out October 27, will "outline how a crippled America could be restored to greatness," according to a Monday press release from Threshold Editions, an imprint of Simon & Schuster. The book will include Trump's takes on "the economy, big CEO salaries and taxes, health care, education, national security, and social issues," as well as "his vision for complete immigration reform."
"Not since The Art of the Deal have I had this much fun writing a book," Trump says in the release.
The Art of the Deal, Trump's writing debut, was a huge success when it first came out in 1987 and spent 51 weeks on The New York Times' bestseller list. He has since written 15 other books—mostly on business, a couple about politics—makes Trump the most prolific author of the 2016 GOP field.
So, what should you expect? Here's what The Washington Post's Carlos Lozada discovered when he binge-read eight Trump books this summer in the name of journalism:
...is there a single word that combines revulsion, amusement, respect and confusion? That is how it feels, sometimes by turns, often all at once, to binge on Trump's writings. Over the course of 2,212 pages, I encountered a world where bragging is breathing and insulting is talking, where repetition and contradiction come standard, where vengefulness and insecurity erupt at random.
Tis the season for politicians smiling up at you from bookstore shelves; Marco Rubio, Jeb Bush, and Ben Carson have books scheduled for release in October, and Bernie Sanders's book comes out the same day as Trump's.