Democrats Outspending Republicans on TV in Kentucky Governor's Race
After a long, bruising primary, Republican Matt Bevin hasn't spent much so far on TV in the general election, leaving the heavy lifting to the Republican Governors Association.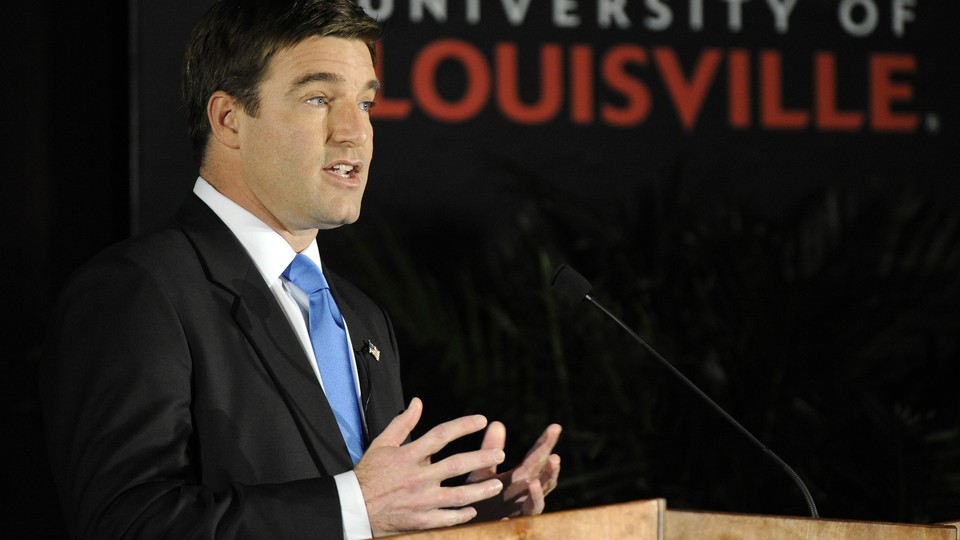 A super PAC formed to help Republican gubernatorial nominee Matt Bevin in Kentucky is having some trouble meeting self-imposed fundraising goals. Texas-based GOP consultant Matt Mackowiak established the new group, called Fight for Kentucky, in early September with the stated goal of raising $1 million by Sept. 15. Now that the date has come and gone, the group remains relatively quiet.
In an email to supporters Wednesday, the group said it's "trying to raise $100,000" to go on TV. Mackowiak declined to talk on the record about the super PAC's progress, but it highlights a broader trend in the race to be Kentucky's next governor: Democrats are spending more money getting their message out than Republicans.
Attorney General Jack Conway, the Democratic nominee, already spent $2 million on TV between the May 19 primary and Sept. 14, according to a Kentucky Democratic operative tracking media spending. On top of that, the pro-Conway group Kentucky Family Values—a super PAC funded by the Democratic Governors Association—has spent another $1.6 million.
On the other side, the Republican Governors Association confirmed that it spent $2.8 million through mid-September on TV ads boosting Bevin or savaging Conway (or both). But a source close to Bevin's campaign said his first general-election ad buy, which launched just last Friday, was backed by only $140,000 on local TV.
Bevin spent down nearly everything he had on the multi-candidate GOP primary this spring, though his ability to self-fund—the Republican has already spent $2.5 million of his own money this year—means that more could be on the way. Meanwhile, some Conway supporters have expressed frustration with his focus on raising money at the expense of face time with voters on the campaign trail, but it's also plain that that fundraising is paying off in other ways.
Conway's campaign unloaded a pack of six 15-second spots this week attacking Bevin on a range of issues, from his shifting stances on Medicaid to Bevin's attendance at a pro-cockfighting rally last year. Bevin has so far lacked the resources to respond. The RGA came to Bevin's defense in one ad, denying attacks that Bevin's various business enterprises failed to pay their taxes.
Mackowiak's group could yet wade into the fray. Interestingly, a group Mackowiak founded called Fight for Tomorrow spent a small amount supporting Kansas Sen. Pat Roberts's Republican primary challenger in 2014, Milton Wolf. Ben Hartman, Wolf's campaign manager, is now running Bevin's campaign.
But for the moment, Conway and his party are heading into October with an advantage in TV spending, a potentially big deal in the most competitive statewide race of 2015.