Democratic Fortunes Brightening In 2015 Governors' Races
In two of the most conservative states in the country, Democrats are looking surprisingly competitive.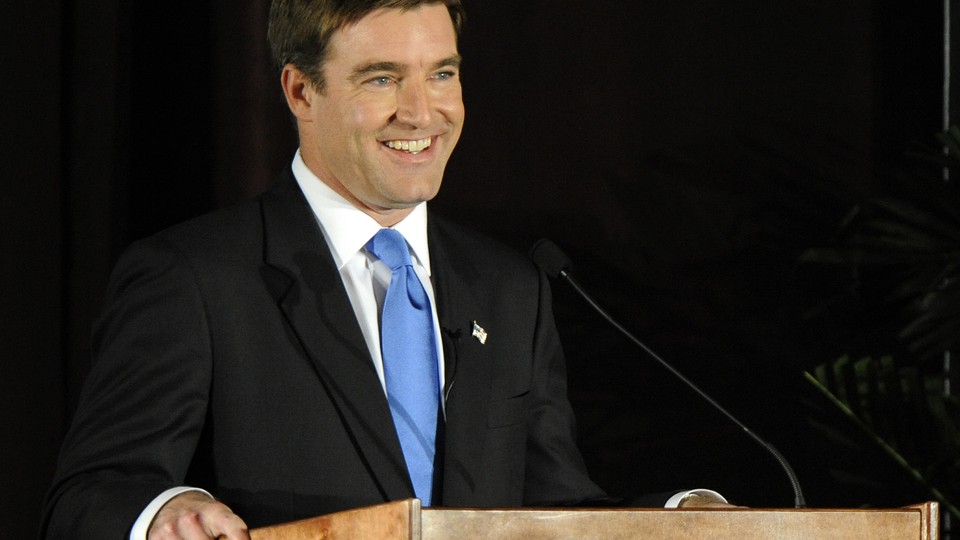 If there's a bright spot for Democrats in an otherwise gloomy political environment, look no further than the party's surprisingly competitive fortunes in two Southern states that have been nightmares for them lately: Kentucky and Louisiana. Both states are holding off-year gubernatorial races in 2015, and in those contests, moderate Democratic candidates are running well ahead of expectations.
In Kentucky, Democratic Attorney General Jack Conway now holds a small, but clear advantage in the governor's race despite being slammed by outside ads attacking him as a pawn of President Obama. The Republican Governors Association just pulled its advertising on behalf of Republican nominee Matt Bevin, even though public polls have shown the race to be competitive. But as National Journal has reported, Republicans have grown panicked about the disorganized state of the Bevin campaign, and Democrats are now outspending their GOP counterparts by a healthy margin in the race. Senate Majority Leader Mitch McConnell, who Bevin unsuccessfully challenged in last year's Senate primary, has all but ignored his home state's governor's race in favor of trying to boost the GOP's chances in winning back the state House.
In Louisiana, it's GOP Sen. David Vitter who is surprisingly vulnerable, despite looking like the odds-on favorite to become the state's next governor throughout the summer. Between term-limited Gov. Bobby Jindal's low approval ratings and the lingering impact of Vitter's years-old prostitution scandal, voters appear open to supporting the right type of Democratic candidate. A new poll, conducted by the Clarus Research Group, shows Vitter trailing all three of his leading opponents, including Democrat John Bel Edwards, a military veteran and former state legislator running a centrist campaign in the all-party primary.
Louisiana has a unique electoral system in which both Republican and Democratic candidates run on the same October primary ballot, with the two top finishers heading into a November runoff if no one wins over 50 percent of the vote. Edwards is heavily favored to win a spot in the expected runoff, while the Republican vote is split between Vitter and two other Republican candidates (Lt. Gov. Jay Dardenne and former Lt. Gov. Scott Angelle). If Vitter finishes in the top two, the stage will be set for an intriguing race that wasn't on many pundits' scorecards until recently.
Part of the Democratic Party's good fortune is thanks to the caliber of GOP candidates they're up against. In Kentucky, they're facing Bevin, whose personal wealth allowed him to eke out a razor-thin primary victory against two Republican rivals. As the party's nominee, he's struggled to raise money and hasn't spent much, either, relying on the RGA to spend more than $3 million on his behalf. In response to his lackluster campaign, the RGA announced this week it was going to stop spending money in the race—a clear warning that the party wants Bevin to get his act together, and expend some of his own fortune. (On Wednesday evening, in the wake of the intraparty criticism, Bevin announced his campaign placed a "seven-figure media buy" to push his message.)
Since winning the nomination, Bevin has struggled to articulate a positive argument for his campaign, and he has gotten sidetracked on inconsequential issues. Last week, the nominee stopped by Kentucky Democratic Party headquarters to berate a receptionist about an anti-Bevin billboard hanging on the interstate. He's flipped his position on Medicaid expansion, softening his opposition from the primary campaign. In a radio debate held Wednesday, Bevin said he supported Ben Carson for president—even though Rand Paul was scheduled to be campaigning for him over the weekend.
The numerous blunders are badly hurting Republicans in a state where the party once held high hopes of winning back the governorship. Democrats badly lost a hotly contested Senate race last year, and the state's politics have turned against the party—even in a governor's race, where federal issues usually aren't as prominent. The RGA's ads have focused on Conway's ties to Obama, a theme that has consistently worked against Democratic candidates in recent years.
"The environment is so good for Republicans in Kentucky, this goes to show you how bad the Bevin campaign has been. This race should be over, for Republicans," said a Kentucky-based Republican strategist unaffiliated with the campaign.
If Democrats make a run at the governorship in Louisiana, it will be even more stunning. The Louisiana gubernatorial race looked like it was Vitter's to lose, and at the least, a near-lock for Republicans to hold. Vitter has been preparing for a gubernatorial campaign for years, and has held a clear advantage thanks to his name identification and fundraising ability. Sen. Mary Landrieu's landslide loss in last year's midterms only underscored how endangered the Democratic brand was in the Bayou State.
But a funny thing happened as the campaign developed. Jindal's dismal 32 percent favorability rating in Louisiana—not to mention his own long-shot bid for the presidency—have hurt the Republican Party's image back home, and damaged Vitter. (It's an ironic development, given the frosty relationship between the two Republicans.) Edwards is capitalizing on that dynamic by running as the anti-Jindal, reminding voters he was a thorn in the governor's side as a state legislative leader. Vitter's prostitution scandal has also reemerged as an issue in the campaign, with several outside groups spending money on the topic. Dardenne, his leading Republican rival, has proclaimed himself "scandal-free" in a recent campaign ad and has drawn an ethical contrast in campaign forums.
Republicans believe Edwards's numbers will drop if he makes it into the runoff, since minimal negative advertising has been directed his way. But with many core Democratic voters also unfamiliar with Edwards, it's possible he still has room to grow. Democrats are downplaying expectations in Louisiana, but are fully aware of polling indicating this could be the sleeper race of the year.
The other important takeaway from these two gubernatorial races is that to succeed, red-state Democrats recognize they need to aggressively distance themselves from the national party. Edwards touts his pro-gun, antiabortion record and rarely mentions his partisan affiliation. Conway emphasizes his support for the state's coal producers, and has pledged to fight Obama's environmental regulations targeting the industry.
If they prevail, it would demonstrate that Democrats aren't yet extinct in the South, at least at the state campaign level. To be sure, Republican self-destructiveness has handed them surprising opportunities. But the races also show that with a more moderate message, Democrats could find themselves with opportunities beyond the country's most liberal precincts.