Debate Reveals a GOP In Search of Direction
The 15 candidates diverged sharply on how to regain the White House in a changing country.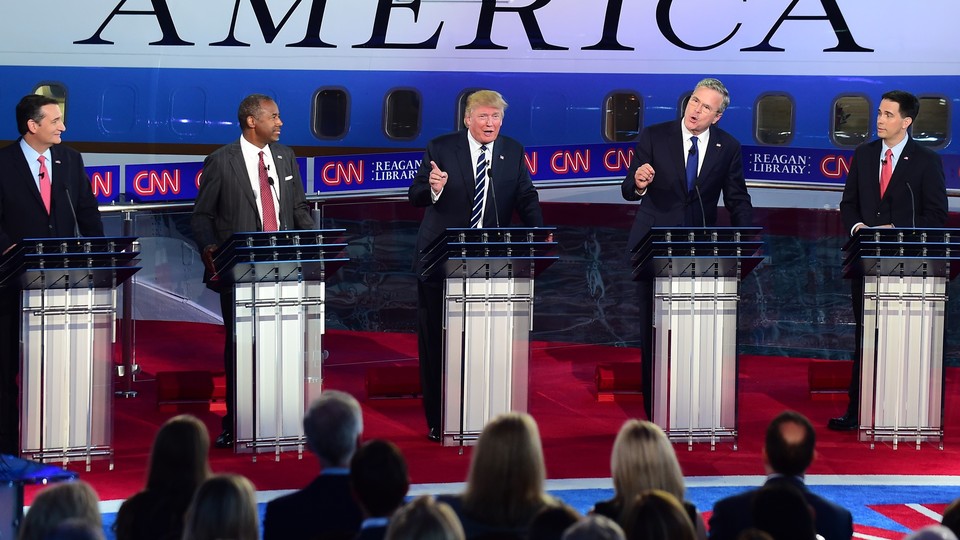 SIMI VALLEY, CA—That sound reverberating from the Ronald Reagan presidential library was the crash of conservative icons crumbling as 15 Republican contenders tussled over the party's current identity and future direction in two revealing debates Wednesday night.
Former President George W. Bush, Supreme Court Chief Justice John Roberts, the Republican leadership in the House and Senate, the decision to invade Iraq, and even big donors who help fill the party's coffers all took swipes over two encounters that featured more criticism of the GOP's recent course than of the Democratic Party.
Only Reagan seemed entirely immune from attack.
Over a supersized marathon debate that flared with intensity, detoured regularly into personal attacks (usually involving front-runner Donald Trump), and at times sagged under its length, the candidates differed on both narrow policies and broad direction.
Once again, the field sharply divided over how the GOP should orient itself to the nation's hurtling demographic and cultural change. The candidates split nearly as intently over national security. Other issues, from criminal-justice reform to the influence of large donors, to taxing the rich, and raising the minimum wage saw an assortment of candidates advancing ideas that challenged, or at least recast, traditional conservative priorities.
In all these ways, the debate underscored how far Republicans are from a consensus on the vital question to be answered by the primaries: How will they regain the White House after losing the popular vote in five of the past six presidential elections?
Many of the candidates' arguments last night over specific policies revolved around the same broad underlying choice: to recapture the White House, must the GOP find ways to reach out to voters in the diversifying Next America who have been resisting it, or is it most likely to win in 2016 by offering an uncompromising conservative agenda aimed primarily at energizing its modern base, centered on blue-collar, older, and rural Whites?
On display at the two debates was a kaleidoscopic array of answers to that question:
The inclusive bipartisan outreach promised by Ohio Gov. John Kasich, former Florida Gov. Jeb Bush, and Sen. Lindsey Graham (in the first debate), each of whom has defended comprehensive immigration reform.
The dovish libertarian-flavored agenda of Sen. Rand Paul that looks to connect with millennial voters.
The varying versions of blue-collar populism articulated by Donald Trump, former Arkansas Gov. Mike Huckabee, and former Sen. Rick Santorum (in the first debate) that targets working-class Whites.
The scorched-earth, take-no-prisoners conservative revolution promised by Sen. Ted Cruz, Wisconsin Gov. Scott Walker, and Louisiana Gov. Bobby Jindal (in the first debate).
Marco Rubio promised new approaches on domestic policy and a return to hawkish Republican orthodoxy on foreign policy.
Carly Fiorina and New Jersey Gov. Chris Christie amalgamated components of these alternate approaches for appeals that mostly stressed their toughness as leaders willing to execute difficult decisions.
Ben Carson again wrapped unflinching conservatism in a reassuring demeanor.
The fundamental choice between expanding the coalition and rallying the base was most starkly framed in the discussion about immigration in both the first debate, among the four lagging candidates, and the main event, with the 11 contenders gathered before the spectacular backdrop of Reagan's Air Force One plane.
In the prime-time debate, Donald Trump reaffirmed the hard-line agenda on immigration that has helped propel him into the race's lead, with dominant support among blue-collar Republicans. Trump repeated his support for mass deportations and ending birthright citizenship for the children of undocumented immigrants born in the United States. Trump's most vivid moment came when he repeated his recent criticism of Jeb Bush for publicly speaking Spanish. "This is a country where we speak English; not Spanish," Trump insisted.
Bush, who takes the opposite position on each of those issues, framed the immigration debate as a fundamental choice for the party. "We're at a crossroads right now," he declared. "Are we going to take the Reagan approach, the hopeful optimistic approach, the approach that says that you come to our country legally, you pursue your dreams with a vengeance, you create opportunities for all of us? Or the Donald Trump approach? The approach that says that everything is bad, that everything is coming to an end?"
That contrast echoed a similar confrontation in the undercard first debate between Sen. Lindsey Graham and former Sen. Rick Santorum. That exchange erupted when Santorum argued that immigration policy should focus not on undocumented immigrants, but rather "we need to win fighting for Americans. We need to win fighting for the workers in this country." To which Graham fired back: "Hispanics are Americans."
Other than immigration, the issue of national security most sharply divided the contenders.
Again the candidates split between one group that heralded the party's traditionally hawkish notes, and another group that offered new approaches. Strikingly, three of the candidates—Trump, Paul, and Carson—criticized George W. Bush's decision to invade Iraq. And while most of the candidates forcefully criticized President Obama's nuclear deal with Iran—Rubio and Cruz most fervently—Kasich and Paul cautioned against preemptively dismissing it, as Trump has also done in the past. "Should we continue to talk with Iran? Yes," Paul said. "Should we cut up the agreement immediately? That's absurd. Wouldn't you want to know if they complied?"
Unfamiliar Notes in a GOP Debate
For years, nothing has been more certain than Republican presidential contenders competing to be tough on crime. But the tone Wednesday night was very different. Christie, a former federal prosecutor, again criticized state decisions to legalize marijuana. But even he declared: "I think the war on drugs has been a failure." Fiorina, though powerfully revealing that she had "buried a child to drug addiction" (her stepdaughter, Lori, in 2009) echoed Christie when she said: "We have the highest incarceration rates in the world. Two-thirds of the people in our prisons are there for nonviolent offenses, mostly drug-related. It's clearly not working." Paul also echoed their arguments.
At other points, the audience heard candidates argue for raising the minimum wage (Santorum, Carson), defend progressive taxation (Trump), call for ending the Senate filibuster (Jindal, Walker), and complain about the influence of the wealthy on national politics (Trump and Carson). The candidates returned to more familiar ground in condemning President Obama's regulations to reduce the carbon emissions associated with climate change and in touting lower marginal tax rates as a key to accelerating economic growth. Yet the overall tenor of the evening was to show a party considering a much wider range of options than in the 2012 race, perhaps partly because the overall contest seems so much more fluid this time with Bush's struggles, Trump's rise, and the persistent interest in other outsiders, including Carson and Fiorina.
Personal Style On Display
The debate could bring the most immediate benefits to Fiorina, who replicated her crisp, confident (if slightly mechanical) performance in the first undercard debate and who also brought down the house with her retort to Donald Trump's recent remarks that apparently disparaged her looks.
No one else stood out as clearly, but Rubio gained in strength as the evening proceeded, particularly when he articulated his hawkish foreign policy views.  At various points, Paul, and even more so Christie, displayed vigor and spirit. After a slow start, Bush finished with much more energy than in the first debate. Twice, Bush seemed to best Trump in direct exchanges. The first time came when he defended, to loud applause, his brother George W. Bush's national security record; the second, more lightly, came toward the end when he declared that his Secret Service code name would be "'Eveready'—it's very high energy, Donald."
As in the first debate, Carson was calm and contained, and more compelling when talking about his personal story than about policy. Kasich wasn't as powerful a presence as in the first debate before a hometown audience in Ohio, but through the evening he repeatedly enunciated a vision that separated him from his rivals by stressing the importance of national unity and working across party lines. Kasich's most memorable answer may have been his opening statement, when he referred to the plane on the dramatic stage: "By the way, I think I actually flew on this plane with Ronald Reagan when I was a congressman, and his goals, and mine, really much—are pretty much the same. Lift Americans, unify, give hope, grow America, and restore it is to that great, shining city on a hill."
Walker, Huckabee, and Cruz, each of whom offered a message focused primarily on mobilizing the party's traditional base, also seemed to have difficulty producing moments that stood out. Cruz probably came closest with his surprisingly intense criticism of John Roberts, who Cruz has said he recruited to work on the recount legal effort for George W. Bush in 2000.
Front-runner Trump was much less animated than in the first debate and struggled with questions that demanded detailed knowledge of foreign policy. Trump at points effectively delivered a message targeted at the blue-collar core of his coalition with his continuing promise of a hard line on immigration, his criticism of special interests that "have a lot of control over our politicians," and his defense of higher taxes on the rich.
Trump though seemed to recede whenever he wasn't raining rapid-fire insults at Paul, Bush, Fiorina, Walker, Rubio, George Pataki, and George W. Bush. The attack on the former Republican president, in particular, seemed to expose Trump to the risk of deepening the doubts that polls already show, particularly among college-educated Republicans, about whether his temperament and personality position him to succeed as president.
Overall, this debate seemed unlikely to significantly reshape the competition, in part because some of the candidates who performed best (including Fiorina and Christie) face many obstacles to emerging as a true top-tier contender for the nomination. After the debate concluded, a senior adviser to one of the candidates assessed its likely impact with a persuasive metaphor: "It's a lot like a roller coaster: It's an exciting ride, you go up and down, but at the end, you get off pretty much where you got on." That seems an appropriate verdict for a contentious but clarifying afternoon that demonstrated, above all, how far Republicans are from settling on a direction in 2016.