DCCC Chair: 'No Question' Democrats Will Gain House Seats in 2016
The question for the party, and potentially for the next president, is whether Democrats can gain enough seats to play a meaningful role in the legislative process in two years.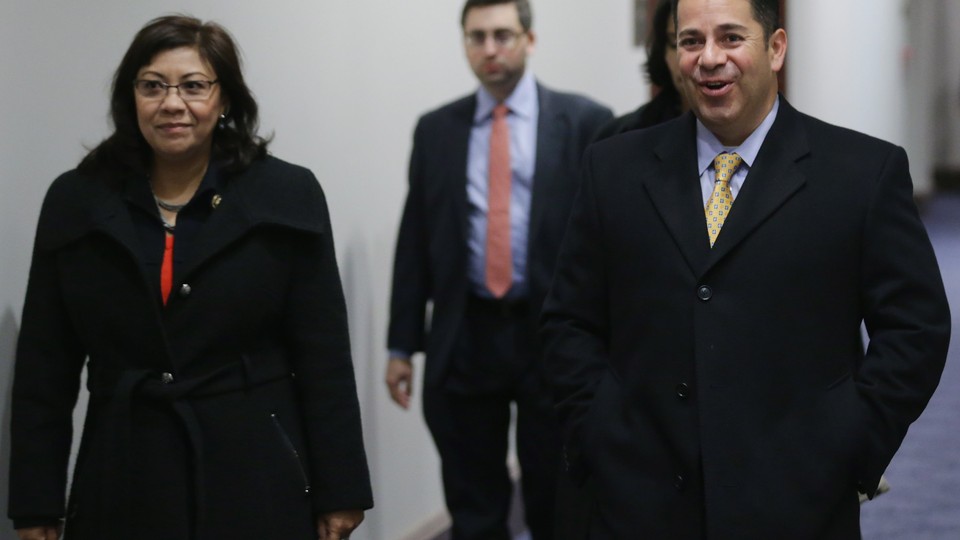 While the media and voters are focused squarely on the presidential race, Democratic Congressional Campaign Committee Chairman Ben Ray Lujan noted that Democrats up and down the ballot will need support in 2016 if the party hopes to enact an agenda after the election.
Lujan, speaking in an interview for C-SPAN's Newsmakers that will air Sunday, is in charge of Democrats' efforts to gain seats in the House of Representatives next year. The party would need to gain 30 seats to retake the House majority after winning only 188 seats (the lowest total in generations) in 2014.
"We need to make sure that … we make the case very clear, that it's Democrats who have the backs of the American people," said Lujan, a fourth-term congressman from New Mexico.
"No matter what the numbers are with Democrat pickups in the Congress this cycle in 2016, we need to make sure that we maximize them," Lujan said, in response to a question about what a future Democratic president might be able to accomplish in the event Democrats don't also win the House. House Republicans have consistently stymied President Obama's agenda since taking control of their chamber in the 2010 elections. What's more, the House map is structurally tilted against Democrats: The party won the popular vote in 2012 but remained 17 seats shy of the majority after that election.
Nevertheless, Lujan was bullish about House Democrats' chances of gaining seats in 2016.
"2016 is going to be different for a number of reasons," Lujan said. "It's a presidential year, and in presidential years more Democrats vote. More people vote for that matter, and when we see larger turnout it's generally better for Democratic candidates."
"Most pundits out there are saying that there's going to be a floor of maybe 8 to 10 seats we can pick up. … So the question is, what does the battleground look like" beyond that, Lujan continued. He highlighted seats in conservative areas where competitive elections are not assumed—such as the districts represented by GOP Reps. Mia Love and Scott Garrett in Utah and New Jersey, respectively.
"I don't have a crystal ball, so I don't know what the ultimate numbers will be, but there seems to be no question that we will win seats," Lujan said. The key question for the next president—especially if it's another Democrat—is just how many seats Lujan, the DCCC, and voters end up flipping in 2016.