Day Care in Spanish No Longer for Latinos Only
37 million people speak Spanish in the U.S., and more families want their toddlers among them.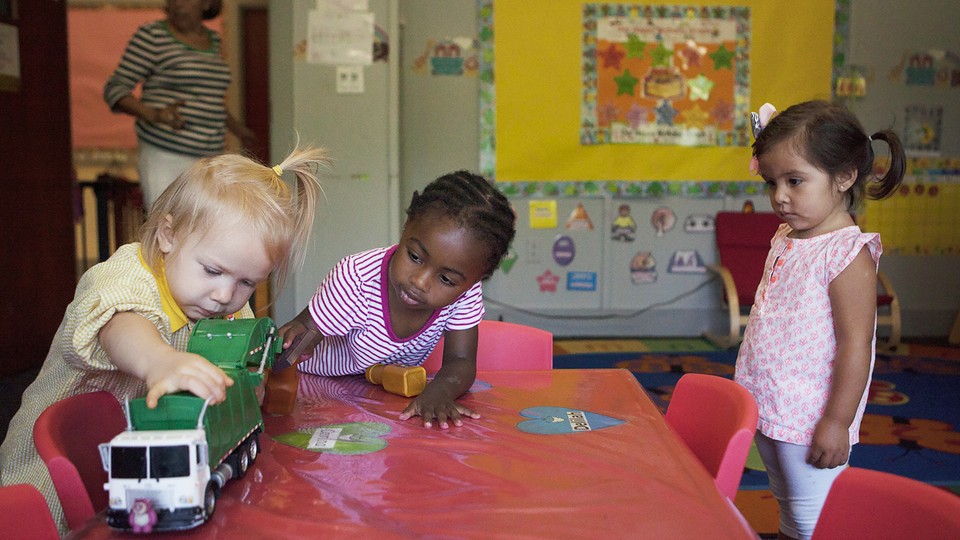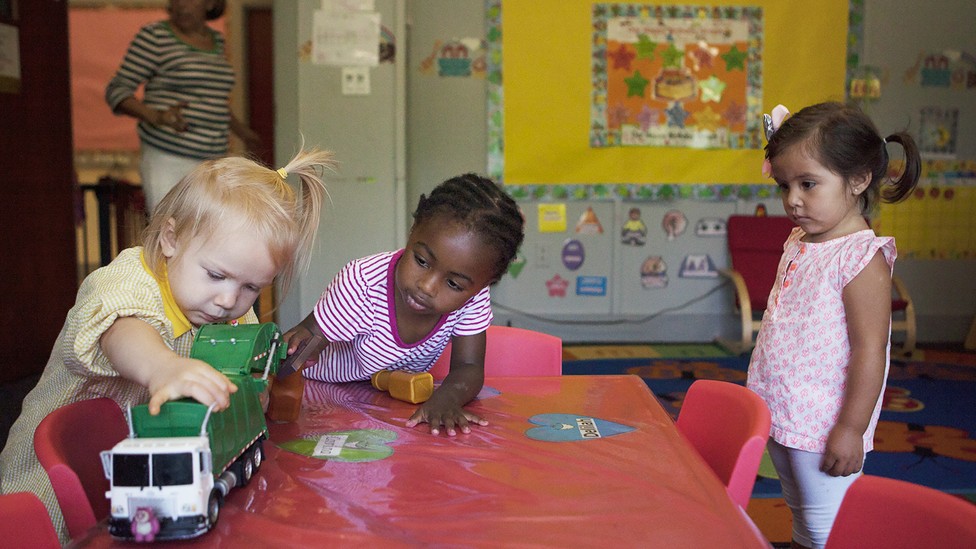 LAUREL, Md.—"¿Como se dice 'circle' en español?" the teacher asks a group of toddlers sitting on the carpet around her.
"¡Círculo!" one of them yells.
"Muy bien," the teacher replies.
Most of the toddlers at Arco Iris Bilingual Children's Center are not Latino. In fact, the majority are black and white. One girl is from India.
The number of bilingual preschools, particularly English-Spanish ones, has been growing across the country, and not just because the Latino population is growing. A large number of Asian, white, and African-American parents are choosing to put their children in Spanish day-care centers.
In the United States, there are 139 bilingual early-childhood centers, according to a directory of the Center for Applied Linguistics. The vast majority are Spanish-English programs. The Washington, D.C., area, is home to about a half a dozen of them, many of which opened in the last five years. Among them is Arco Iris, a preschool for 2- to 6-year-olds in Laurel, near Baltimore.
"I have families from Pakistan, from Vietnam, Nigeria, white Americans and African-Americans," says Carolina Reyes, who opened the childcare center in a Presbyterian church two years ago. Reyes, a native of Chile, started the center with two classrooms and two teachers. Now she has six classrooms and seven teachers. Every day, the children learn Spanish through songs, games, and stories.
Now, 2-year-old Wes asks for "leche" at home instead of "milk" sometimes, says his father, Edward Van Leer. Though Van Leer doesn't speak Spanish, he and his wife thought it would give their two boys an edge to be bilingual. That's why Van Leer drives 20 minutes out of his way to Arco Iris, instead of taking them to an English-language day-care center near their home in Columbia, Maryland. They just moved from New York City, where their sons attended a bilingual day care, and the couple wanted the boys to continue their Spanish education.
"I want my kids to be able to communicate with their friends in school," says Van Leer, who worked as a teacher in the New York City public schools. "I want them to be able to use it and travel places and feel at home. I think in this day and age, if you can speak two languages, it makes you more marketable."
Though American society has a reputation for being largely monolingual, the number of bilingual children has risen dramatically in recent decades. About 21 percent of school-age children in the United States speak a language other than English at home, more than double the percentage since 1980.
For decades, psychologists cautioned against raising children bilingual and warned that it could harm their brain development. Now, research shows that being bilingual actually benefits student performance once children reach middle school and beyond.
Reyes opened Arco Iris in 2013, after working for years as a teacher at a well known Spanish-language day-care center in Seattle.
"It was scary at first because even though a lot of people appreciate the idea [of bilingual education], they worry about kids being delayed when they start kindergarten," she says. Now she's not so worried. She has 10 families on a waiting list and is looking to open two more classrooms.
"Buenos días," Reyes says to Carina, a blond 2-year-old girl who attends the full Spanish immersion class. Carina started attending Arco Iris six months ago. Her mother, Anna Bertone, began studying Spanish in middle school, but thinks Carina will have a better chance at being fluent if she starts early.
"It's the second-most common language in the country," says Bertone. "Expanding the number of people she can communicate with is the obvious reason."
With 37 million Spanish-speakers living in the United States, that's not a bad bet. By the time Carina is 8 years old, the number of Spanish speakers could reach 43 million, according to the Pew Research Center.