Daniel Webster Makes His Case for the Speaker's Gavel, Even If It Only Lasts a Year
The Florida Republican has grown in popularity among the GOP's antiestablishment wing, but his chances at reelection appear slim.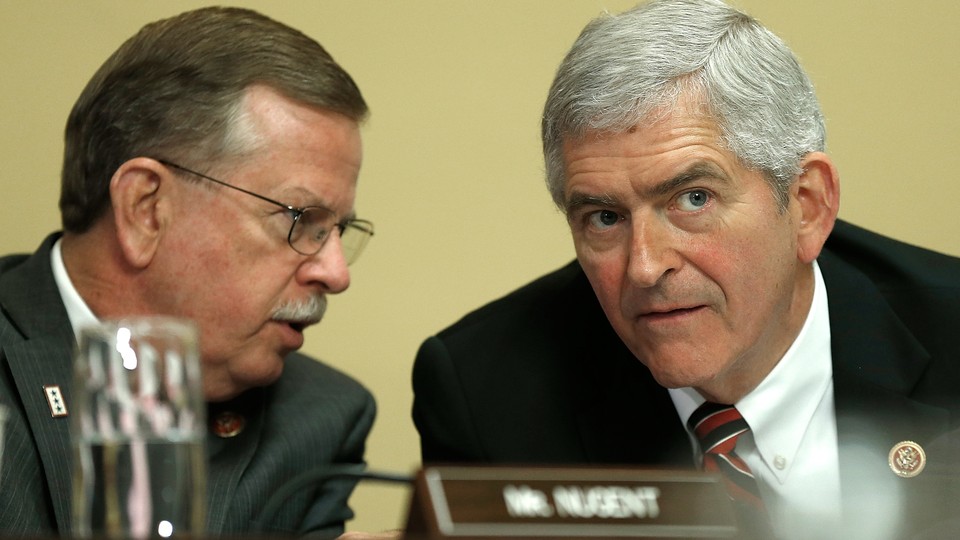 Daniel Webster wants to be the next speaker of the House, even though he knows that he might only hold the title for a little more than a year.
Although he's popular among Republicans who are unhappy with the party's leadership, there's a catch to Webster's bid: His chances of getting reelected in 2016 are slim at best.
Webster, a Florida Republican, became one of the faces of the antiestablishment wing of his party when he garnered 12 votes for speaker in January in an act of defiance toward Speaker John Boehner. Now, he has joined House Majority Leader Kevin McCarthy in the race to become speaker after Boehner announced his pending resignation.
But while Webster currently represents a safe Republican seat, his district is set to be redrawn into one making him a significant underdog before the 2016 election. Florida's Supreme Court ruled in July that state lawmakers illegally gerrymandered their congressional districts, and required new ones to be drawn immediately. A circuit court judge is expected to recommend a map out of a series of recommendations submitted by legislators and activists by next week.
The map isn't final yet, but Webster's fate might be. A Democratic-leaning district on his home turf was one of the common elements of most of the maps under consideration. Webster even told the state legislature that its proposed district for him would be "impossible" to win.
That leaves Webster and his supporters in a difficult position, simultaneously downplaying the immediate impact of redistricting while arguing that Webster would be a good speaker even if it's only for slightly more than a year.
"That's a long way from home," Webster said when asked how redistricting affects his bid for speaker. "I don't know what's going to happen. That's something for later."
Webster noted that a new congressional map is not in place yet. He also said there are "other places where I could run," although when asked if he would consider taking on a fellow Republican incumbent, he said he has "always been for not re-winning seats we already own." Members of Congress are not legally required to live in the districts they represent.
"I just think that this [speaker] election should be about these next 14 months," Webster said. "That's what it should be about and that's what I'm running for. It's not an extended grant of authority."
Webster said he's promising to "flatten the pyramid" and put more power in the hands of members, taking less of a top-down approach than Boehner did. That's the method he used when he was speaker of the Florida House from 1996-98, said Agustin Corbella, a Republican consultant who was an aide to Webster during his time as speaker.
Webster has an uphill battle against McCarthy, to say the least, but he hopes to attract support from Republicans who don't trust any current member of party leadership. That's enough for North Carolina Rep. Walter Jones, a frequent critic of Boehner who said he plans on backing Webster.
"I don't think anyone on the leadership team under Boehner should be the speaker of the House," Jones said. "It's nothing personal, nothing personal against Mr. McCarthy. But there needs to be a new look, a new face, a new direction."
As for Webster's chances at reelection, Jones said it would be worth it to elect him speaker, even if Webster is in a "holding pattern" for half a term.
"There are positives" to Webster's situation, Jones said. Outgoing lawmakers are "not obligated to special interests," which is why he supports Webster in the first place, he added.
Already, Webster has attracted popular Democratic challengers who expect an advantage in the new district: Former Orlando Police Chief Val Demings, who challenged Webster unsuccessfully in 2012, and state Sen. Geraldine Thompson have announced their candidacies. Former state Democratic Party Chairman Bob Poe, a prominent ally of former Gov. Charlie Crist, and former state Sen. Gary Siplin have also been mentioned as possible candidates.
Webster is seeking support based on two arguments—that he'll cross the bridge of reelection when he comes to it, and that he would still be worth the vote even if he's out of office by 2017, Corbella said.
"It's an opportunity he doesn't want to miss," Corbella said. "Even if it were that his congressional longevity is limited, he doesn't want to do this to be speaker for the next 10 years."