County Clerk's Refusal to Issue Same-Sex Marriage Licenses Roils Kentucky Governor's Race
Republican nominee Matt Bevin is leaning into the still-controversial enforcement of same-sex marriage in Kentucky following the Supreme Court's ruling.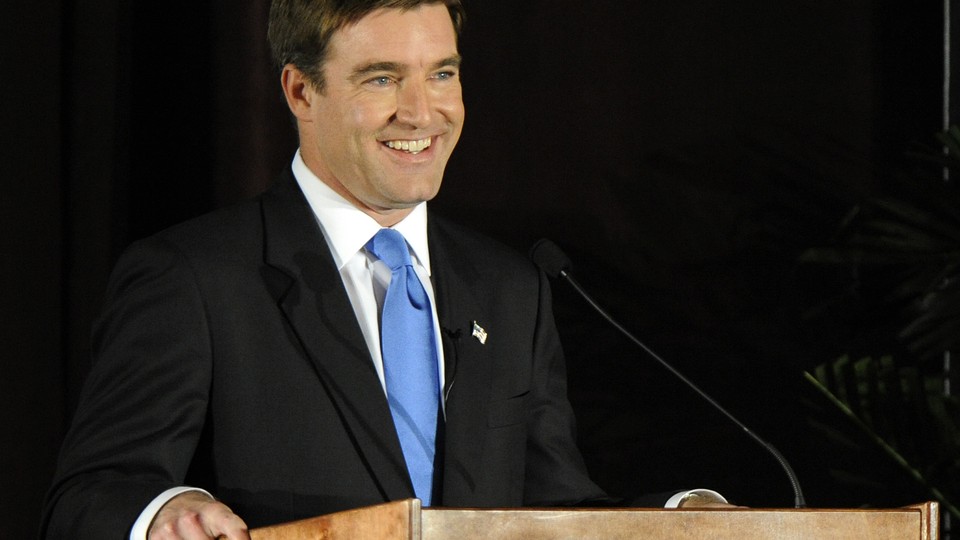 The Su­preme Court's land­mark June rul­ing in fa­vor of same-sex mar­riage mostly turned the de­bate over gay mar­riage down to a quiet mur­mur. Ex­cept, that is, in Ken­tucky, where it has become a flash point that could tilt the race to be the state's next governor.
Rowan County clerk Kim Dav­is's de­cision to not is­sue mar­riage li­censes to same-sex couples based on her per­son­al re­li­gious ob­jec­tions, and the na­tion­al at­ten­tion she's gen­er­at­ing, is keep­ing the is­sue at the fore­front of the news—and the campaign of Republican nominee Matt Bevin. And with Kentucky one of the few states where support for same-sex marriage remains a political liability for Democrats, the controversy Davis sparked is putting the Democratic nominee, state Attorney General Jack Conway, in an uncomfortable spot.
Conway broke with local sentiment in 2014 when he chose not to defend the state's ban on same-sex marriage, and he's had to defend that decision over and over on the campaign trail, even though he'd rather focus on more politically beneficial parts of his track record as attorney general, such as his time spent suing the EPA over coal regulations.
Kentucky-based Republican strategist Scott Jennings told National Journal earlier this summer that same-sex marriage issue could obscure the rest of Conway's record as attorney general, since it was one of the most visible moments of Conway's tenure and continues to generate ample discussion.
"It could have a significant impact," said Al Cross, a longtime Kentucky political commentator who now directs the Institute for Rural Journalism at the University of Kentucky. "In the governor's race, Bevin could still win by getting religiously motivated voters to turn out on this issue. It's been well-propounded within church sanctuaries and similar precincts in the state that Jack Conway didn't stand up for marriage."
As Davis reignites the issue by arguing that she should be able to keep her job and not grant marriage licenses to gay couples, Bevin is doing everything he can to lean into the debate. Bevin fired off a series of tweets Tuesday attacking Conway for not standing up for religious freedom, and he held a rare conference call with reporters later that day to vigorously defend Davis. Bevin reiterated his support for a plan that would absolve clerks from having their names appear on marriage licenses—a plan Conway said he could support.
Bevin has also accused Conway of costing the state money by opting not to defend the Kentucky's gay marriage ban as attorney general, even though the legal fees Kentucky incurred came because Democratic Gov. Steve Beshear opted to move forward with the appeals process without Conway.
Beshear chastised Davis on Tuesday for not doing her job, and the governor said he wasn't interested in making special accommodations for clerks like her, which would include spending state money on a special session to write a new law. But Conway has been more amenable than his Democratic counterpart, expressing openness to finding a "legislative solution" next year that "upholds the Supreme Court decision and allows county clerks some flexibility so we can all move forward."
Yet overall, Conway has remained relatively quiet on same-sex marriage even as it has mushroomed this summer, hoping the issue blows over by the time the campaign really heats up in the fall.
In 2014, Conway passionately championed his choice not to defend what he viewed as Kentucky's discriminatory ban on same-sex marriage—he even teared up on live television while announcing that decision. "Those tears will flow again on television, or surely online, and this could ultimately be the thing that tips the scales against him," Cross said.
While the issue is unlikely to be the lone determining factor in a race between two very different candidates, in an off-year November election where low turnout is expected, keeping the same-sex marriage debate alive could help mobilize culturally conservative voters to Bevin's side.
One major question, however, will be whether Bevin has the financial resources to deliver his message on religious freedom, and his attacks on Conway over gay marriage, to the masses over the airwaves. Bevin has yet to air any TV ads since he won the May GOP primary, and it's unclear how much money he has raised since that primary left him with almost nothing in the bank.
The outside groups that have backed Bevin on TV so far, the Republican Governors Association and Americans for Prosperity, have so far kept a narrow focus on Conway's support for Obamacare. Conway's support for same-sex marriage could be another way Bevin and the GOP tie him to national Democrats—but only if they can keep the issue alive throughout the fall.