Conservative Colorado Sheriff Justin Smith Considering Senate Race
Smith, who garnered publiclity fighting against Gov. John Hickenlooper's gun control measures in 2013, is the latest local official to mull a GOP Senate run in the state.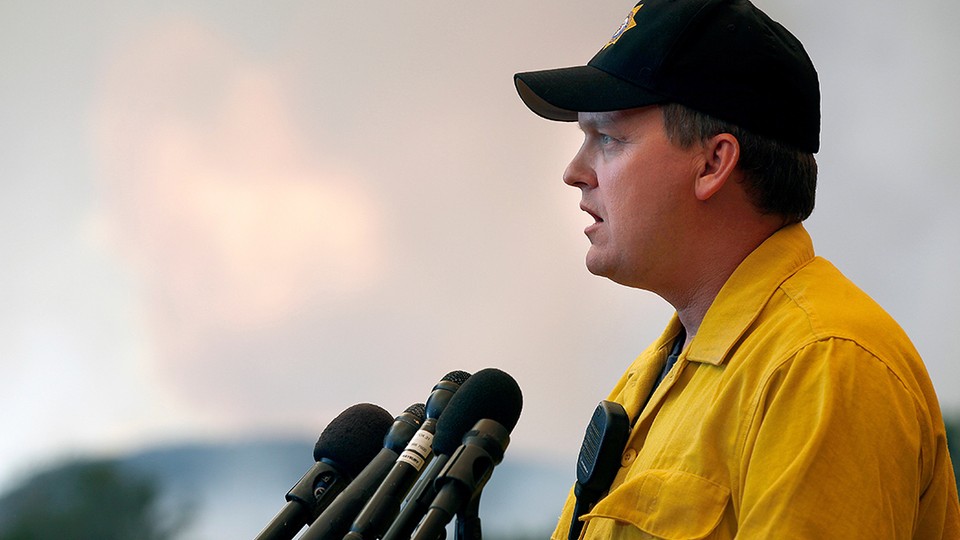 Larimer County Sheriff Justin Smith, a Colorado Republican, says he is seriously looking at running against Democratic Sen. Michael Bennet in 2016, the latest in a string of potential GOP candidates to put their names forward in the state.
Smith gained prominence among the state's conservative grassroots in 2013 for fighting against the gun-control legislation championed by Colorado's Democratic governor, John Hickenlooper. Smith said in an interview that he was making calls and speaking with several statewide elected officials about his plans.
"I'm looking to see if the stars line up in the right way for it to work out for me professionally," said Smith, who plans to wait at least another month before making a decision.
Smith joins a handful of local Republican officials publicly eyeing the Senate race, none of whom have much political experience or statewide name recognition.
Republicans in Colorado have been on the hunt for a Bennet challenger since Rep. Mike Coffman turned down the race in June, with much attention turning to District Attorney George Brauchler in the Denver suburbs. National party leaders see Brauchler, who just finished prosecuting the high-profile murder case of Aurora movie theater shooter James Holmes, as a candidate who could be formidable in next year's general election and also, potentially, clear a Republican primary. Brauchler has said he'll announce his decision on the race in early October.
But even if Brauchler gets in, at least one other well-funded candidate will be competing for the GOP nomination. Colorado Springs businessman Robert Blaha, who self-funded a congressional run in 2012, vowed to challenge Bennet because of the Democrat's vote in favor of the Iran nuclear deal.
Two other candidates, El Paso County Commissioner Darryl Glenn and former Colorado Small Business Administration director Greg Lopez, have already launched their campaigns. Conservative state legislator Tim Neville is on a "listening tour" as he considers jumping from the state Senate to the U.S. Senate. And his colleague, state Senate Majority Leader Mark Scheffel, is also reportedly considering a run.
Smith suggested he would potentially defer to Braucher—but not to any other candidates—if the district attorney decides to run.
"At this point looking at the field, to me the legitimate player, or the one who has the potential to be a legitimate player has been George Brauchler," said Smith. Of the others, he said, "I just don't believe they can capture the broad representation within the party to pull the different folks together."
Asked whether he could meet the same challenge of both uniting the GOP and challenging Democrats in 2016, Smith pointed to his competitive primary and general elections for sheriff in Larimer County.
"Yes, I have a very conservative profile, but if you look at Larimer County … it's very purple. Cory Gardner did not win Larimer County" in his 2014 Senate win, Smith said. "I've worked really hard to earn a reputation as someone very respectful of other views, and as someone who can work with independents."
In a potentially wide-open race, Smith's allies hope that he can turn the conservative profile he's built on gun laws, marijuana, and immigration into grassroots support that's easily translatable into votes thanks to Colorado's all-mail balloting.
Smith traveled the state with the Independence Institute, a Denver-based libertarian group, during the campaign against Hickenlooper's gun control measures, which led to the recall of two Colorado state senators. He was also the lead plaintiff in a lawsuit with sheriffs from two other states this past spring that asked a federal court in Denver to strike down an amendment legalizing recreational marijuana sales in Colorado.
"He's a conservative guy, stood up very strongly in favor of gun rights, and I think he'd resonate and find a lot of support among the Republican primary voters," said former Colorado Secretary of State Scott Gessler, a supporter of Smith.
Should he get in the race, Smith has lined up a team of national Republican consultants with the firm RightVoter; a pollster, Todd Vitale of WPA Opinion Research; and a media firm, Strategy Group for Media.