Congress Races to Stay Ahead of Synthetic-Drug Problem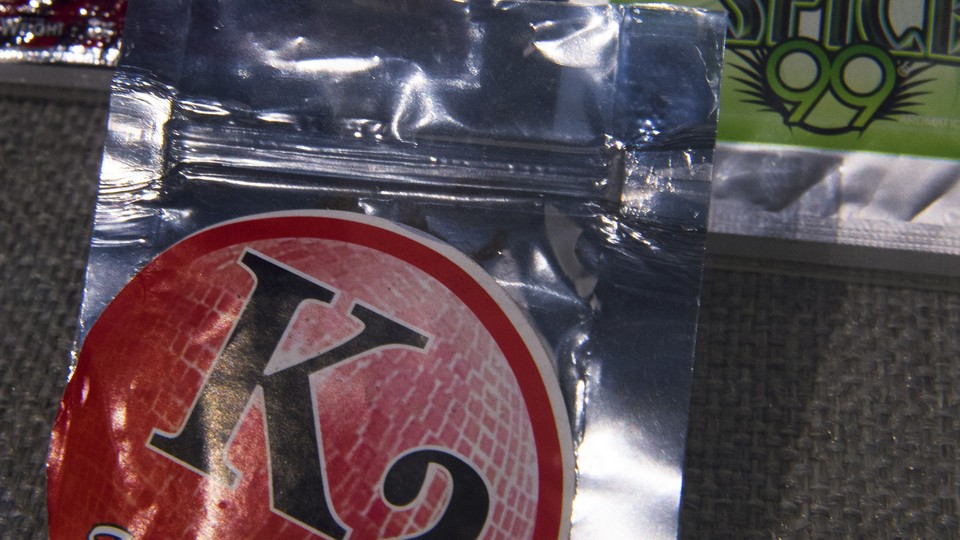 The use of synthetic marijuana appears to be rising nearly as quickly as the drugs themselves are changing. And that makes it hard for Congress to keep up.
With some drug packets labeled "not intended for human consumption" in an apparent effort to skirt the law, regulation and prosecution remain tricky as chemists alter the designer drug's molecular structure faster than the federal government can react. After a substantial shift downward from 2011, the number of calls to poison centers for exposure to synthetic marijuana has risen dramatically this year. With 5,932 calls as of Sunday, this year is on pace to break 2011's record of 6,968, the American Association of Poison Control Centers reports. (Though they've gotten significant media attention, the usage of bath salts has not risen.)
"These drugs are coming out so fast sometimes that it's impossible almost to keep up with what's out, what do they look like chemically, structurally, what are they related to, what family do they belong to, all of that scientific stuff," said Heather Gray, the National Alliance for Model State Drug Laws legislative director.
Attempts at curtailing synthetic drugs take some creativity: Police can suspend a shopkeeper's liquor and tobacco licenses if they're caught selling designer drugs in DeKalb, Illinois. Stores that sell may have their building declared a public nuisance in Tennessee. And business licenses could be forfeited in Illinois, according to a National Alliance for Model State Drug Laws report titled "Enforcement of Synthetic Substances Laws."
But while many of these crimes occur at the state and local level, several members of Congress are hoping to close loopholes, aiming to make it easier to prosecute and to place drugs on federally banned lists.
Before 2010, synthetic cannabinoids—which are chemically laced substances designed to imitate marijuana—weren't controlled at the state or federal level, according to the White House's Office of National Drug Control Policy. In 2012, a portion of the Food and Drug Administration Safety and Innovation Act permanently placed 26 types of synthetic cannabinoids and bath salts into Schedule I of the Controlled Substances Act—officially putting some of the designer drugs in the same category as heroin, marijuana, and ecstasy. And, since then, most states have passed their own laws.
"There's an infinite array of possibilities that these chemists in these shady laboratories can come up with," said Ruben Baler, a health scientist at the National Institute on Drug Abuse's science policy branch, who believes that educating the community and children about synthetics is the key. He added: "It's a never-ending story. It's the cat chasing its tail, so this is the challenge, really, from a regulatory point of view."
A bill introduced by GOP Sen. Rob Portman of Ohio and Democratic Sen. Dianne Feinstein of California aims to speed up the process of making these drugs illegal through the creation of an interagency committee headed by the Drug Enforcement Administration. The goal: Within about 90 days, the committee could designate drugs similar chemically—or with a similar predictive effect—as a controlled substance analogue, thus making them illegal. According to Gray, this tactic would "greatly reduce the amount of time needed to schedule a substance."
The bill would also make it illegal to import the substances on that list, unless the attorney general says otherwise.
Yet in Elkhart County, Indiana, where Curtis Hill serves as a prosecuting attorney, the substances seemingly change overnight. So, Hill said, without some type of catchall program, constant updates would be needed to continually add new chemical concoctions to the list. "By the time you get the substances, break it down, determine what it is, it's very likely that substance will have morphed into something else."
Another bill—introduced in the House by Rep. Mac Thornberry, with a companion in the Senate—would combat another issue: manufacturers labeling synthetic-drug packets with the words "not intended for human consumption." A 2014 Congressional Research Service report noted that "one possible barrier for prosecuting individuals for violations relation to synthetic substances such as 'bath salts' that are marketed as 'not intended for human consumption' may be proving that despite this labeling, these substances are indeed intended for consumption."
"Putting on the label 'not for human consumption' is not a get-out-of-jail-free card," Thornberry told National Journal. "You've got to look at the total circumstances. If you know that it's being used for human consumption, if you're selling it to a bunch of kids who line up outside your store, then you can still be held responsible for it."
According to Gray, prosecutors can try to use various tools to prove a substance was intended for human use, including witness testimony, how it's advertised, and what others have said about it.
In 2013, Jesse High, 18, died after using synthetic marijuana in Thornberry's Texas home district, several news outlets reported. Afterward, the congressman began talking to his community, learning just how rampant the designer drugs were in the region. It's an effort he's continued, staying informed on the drug through law enforcement, public health officials, and other local stakeholders.
And during August recess, Thornberry sat at a police department's training center surrounded by law enforcement, health officials, and others grappling with the issue of synthetic drugs in his home district. It was another roundtable, another discussion about a problem that just won't seem to go away.