Congress Has Fewest Immigrant Members in 40 Years
Pew analysis finds only six foreign-born lawmakers, mostly Democrats.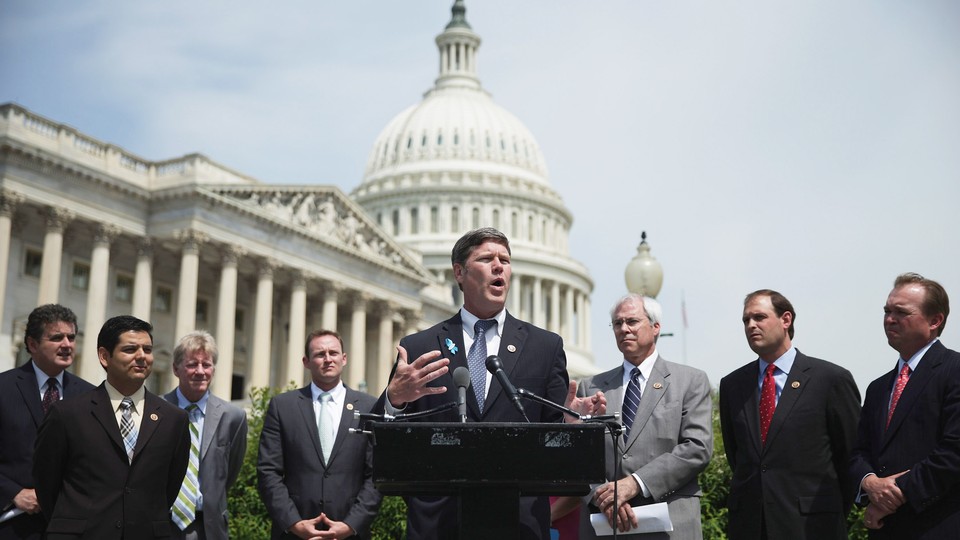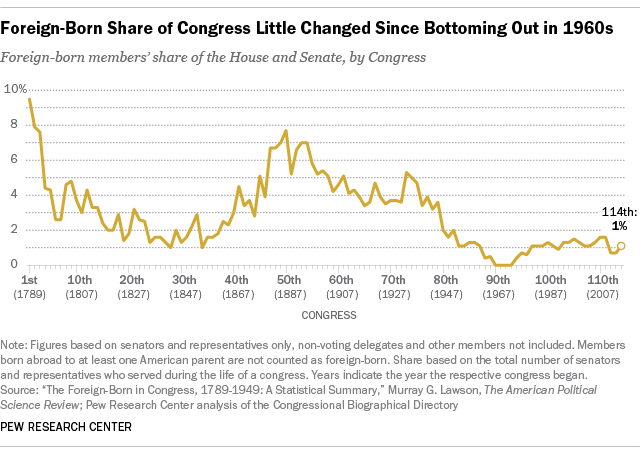 Members of Congress today are less likely to be immigrants, especially compared with other periods of history when surges of new arrivals occurred, a new Pew Research Center analysis finds.
Just 1 percent (six members) of the current 114th Congress immigrated into the U.S. at some point in their lives, compared with about 10 percent (nine of 95) who were born abroad in the first Congress of 1789-91, which was a much smaller Congress, and 8 percent (31 of 407) during the next peak, the 50th Congress of 1887-89, amid the broader U.S. immigration wave from Europe.
There were no foreign-born senators or representatives in Congress from 1967 to 1974. And the share of immigrants in Congress has risen only slightly since then, even as the U.S. has seen another wave of immigrants arriving from Latin America and Asia since 1965. (Our count does not include those who gained citizenship from being born to a U.S. parent while abroad or those born in U.S. territories, nor does it include nonvoting delegates, state commissioners, and members who were elected but not sworn in.)
Through history, 407 foreign-born Americans have served as members of Congress (out of more than 12,000 total members). That includes 347 immigrants who served in the House of Representatives, 45 who served in the Senate, and 15 who served in both chambers.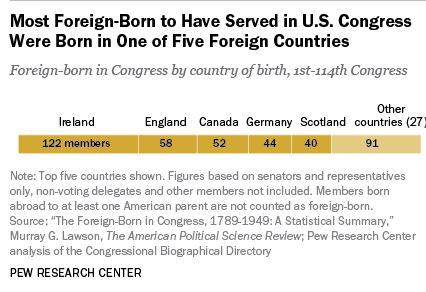 Foreign-born members of Congress have come from more than 30 different countries, and most of them arrived here as children. The majority were born in English-speaking countries, including Ireland (122), England (58), Canada (52), and Scotland (40). Since 1949, there have been more foreign-born Democrats (27) than Republicans (15) in Congress, according to congressional biographies.
Today, just six members of the 114th Congress are immigrants; three hail from California, and five are Democrats. The list includes one senator, Democrat Mazie Hirono of Hawaii, born in Japan, and five House members: California Democrats Ted Lieu, born in Taiwan; Raul Ruiz, born in Mexico; and Norma Judith Torres, born in Guatemala; New Jersey Democrat Albio Sires, born in Cuba; and Florida Republican Ileana Ros-Lehtinen, born in Cuba. (Click here to see a list from 1949 to 2015.)
Our counts do not include members who were born abroad but who gained U.S. citizenship through their U.S. parents after meeting legal requirements, such as Sen. Ted Cruz, who was born in Canada, or Rep. Tammy Duckworth, who was born in Thailand; there have been 20 members in this category since 1949. Nor does it include those born in U.S. territories, such as Sen. John McCain, who was born in the Panama Canal Zone when it was under U.S. control.
Some foreign-born members of Congress have unique backstories. In recent decades, many came to the U.S. as refugees or to escape the Nazis. One congressman, Tom Lantos of California, survived the Holocaust; another, Samuel Gejdenson of Connecticut, was born in a displaced-persons camp in Germany; and a third, Samuel Dickstein of New York, spied for the Russian government.
Octaviano Ambrosio Larrazolo of New Mexico, who served from 1927 to 1929, was the first U.S. congressman born in Latin America (Mexico) as defined by modern-day boundaries. Dalip Singh Saund of California was the first born in Asia (India), serving from 1957 to 1963. And Elizabeth Furse of Oregon was the first born in Africa (in Kenya, to British parents), serving from 1993 to 1999.
To run for the House, immigrants are required to have been U.S. citizens for seven years or more, according to the U.S. Constitution. (They must also be age 25 or older and live in the state where they are running.) To run for the Senate, nine years of citizenship are required, and the candidate must be 30 or older and live in the represented state. The foreign-born are not allowed to become U.S. president. If the speaker of the House were foreign-born, he or she would be passed over for the position should the president and vice president die or leave office.
Note: To produce our figures for the estimates of foreign-born members of Congress who were not born abroad to American parents, we used the official Congressional Biographical Directory and combined it with a 1957 report from The American Political Science Review, entitled "The Foreign-Born in Congress, 1789-1949: A Statistical Summary."
The directory provides information about each member, including place of birth, in most cases. Because the phrasing that contains this information is fairly consistent across thousands of members' biographies, we were able to construct a list of members and their place of birth using software to scrape and parse the directory. Using this method, our counts very closely matched the hand counts from the 1957 report, giving us confidence that our counts of the modern-day Congress were also accurate. We also cross-checked our work with other reputable sources, such as the Senate's list of foreign-born members and recent reports from the Congressional Research Service.