Congress Averts a Government Shutdown—for Now
The House and Senate easily approved a short-term spending bill, but another battle awaits in December.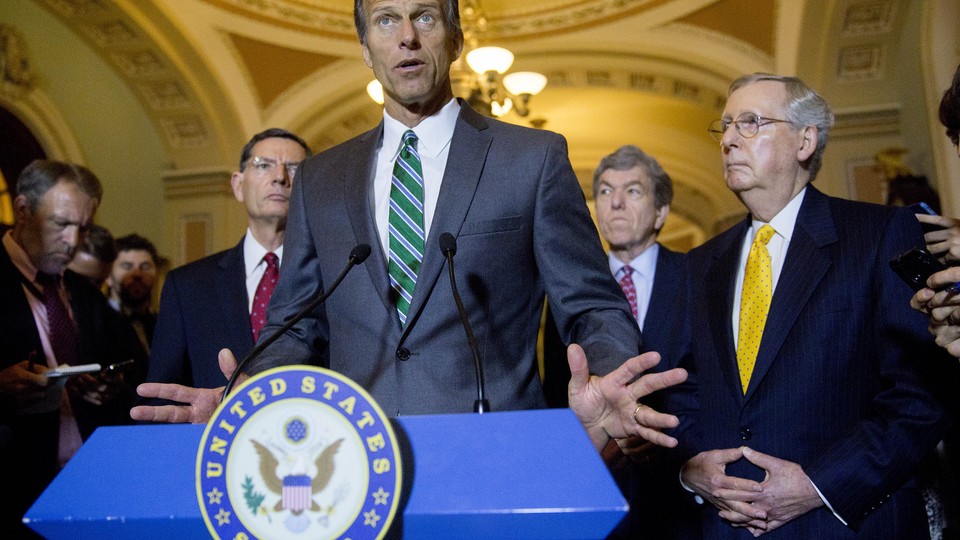 Congress has averted a midnight shutdown, as the House on Wednesday afternoon followed the Senate's example by easily passing a temporary spending bill funding the government through Dec. 11.
The stopgap measure passed the Senate 78 to 20 and then cleared the House on a 277-151 vote, despite the opposition of dozens of conservatives with objections to any package that continues to fund Planned Parenthood. Videos released by an antiabortion group charge that the organization is illegally selling fetal tissue for a profit; Planned Parenthood vigorously denies the allegations.
Neither Democrats nor Republicans were thrilled about the shutdown showdown, and both sides pointed fingers at the other for bringing the country to the brink. But there is some hope that the two sides can come to an agreement in the next few months for a longer budget deal clearing the decks for the next president.
Senate Majority Leader Mitch McConnell said Tuesday that he spoke with President Obama and House Speaker John Boehner last week about "getting started" with negotiations for a two-year budget so the Republican-led Congress can have a regular appropriations process next year. Senate Democrats have blocked appropriations bills this year over complaints that the spending levels laid out in 2011 are too low, especially for domestic programs. "We are inevitably going to end up in a negotiation that will crack the Budget Control Act once again," McConnell said a few weeks ago.
The negotiations could be boosted by Boehner, who will have nothing left to lose after announcing last week that he will retire on Oct. 30. On Face the Nation Sunday, Boehner said he "might have a little more cooperation from some around town to try to get as much finished as possible.
"I don't want to leave my successor a dirty barn," he added.
Members are already turning their eyes to December, when the Senate hopes to pass appropriations bills based on a spending deal with the White House. But House conservatives, emboldened by Boehner's resignation, may be even more difficult to corral on a deal that will almost certainly raise spending levels above sequestration caps for both defense and nondefense spending.
Several Republican senators following the vote on Wednesday said they were already worrying about the Christmas holidays and whether they'll be able to leave Washington to visit their families and avoid a government shutdown. One Republican appropriator emphasized that the committee needs to get started on funding plans for December "tonight."
Asked about the prognosis for December spending bills after Boehner's departure, Sen. John McCain said: "I think it could be uglier because I think we could come closer to a government shutdown."
But McCain added that he and other Republicans in the Senate's old guard have already begun to reach out to House members urging unity. Their message: "Isn't it better for us to at least try to come together than attacking each other all the time? What are we gaining from this?"
Sen. John Thune acknowledged the difficulty of passing spending bills again this December, given the fractious state of relations between the House and Senate. But, he added, the leadership teams aren't changing much and he's hopeful that Republicans in both chambers will get a good deal for the party that can pass.