Concerts, Snapchat And Breweries -- Tom Steyer Seeks Out Millennials
New poll shows youth enthusiasm for climate action.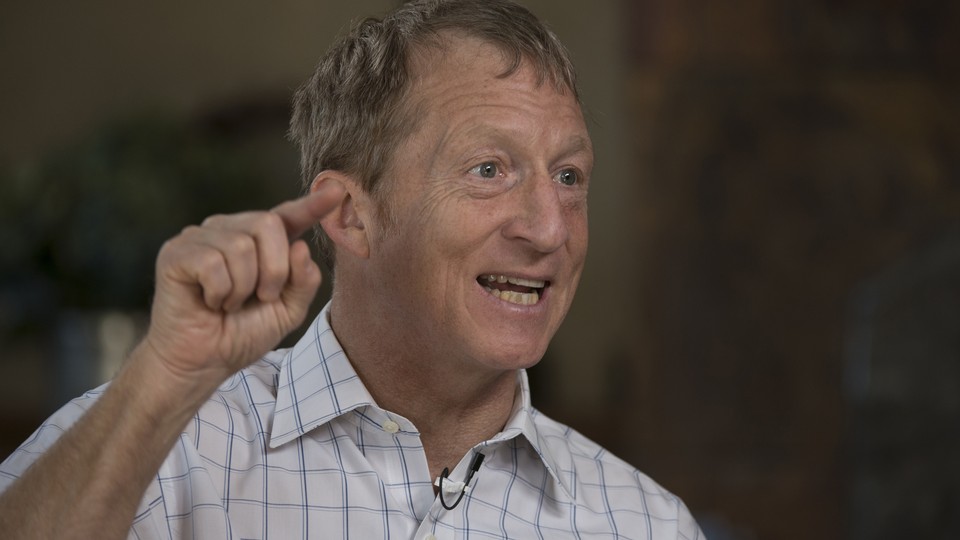 In a bid to draw out the youth vote, climate activist Tom Steyer is trying to inject a little fun. into the campaign trail.
Steyer's NextGen Climate super PAC, in partnership with Reverb, are launching a concert tour headlined by Nate Reuss -- the lead singer of the band fun. -- to stir up support for climate action among millennial voters. The concert tour will go to more than 24 colleges and universities in key battleground states to promote a clean energy agenda.
It's part of a bigger push by Steyer's group to capture millennials through youth-friendly channels like Snapchat, online videos and beer. It's meant to turn out young voters who are more concerned about climate change than older generations -- and show candidates that they should align with Steyer to pick up the valuable demographic.
NextGen recently released an online video with comedian Jenny Slate to attack climate deniers, and ran ads on Snapchat during the first Republican debate to voters in Ohio, New Hampshire and Iowa. In New Hampshire, NextGen is also planning a roundtable at the Smuttynose Brewery and a separate "Climate Jam" concert series.
According to a new poll released by NextGen Climate Wednesday, 73 percent of voters under 35 say they would be more likely to vote for a candidate who pledged to turn the country to 50 percent clean energy by 2030. Not coincidentally, that's exactly the threshold that Steyer has called on candidates to endorse -- and one embraced by Hillary Clinton.
"Presidential candidates should take notice: young voters will turn out on Election Day for leaders with a concrete plan to build a clean energy future," Steyer said in a statement.
Climate change traditionally ranks low among priorities for voters and environmental groups have had a tough time generating widespread enthusiasm for the issue. The new polling from Hart Research found that 70 percent of those surveyed said they would have major concerns with a candidate who disagreed with the scientific consensus on human-caused climate change.
But the results also found that mere climate acceptance was not enough to rally voters, who showed more support for a candidate who set out a firm clean energy goal of 50 percent by 2030. Geoff Garin, president of Hart Research, said that in focus groups, young voters reacted more favorably to hearing a specific and ambitious plan and would be more likely to work for a candidate who had one.
"One of the things that we heard pretty frequently in our research is that there's some cynicism about candidates who speak about things in generalities. They're looking for more specific commitments," said Garin. "John F. Kennedy didn't say that space travel was important, he said we'd go to the moon by the end of the decade. That high bar is what we remember."
The survey found more support for Clinton specifically if she had committed to a clean energy goal, with 26 percent of voters who had initially not supported or only weakly supported her being more likely to vote for her. Clinton in July set a goal of generating enough renewable energy to power every home with renewable energy by 2027, including the installation of more than a half a billion solar panels by the end of her first term (her campaign has said that it meets Steyer's clean energy target).
The results came from a telephone survey of 2,002 likely voters and had a margin of error of +/- 2.2 percent (for millennials, the margin of error was +/- 5 percent).