Catching Up With the Pope: His Last Day in America
Editor's Note:
This article previously appeared in a different format as part of The Atlantic's Notes section, retired in 2021.
Poor, sleepy Francis. On Saturday, after a long day in Philadelphia, the organizers of the World Meeting of Families and the pope's visit in Philadelphia put on a long concert / performance of family values, including testimony from a young engaged couple, the prayers of several grandparents, and a rendition of "How to Save a Life" by The Fray.
Remember The Fray? Francis  doesn't either.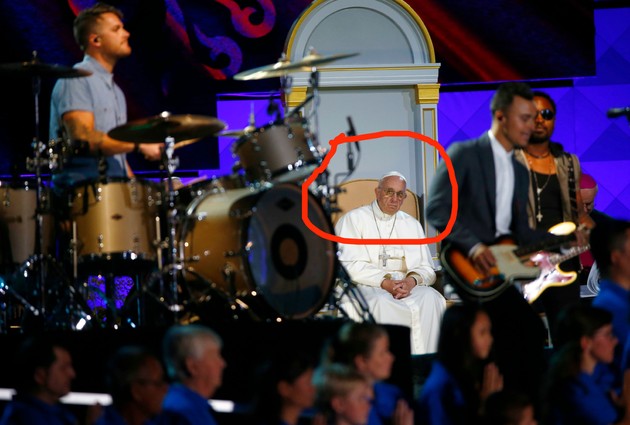 The pope also showed off his comedic talent; in addition to making a joke about mothers-in-law, he ended a totally ad-libbed speech about the gospels and the family with the question, "What time is mass?" Har har, pope, har har.
Earlier that day, Francis defended religious liberty in front of Independence Hall, likely to the satisfaction of the more conservative bishops in attendance. He also celebrated mass at the Cathedral Basilica of Saints Peter and Paul, where Philadelphia's archbishop, Charles Chaput, made a bid to show that he is Francis's number-one fan: "This is a city that would change its name to 'Francisville' today if we could do that without inconveniencing the rest of North America," he said.
On Sunday, Francis will meet with bishops, visit a prison, and celebrate mass on the Benjamin Franklin Parkway, which is expected to attract a quarter of a million people. The end of this visit is nigh; stay tuned.