Catching Up With the Pope: So Long, Francis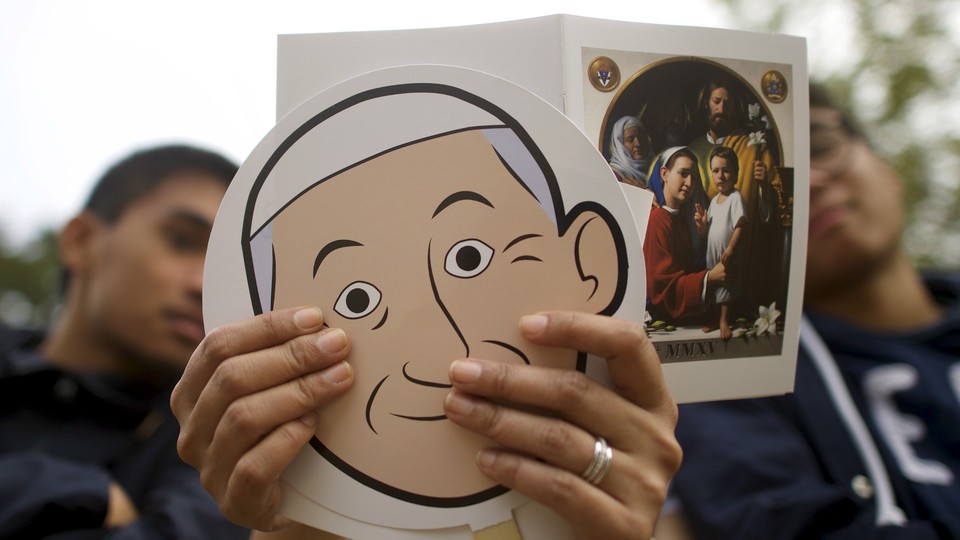 Editor's Note:
This article previously appeared in a different format as part of The Atlantic's Notes section, retired in 2021.
Never accuse the bishop of Rome of failing to close with a bang. On Sunday, the Vatican announced that the pope had a private meeting with five victims sexual-abuse, either at the hands of clergy, teachers, or family members. "I remain overwhelmed with shame that men entrusted with the tender care of children violated these little ones and caused grievous harm," he told an audience of bishops. "God weeps." There was some controversy, though, over the way he phrased this culpability to Church leaders; some victims were distraught that he praised bishops for their "courage" in handling this scandal, The New York Times reports.
Other things from today: a giant mass on a giant parkway, filled with typical Francis moves.
People are just handing babies and handicapped kids over the barriers to secret service so that the pope can kiss them. #PopeInPhilly

— Emma Green (@emmaogreen) September 27, 2015
He visited a prison, which I think is the most important visit of his trip—more from me on that soon. And before he took off, he had a private meeting with Joe Biden. We all know what happened last time he met with a political figure at a turning point in his career … Anything you feel moved to share, Mr. Vice President?
At 7:39 pm EST, Pope Francis's plane took off from Philadelphia International Airport. We won't know the full fall-out from this trip for a while, but if you're hooked on Vatican happenings, never fear: In many ways, the real show hasn't started yet. In just a few days, the bishops will gather in Rome for a synod, where Church leaders will talk about marriage, divorce, and other totally non-controversial Catholic things. I would say stay tuned, but I need some sleep before I can make any promises. Until the next papal visit …