Catching Up With the Pope: Jewish Holiday Edition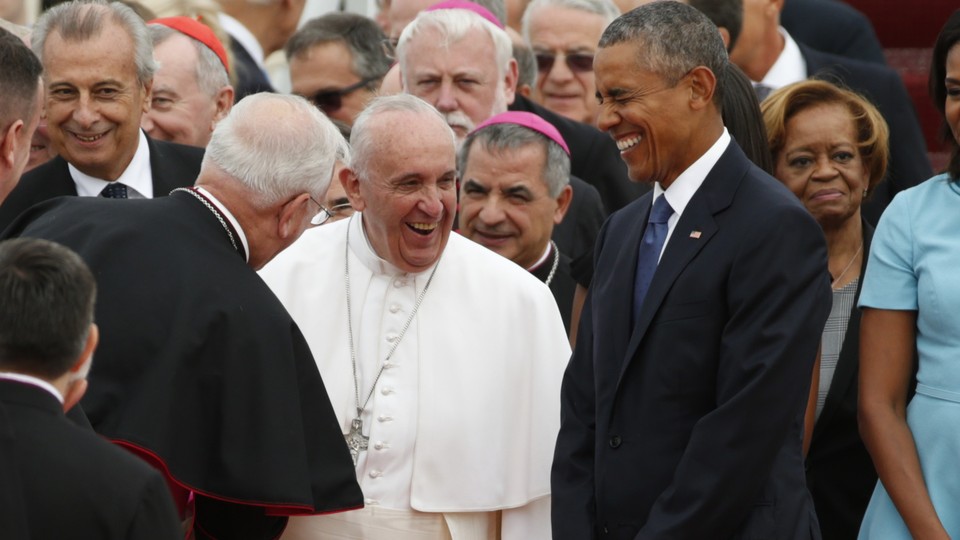 Editor's Note:
This article previously appeared in a different format as part of The Atlantic's Notes section, retired in 2021.
He made it!
For the first time in his life, Pope Francis is on American soil. He'll be in the country until Sunday, and we'll be following along as he travels through D.C., New York, and Philadelphia.
The first thing to remember: The pope is not a politician, he's a priest. While the American media tends to frame all stories in terms of battles between Democrats and Republicans, this trip is a chance to focus more on God than the GOP. One audience that will be particularly important for Francis is Hispanic Americans, who are moving away from the Church.
For the next 25 hours, I'll be offline—I've got some reflections here on what it means that the pope came to America on Yom Kippur. My Atlantic colleagues will be following the papal happenings in this thread—stay tuned.
Bonus: At the end of his Cuba trip, the pope gave a homiletic tribute to grandmas. Yep: Awww.